How to Cut a Tapered Board on a Tablesaw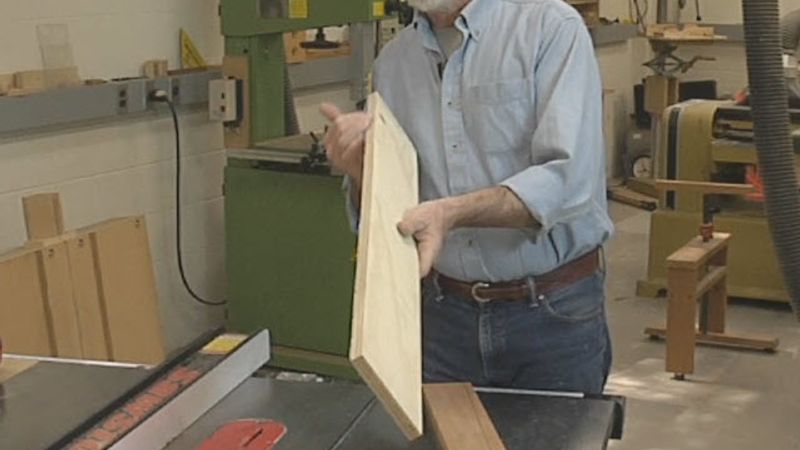 If you need to make a tapered cut on a piece of wood, you could take it over to the sawhorses and try to freehand it with your circular saw, but there's a better way.
For years, fine woodworkers have known how to make complicated jigs to cut pieces such as tapered legs for a table, but Chris Green of New Milford, Conn., has figured out a way to make a simple jig that you can easily do on any job site. Here's how it works.
The first step is to find a piece of plywood or a board with one long straight edge. Then raise the bade about 1/16-in. above the table so it's going to make a very shallow kerf. I've set the fence at about 5 inches so I'll have that kerf in about 3/4-in. in from the outer edge of the piece of plywood I'm using for my jig. The next thing I do is turn the saw on and make the cut, which will be my cut line for the tapered workpiece. All I have to do now is mark the desired tapered line on my workpiece, line it up with the cut in my jig, secure the piece to the jig from the back with a couple of screws, raise the tablesaw up to about 7/8-in. (which is plenty to pass through the 3/4-in. piece I'm cutting), and then make my cut with the workpiece on the bottom of the jig (in exactly the orientation to the fence that we used to make the jig in the first place).
And I've got my tapered piece. That's a pretty clever tip, Chris. Thanks for sending it in.
Kevin Ireton is editor-at-large and a good friend and former colleague of Chuck Miller's. Keep your eye out for more Better Way videos from Kevin and several of our other regular contributors in the near future.
_________________________________________________

More handy tips:

Make a door buck with scrap material
How to Make a Custom Dust Collector for Your Router
How to Apply a Weathered Finish to New Wood Siding
_________________________________________________
Attention all tipsters!
We're looking for any smart idea that would make a great There's a Better Way Video or that could be featured in the Tips & Techniques department in Fine Homebuilding magazine.
We pay for any tips that get published
You can post tips in our submit a tip blog, or just email them to Fine Homebuilding care of Chuck Miller. Thanks!
Plus, browse 30 years of great ideas in our Reader Tips department.