Removing a Truck Cap Alone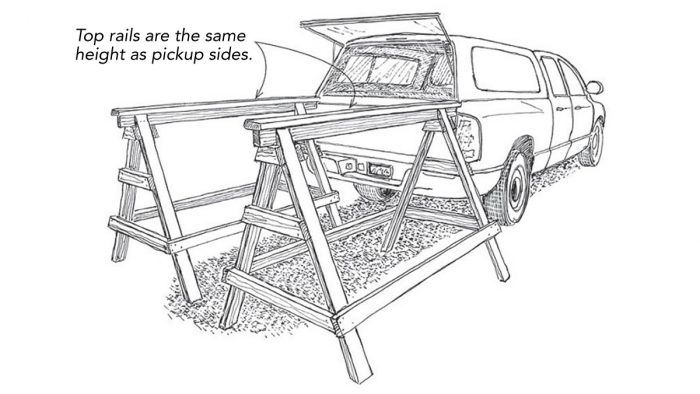 When I have to take the cap off my pickup truck for a dump run or to haul appliances or landscaping supplies, I can wait until a buddy is free to lend a hand, or I can try tilting it off the back and hope I don't drop it. Both of these options leave me stranded when it's time to put the cap back on, so I decided to build oversize sawhorses the same height as the pickup truck's rails. These sawhorses let me remove and replace the cap by myself without damaging so much as the cap's weatherstripping seal. With the tailgate up, I crouch in the bed with my back against the roof and stand just enough to lift the cap off the rails. I then waddle toward the back like a turtle with a shell several sizes too big. If I need a break, I can lower the cap because it's fully supported by the rails and the sawhorses. I throw a couple of 2x8s or a scrap of 3/4-in. plywood across the bottom rails of the sawhorses so I can step over the tailgate onto solid footing and walk the cap all the way off the truck.
The real benefit of storing the cap on the horses is when it's time to put the cap back on. With the sawhorse rails set at bed-rail height, lifting the cap back into place is comfortable and takes only two minutes. Plus, I can save calling in a favor for really heavy stuff like concrete work.
Sean Groom, Simsbury, CT
Edited and Illustrated by Charles Miller
From Fine Homebuilding #248