Extended Tailgate: Molly Jones McCabe, Tribal-Housing Advocate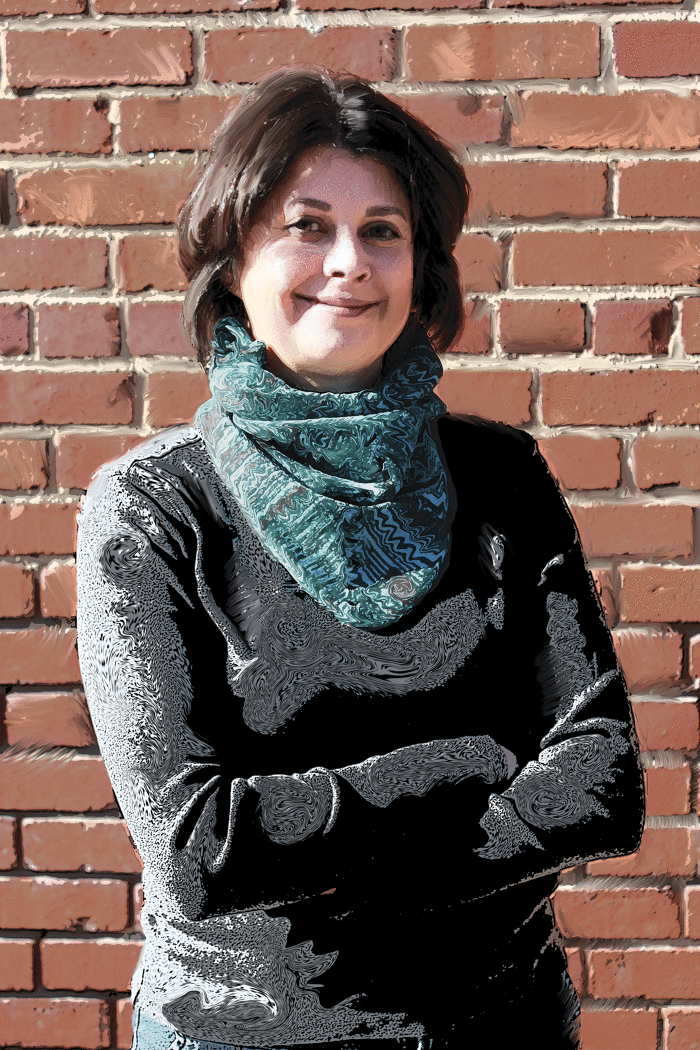 First, congratulations! This year marks Red Feather's 20th anniversary. How would you characterize where the mission has taken you and where you are going?
When we were formed back in 1995 it was a grassroots organization building one house at a time and for many years that model worked, but in recent years what we've heard back from the communities that we serve and from our funders is that they would like to see a broader impact. And so in the last couple of years we've really looked at our programs and tried to still reach our original mission, which of course is impacting the great housing needs in Native American country, but rather than just building one house at a time, we've broadened out programs to include DIY workshops to give tribal homeowners the tools and knowledge and materials to improve their own housing situation. So we are doing weatherization workshops, DIY home repair and maintenance for women, which has been really positive. We've heard really good feedback on that. We've always done health and safety renovations, but in the past they were undertaken in the years where we didn't have a homeowner that was ready to build a house. We have rethought that and made it a more formal part of our program offering. By broadening our scope we are impacting more people and realizing that there is a fairly large segment of the tribal audience that is never going to be able to build a new home for economic reasons that is just out of reach for a lot of tribal homeowners. So if that is all we are doing is building new homes, we are not reaching the folks that really need it the most. In the last year we have really spent some time rethinking our straw-bale home design and worked on incorporating local materials as much as possible, local historical trades. For example at Hopi there is a lot of local clay available, so we've incorporated adobe floors, natural plaster walls. Stonemasonry is a historical local trade at Hopi, so we've incorporated locally sourced stone and have local stonemasons, which helps the local economy.
What has been done to serve tribal members who lack adequate housing?
Lack of adequate housing means a lot of different things. Every tribal community is different, but in the two tribal communities where we are focusing right now, which are the Northern Cheyenne in eastern Montana and the Hopi reservation in northern Arizona. What we see is that a lot of people have homes, but they are not necessarily healthy or safe or warm. We are trying to address issues incomplete plumbing systems, incomplete kitchens, lack of adequate heat. Most homes have wood or coal stoves, which usually are not very efficient or healthy heat sources. This year we are going to launch a wood and coal stove DIY maintenance workshop. Overcrowding is a huge issue. Our new construction addresses that when multifamily, multigeneration. We try to address housing challenges and inadequacies from a bunch of different angles so that it is not a one size fits all solution.
The red feather is a symbol of being wounded, what does it mean to Red Feather?
Our founder Rob Young had read an article about Lakota elders freezing to death in the winter at Pine Ridge and the story really stuck with him and he got adopted by Katherine Red Feather and developed a relationship with her and she was the first tribal member they built a house for. So the name is really about her. I was never aware of the red feather being a symbol about being wounded.
How many of your initiatives are well on their way toward sustainability?
The original thought was that we would create housing organizations within the communities and that they would take that work and carry it forward. During the last two years of really examining our original goals and whether they are realistic, I think we are coming to realize building homes in Native American country is so challenging that we are not focusing on creating self-sustaining housing organizations. Every time we build a home it is such a huge challenge. We have shifted out focus to creating more self-sustaining education programs than new construction. What I mean by that is, in the past, when we delivered a workshop we were going to a community we would have heard from them what their needs are and what they would like for us to develop and we would develop a workshop and deliver it. And now when we delivers workshop, we do it with the assistance of a tribal partner and we train that tribal partner to deliver the workshop so that the next time the workshop is delivered we have someone in the community who can deliver it rather than Red Feather staff. That is the new model we are using to create self-sustaining programs.
Would you please expand on the idea that building is really about building relationships?
There is a long history of disappointment and being let down by outsiders. Even though we have worked in these communities for quite a while, we're still outsiders. It's only because we have built relationships and we don't just swoop in and build a house and leave. It is only by building those relationships that people have come to trust our motives. We are not only building relationships with our tribal partners, the tribal housing authority, and the water folks and all these pieces and parts that have to come together to build a house. We are also building relationships with each homeowner. Home building process for a nontribal member would be daunting enough, but for a tribal member on a reservation where for the most part they have lived in government housing their whole life. It is like being a renter your entire life and then suddenly you are a homeowner responsible for maintenance and upkeep. It can be overwhelming. It is only by building these relationships and really listening to the communities needs and letting go of your ego and what you think is right and really listening that that house gets built. One thing I have learned from this work is that in order to be successful at all in this work you really do have to let go of your ego and let go of anything you think you know and just listen. We may think we know the answers and solutions to the challenges we see in these communities where we work, but if it's a solution that I come up with and that I bring to, let's say, the Hopi community, it's not going to be nearly as successful as a solution the Hopi community brings to us. I may be Native American, but I'm not Hopi. The solution that might work for Hopi is not necessarily is not necessarily the solution that would work for northern Cheyenne. It is the same in the homes that we build. The home that is the right home at Hopi might not meet the needs of the northern Cheyenne tribal member. In fact they don't. They're very different needs. We wouldn't know that if we just came waltzing into a community and said, "Here's what we're going to do for you! It's going to be wonderful!" A lot of folks that work in Native communities make the mistake of doing that.
What are some things about the work you are doing that don't get talked about enough? What would you like us to know about the work you are doing?
The way that the program works for our new construction is that a homeowner gets a loan just for the materials and the tradespeople for concrete, plumbing, or electricity and Red Feather covers all of the others costs. We are able to bring down the cost of the materials through sponsorships. We are always looking skilled volunteers to come build or people who have materials they can donate. For example, with the generous help of Home Depot and ThermaTru doors they were able to bring the price of their latest project, an 1100-sq.-ft. home, down to $65 per sq. ft.