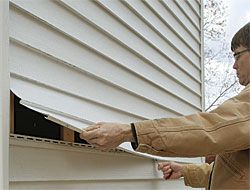 Even though it can make or break the look of a home, most of us don't give siding too much thought. Seems like the thing we see first deserves a little more attention. Check out the articles below to get in the know about siding. A little education will go a long way when picking out and installing siding.
Regardless of how you feel about vinyl siding, you will most likely eventually have to work with the stuff. This article outlines how to remove vinyl siding without wrecking it. Removing Vinyl Siding
In this article, veteran build Mike Guertin explains how to properly install vinyl siding. Vinyl Siding Done Right
Many small siding discussions somehow turn into big insulation conversations. This article outlines installing siding over rigid-foam insulation instead of the typical siding on wrapped plywood wall install. Save Energy with Rigid-Foam Insulation
For online members, we have an article by Scott Gibson that outlines picking the right siding. Choosing Sides
Not a member? Go here to learn more.