Tools & Materials
Get the Most From Your Multitool
Even if you've had an oscillating tool for years, you may not be using it to its full potential.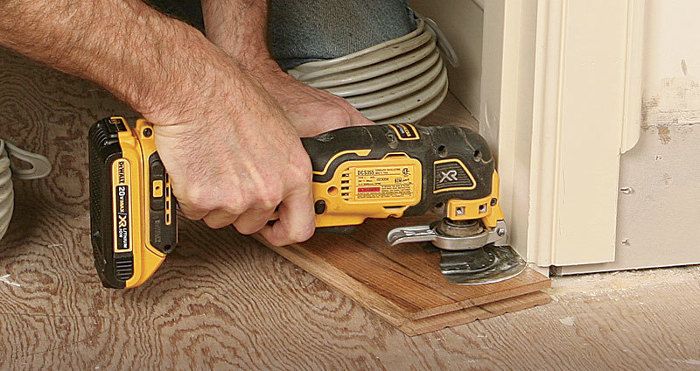 Synopsis: Oscillating multitools have gone from being relatively unknown specialty tools to being must-haves for remodelers. These tools can do a lot more than most users realize, and there are little-known techniques that can boost the their efficiency and productivity. Longtime carpenter and former Fine Homebuilding editor Kevin Ireton provides a thorough explanation of what oscillating multitools are capable of and how to get the greatest blade and accessory life. He also presents a number of lesser-known accessories that allow you to use the tool to cut a variety of materials as well scrape and sand. Even if you've had a multitool for many years, it's likely that you'll learn new ways to use this labor-saving, problem-solving tool.
Origin of the multitool
In 1943, Homer Stryker used the motor from a malted-milk machine to build the first oscillating electric saw. An orthopedic surgeon in Kalamazoo, Mich., Stryker was looking for a way to remove plaster casts quickly and safely. He received a patent on the saw in 1947. Why it took 50 years for this tool to reach the job site, I'll never know.
Fein, the German power-tool company, gets the credit for bringing the tool to a larger market. In 1985, the company adapted its plaster-cast saw for use in the automotive industry, where it was used to saw through auto bodies and, after being fitted with specialty blades, to remove windshields that were glued in place with silicone. Fein introduced an oscillating sander to the woodworking market a year later, but it wasn't until 1995 that the MultiMaster appeared, with all of its cutting, scraping, and sanding accessories.
Even then, Fein didn't see the potential mass appeal of the tool until about 2004, when it decided to market the MultiMaster to DIYers in a TV infomercial. It was an odd choice, promoting the high-end result of German engineering alongside the likes of the George Foreman Grill and Chuck Norris's Total Gym, but it worked. The tool took hold. And when Fein's patent ran out in 2008, every major power-tool company started making oscillating multitools. I put off buying a multitool for a long time, convinced I didn't need one, until I borrowed a friend's MultiMaster for five minutes. I bought my own the next day. Since then, it has become my favorite tool because of how often it gets me out of trouble.
Until recently, I would have said there isn't much to know about using a multitool. But last summer, I was repairing some rotten trim on a 200-year-old house. For what-ever reason, one day I mounted the blade at a right angle to the tool's body for the first time. (I guess I'm not the sharpest chisel in the roll.) I knew the MultiMaster had a star-shaped arbor for a reason. But year after year, I kept mounting the blades straight ahead like barber clippers. As it turns out, you have a lot more control on plunge cuts with the blade at a right angle. Well, duh! It made me wonder what else I didn't know about this seemingly simple little tool.
For more photos and information on how to utilize a multitool, click the View PDF button below. 
View PDF