Tools & Materials
Small Homes: The best products for the best projects
One benefit of small homes is that they encourage us to live deliberately—to clear away the clutter and focus on possessions that enhance our homes rather than just take up space. Here are products we've discovered that contribute to small-house living through their compact size, multipurpose utility, or clever take on making the most of a limited area.
Smart cookie
As he had done many times before, artist and furniture designer Po Shun Leong was experimenting with folding paper when the shape of this unusual seat revealed itself. Unveiled at the Tendo-Mokko International Furniture Competition in Japan in 2008, the laminated wood stool is now manufactured in China by Osidea Furniture in white, black,  red, and walnut. Made of molded plywood and measuring 18-1/2 in. high by 19 in. wide by 18 in. deep, the stools nest tightly together. They sell for $395 each on smartfurniture.com. —D.J.S.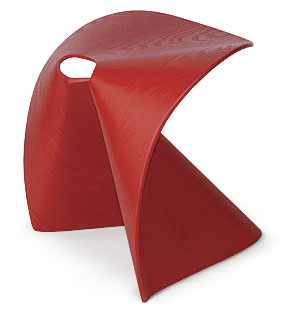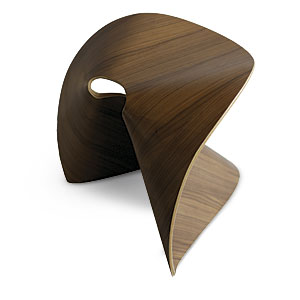 Making every inch count
Targeting empty-nesters aiming to downsize and younger folks moving to cities, Bosch has just launched "The 24-in. Kitchen," a suite of appliances measuring only 2 ft. wide. Initial introductions included a 10-cu.-ft. counter-depth refrigerator featuring a sleek, handle-free glass door (available in black, white, and stainless; minimum advertised price: $2499); and a 24-in.-wide range hood available in a glass canopy, island, or pull-out visor style ($699 and up). Added to the line this summer are compact laundry pairs at three prices, including the 300 Series ($1049), the 500 Series ($1199), and the 800 Series ($1399). The models are stackable, and the ventless condensing dryers require no ducting. Completing the line in the fall will be a 24-in. wall oven with 10 cooking modes ($1699) and 24-in.-wide electric and gas cooktops (both $799). More information at bosch-home.com/us —D.J.S.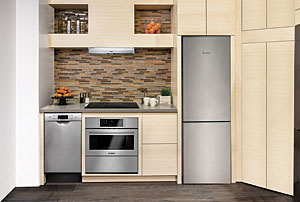 Fit and finish
Starting at $80, Ikea's wall-hugging Lillången sink fits the bill for those whose budget is as constrained as their bathroom. The smallest, measuring 23-5/8 in. long, 10-5/8 in. deep, and 5-1/2 in. high, can be mounted with the faucet to the left or right. The ceramic body comes with two stainless-steel towel hangers, a pop-up valve, and a polypropylene trap. Other sizes, outfitted with four towel hangers, a tray, and a soap drain, measure 15-3/4 in. by 16 in. by 5-1/8 in. (also $80); and 235?8 in. by 16 in. by 51?8 in. ($100). All can be matched to Ikea Lillången vanities ($49 and $59). More information at ikea.com —D.J.S.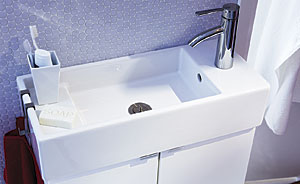 Fun with your food
Dining and entertainment are combined in the Fusion, a contemporary dining table that converts in seconds into a professional-quality pool table. The 7-1/2-ft. table, which seats 10, has three 30-lb. panels that lift off to reveal the playing surface. Because a pool table is higher than a comfortable dining table, the Fusion has the option of an innovative leg-lift system that raises the surface 3 in. The Fusion is offered with white, black, or gray powder-coated surfaces as well as brushed stainless steel. The dining surface (panels) comes in four different wood veneers as well as black or white, and there are 14 felts available for the billiard surface. The Fusion also offers matching sideboards in which to store the table covers. The manufacturer is part of the Aramith group, one of the most recognizable names in professional-grade billiard balls. Prices start at $7995. More information at fusiontables.com. —M.H.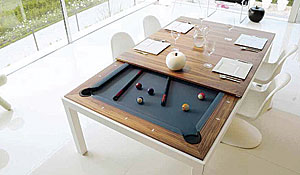 Artful dining
Picture this: wall art that folds down into a table that seats five or more for dinner. That's the idea behind the space-saving picture tables designed by Austrian designer Verena Lang of Ivy Designs. The fold-down frame can be ordered with a mirror, blackboard, or plexiglass window to accommodate artwork. Two models remain fixed to the wall, seating five: the unfinished spruce-wood Standard model, and the upgraded Classic model, which offers a choice of finish. Both have two legs and measure approximately 51 in. long by 33-1?2 in. wide by 29-1?2 in. tall. The slightly larger (approximately 59 in. long) Premium model has four legs and can be detached from the wall to seat six. Worldwide shipping is available; prices start at $1068. More information at ivydesign-furniture.com —D.J.S.
Compartmentalized kitchen
I once lived in a studio apartment with a hideaway kitchenette—a tinny, stainless-steel affair with Lilliputian appliances and a flimsy louvered door. Thankfully, the idea of a concealed kitchen has come a long way: The Stealth Kitchen by YesterTec Design Company is a high-end, flexible, hidden-kitchen system featuring full-size appliances and worksurfaces (oven, cooktop, sink, counters, dishwasher, fridge, microwave, and ample storage) that remain hidden behind finely crafted cabinetry that can be installed in any room. The basic kitchen, measuring 6 ft., runs $16,000 (plus appliances); custom arrangements can be made to order in any size. More information at resourcefurniture.com. —M.L.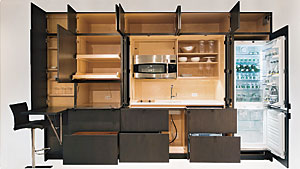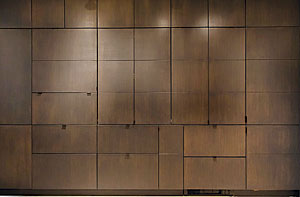 Easy Stow Stools
The three-legged Svelto Round Stacking Stools from British furnituremaker Ercol don't just stack—they sculpt themselves into a distinctive tower when nested together. The matte-finished oak stools, which retail for $345 each, stand about 19-1/4 in. high and have a slightly concave round seat with a diameter of about 17-34 in. Designed by Lisa Sandall, the stools recently received the Design Guild Mark Award for excellence in British furniture design. Though not quite so dramatic when stacked, the Svelto Stacking Bar Stool ($480) offers a slightly more contoured seat and a 27-1/2-in. height. The company's website lists several U.S. retailers. More information at ercol.com. —D.J.S.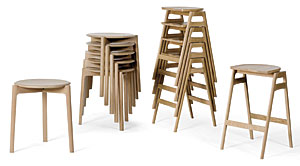 Bed down
The Murphy bed, with its unpredictable spring mechanism, played a recurring role in slapstick comedy for years. A modern, improved iteration from transFORM is lightweight and designed to disappear completely into its surrounding custom cabinetry. Manufactured in the United States, the beds are available with either a traditional spring or modern piston mechanism and come in standard twin, full, and queen sizes. The folded bed projects a minimum of 16 in. from the wall; it is 82-3/4 in. high when mounted vertically and 46-1/2 in. high when mounted horizontally. All designs are custom and priced accordingly; a basic unit in a white laminate finish starts at $3500 (the piston mechanism ups that to $6000; the unit shown is about $20,000). Cabinetry can be crafted in a wide array of veneers and finished with a choice of thousands of stains and paint colors. More information at transformhome.com. —M.L.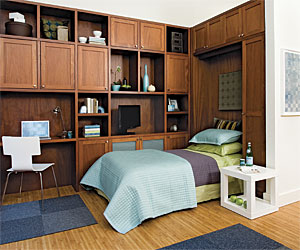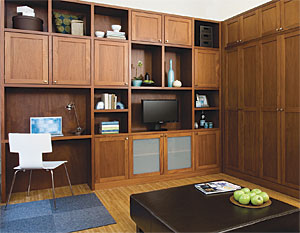 Debra Judge Silber is design editor, Matt Higgins is assistant editor, and Maria LaPiana is a freelance writer specializing in home design. Photos courtesy of the manufacturers.