Design
The New Small House
This book excerpt features 4 homes that represent essential design strategies for building comfortable small homes.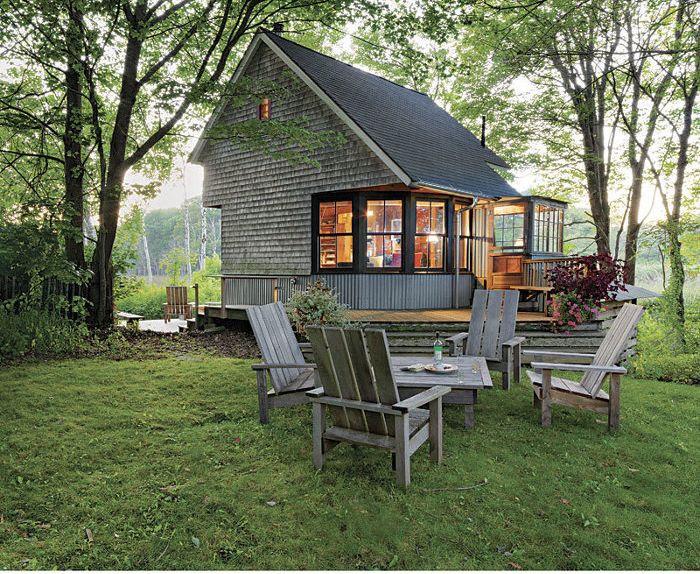 Synopsis: In her book The New Small House (The Taunton Press, 2015), architect Katie Hutchison identifies 10 key small-house design strategies and then profiles a number of homes that illustrate some or all of those strategies. This excerpt from that book includes four of those homes: a house on Cape Cod that includes a collection of outbuildings connected by a series of boardwalks and decks; a renovated cottage on an island in Maine; a compound in Sonoma, Calif., with a front house that the owners use as an office and a back house that is their residence; and a renovated house in Rockport Village, Maine, with a mostly white exterior and interior.
---
Rhode Island architect Katie Hutchison's book The New Small House (The Taunton Press) is full of inspiring homes from across the country. Here we're featuring four projects from its pages. Katie has created icons for identifying 10 key small-house design strategies. These icons will help you recognize the strategies that make these homes so exceptional so that you can implement them into your own small-house design.
I'm a big fan of outbuildings. I like their informality, the way they shape outdoor spaces, and how fun they can be to inhabit. So, naturally, I was taken with Cheryl Kyle's new small house on Cape Cod designed by Estes/Twombly Architects. It's a collection of small, low, gabled structures that run along a series of boardwalks and decks in which the outbuildings, at first glance, are difficult to distinguish from the main house. "The spaces between the different structures, when you spread it out like this, are as important as the structures themselves," explains architect Jim Estes. "So we're creating different outdoor spaces as well as indoor spaces." The informality of the arrangement harks back to the Cape Cod of sun-drenched memories, but it's designed for today's living.
A small bike shed on the east end of the property fronts the collection of small cedar-shingled buildings with standing-seam metal roofs. A ramp meets those arriving and leads past an outdoor room to the south, up along a two-bedroom guest house to the north, and into a screened-in enclosure between the guest house and main house. In the summer, the guest house and main house can both be open to the screen connector between them, which functions a bit like a dogtrot. Beyond the connector, a more private deck unfolds to the north of the main house's shared kitchen/dining/living space and leads to an unheated art studio on the west end.
"The layout of the buildings was geared toward the site, and I think every site has a sweet spot, where it's just a nice place to be or look at, and the sweet spot on this site is right below the main deck," says Jim. It's a relatively small grassy area bordered by oaks and pines that's private from the street. In the winter, when the leaves are off, you can see beyond it to Cape Cod Bay. Cheryl's daughter, Camille Beehler, a landscape designer in Costa Mesa, Calif., created the landscape design of ornamental grasses and native plantings, which set the stage for the sweet spot.
For more photos, drawings, and details, click the View PDF button below:
View PDF