How to Design Small, Smart Homes
Watch award-winning architect Tina Govan share practical advice for creating more comfortable and efficient houses.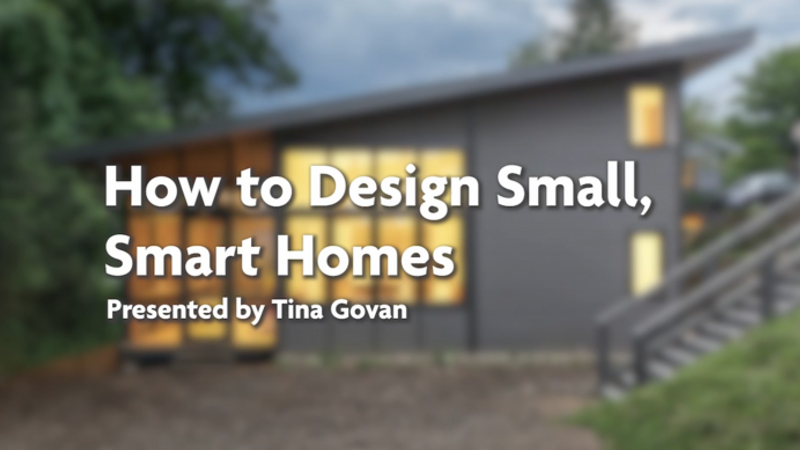 Small homes are more affordable to build and live in, more sustainable in the face of our current climate crisis, and don't need to sacrifice comfort or style to shed excess space. Small homes do require a thoughtful design, and one key component is flexibility.
This webinar will teach small-home design principles through a series of examples that show how designing for flexibility allows modest-size homes to do more with less, is a path to efficiency, aging in place, connecting with where you live, and adapting to changing conditions, even Covid-19. Watch architect Tina Govan and the FHB editors discuss how agile, dynamic homes with soft boundaries can be stronger, greener, and smaller.
Originally presented Tuesday, February 23, 2021, at 7PM ET
More about home design by Tina Govan:
A Tiny Addition for a Growing Family – Dining, living, office, laundry, bathing, sleeping, and storage space built in just 650 sq. ft.
Living Lightly on the Mountain – A small, day-lit house deep in the Tennessee woods brings one retirement couple closer to their natural surroundings.
A Rooftop Deck on an Urban House – Creative indoor and outdoor living space connect this modern home to its natural, urban surroundings.
---
Presenter: Tina Govan, Architect
Tina Govan has been principal of her own firm, Placemaking Studio, in downtown Raleigh, NC for over 25 years, producing work that has been widely published and recognized. She holds a Master of Architecture from the M.I.T. and has worked in a wide range of cultural settings, from West Africa and Japan to Boston, North Carolina, and California. Tina has experience working in dense, downtown neighborhoods, achieving a sense of spaciousness, connection to the outside, and efficient use of space, despite tight spatial and budgetary constraints. She takes a strongly people-based approach to the design of places and strives to build meaningful connections beyond the individual or building to the larger landscape, community, and planet.