Tools & Materials
Tool Test: Track Saws
These versatile tools make fast, precise cuts and weigh a lot less than your tablesaw.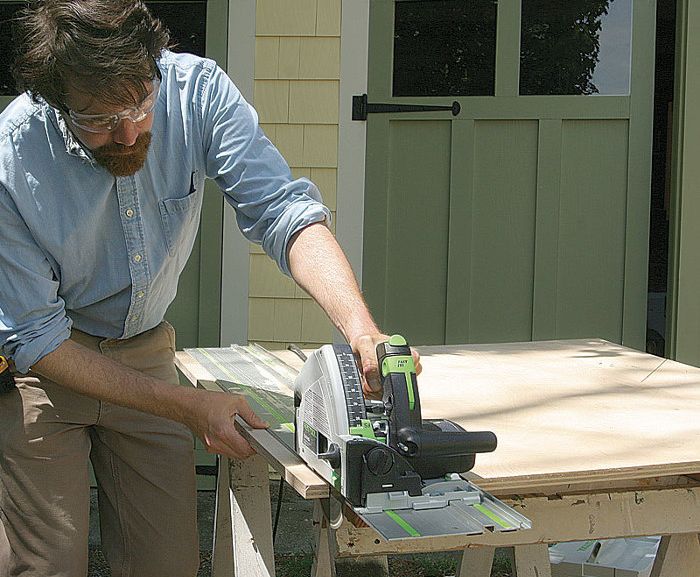 Synopsis: Over the last 10 years, track saws have become go-to tools for finish carpenters and remodelers. A track saw is a plunge-cutting circular saw that's mated to an aluminum guide. The guide has high-friction tape on the back that holds the track in position even during angled cuts. There are now six major manufacturers of track saws, with prices ranging from under $300 to more than $1200. Longtime carpenter and tool tester Doug Mahoney offers a comprehensive look at these saws, including their cost, quality, standard features, and extras. He tested them by cutting veneer plywood, melamine, and 2-in.-thick white oak before choosing "best overall" and "best value" winners.
Video: Using a Track Saw
Combining a plunge-cutting circular saw with an aluminum guide rail, track saws have gone from obscure woodworking tools to common job-site problem solvers in less than 10 years. Their unsurpassed accuracy, ease of use, and clean cuts make them perfect for cutting everything from veneer plywood for cabinets and built-ins to plywood and OSB for wall and floor sheathing. Track saws are also great for trimming doors and cutting off overhanging deck boards.
In the past, I used a regular circular saw along with a clamped straightedge for guided cuts. But after getting my first track saw four years ago, I find that method sloppy and tedious. On a conventional circular saw, the blade is seldom parallel to the edge of the base, so cuts are rough and sometimes burned. Track saws are built so that the track and the blade are parallel, resulting in accurate cuts free of burning and saw marks. In addition, the aluminum tracks have flexible edges that prevent splinters, so the cuts are smooth with little or no chipping. The improved quality of cut is especially noticeable on materials prone to chipping, such as melamine. Track saws also can plunge cut, which is more difficult and less accurate with a traditional circular saw.
I recently tested track saws from DeWalt, Grizzly, Festool, Mafell, Makita, and Triton. Surprisingly, most track-saw kits come with a single length of track that's only long enough for a 4-ft. cut. I think ripping a full sheet of plywood is an essential task, so I wanted 8 ft. of track. Although a few manufacturers offer a single 8-ft. track, the hassle of transporting and storing such a large and easily bent piece of aluminum seems like an unreasonable burden. Instead, I prefer to make 8-ft. rips by joining two 4-ft. tracks with a manufacturer provided connector. When offered by the manufacturer, this is the setup I requested.
One thing I learned during testing is that blade sizes vary slightly in diameter from model to model, so you should stick with blades made by the saw manufacturer or confirm that a replacement is exactly the right size. I think it's a good idea to have extra blades on hand before you need them because track-saw blades can be hard to find at home centers and lumberyards.
How we tested
In addition to using the saws in my shop and on job sites for a variety of tasks, I ran them through a number of tests using the supplied manufacturers' blades. I ran each tool through 3/4-in. melamine to judge the quality of cut through the material's brittle plastic-coated surface. As a power test designed to simulate how the saws would perform when trimming an exterior door, I cut through 2 ft. of 2-in.- thick oak. Finally, to assess the gripping power of each track, I ripped a 3⁄4-in.-thick piece of plywood at a 45° angle without using clamps. During all of these tests, I had the saws hooked up to a Festool CT 26 vacuum so I could assess their dust collection.
For photos and more on track saw reviews, click the View PDF button below. 
View PDF