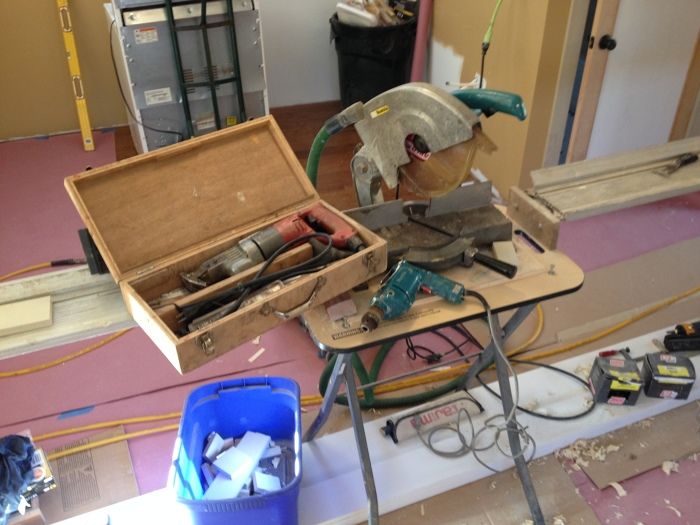 Thirty years ago today, on January 6, 1986, I quit my job and went out on my own as a carpenter. Before that, I'd worked for several years in the door shop at Warren Lumber, in Washington, NJ, and then for Grouse Run Corporation, a development company owned by the same people who owned Warren Lumber. At Grouse Run, I was a builder's assistant, clearing lots, working with the excavator, Emil, as the young-guy-with-the-shovel, cleaning houses between subcontractors, running to the lumberyard for material, and occasionally doing some punch-list carpentry. 
It was the carpentry I loved, and after hours, I took on side jobs with homeowners. The idea of going out on my own full-time had been percolating for a couple of years, fueled in part by this new magazine I subscribed to, Fine Homebuilding. While still working in the door shop, I took advantage of my employee discount at the hardware counter and bought tools. I've worn out most of them in three decades, but the three pictured here are still with me: A 10-in. Makita mitersaw, a Milwaukee Sawzall, and a 1/2 in. Makita drill. Now, the drill never got a lot of use, but the chop box and and the Sawzall were two of my go-to tools for the 11 years I was in business before coming to work as a Fine Homebuilding editor. Even as an editor, my tools don't gather dust. My house is an ongoing project, and I spent a couple of years self-employed between stints at the magazine. 
Yeah, I've tried newer versions of the chopsaw and the Sawzall. In fact, I've got a nice, Bosch 12-in. slider in my shop, and its cutting capacity is far greater than the 10 in. Makita's. But the Bosch is heavier than the Makita, and for jobs like the one I'm doing now, trimming out an in-law apartment in the Craftsman-style with 1×4 casing and 1×6 base, the Makita works perfectly. I've used it so much, I don't have to align the blade with the cut marks on the wood – I can split the pencil line with the blade by glancing at how the line falls on the slot in the table. And, as with friends, there are grace-notes you learn by long association. While the blade guard does block my sight when aligning a cut, a quick push with my thumb raises the guard out of the way while leaving my hand perfectly placed on the handle to make the cut. To carry the saw, I lock it at 45 degrees right, grab the handle with my right hand, and let it dangle. The saw nestles against my thigh, swinging comfortably with my stride. 
As to the Sawzall, I've used other recip saws in tool tests over the years, and while newer versions might cut more aggressively and have tool-less blade changing (My old saw requires an Allen wrench to change the blade), I have never used a smoother-cutting reciprocating saw. I've given other recip saws away. This one's original steel box rusted away long ago, but I harvested its hinges, latch, and handle for the plywood replacement box I made. 
Carpentry isn't just something to be gotten over with before moving to the next job. Sure, that's an element of it when it's your living. But to paraphrase Scott McBride from an article of his I edited, I feel blessed each time I'm faced with an untrimmed room and a fresh pile of pine. And if I can do the work with the help of some old friends, well, how good is that?