A Rural Electric House That Works
A tight building envelope and plenty of insulation mean low energy bills, even for a Minnesota home with electric heat.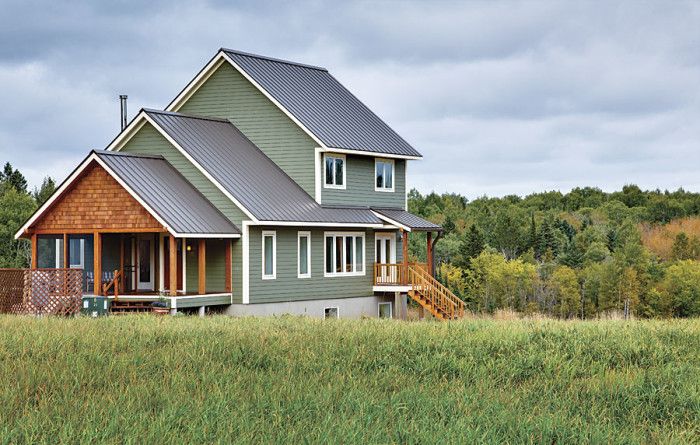 Synopsis: The cost of heating houses with electricity is generally high, especially if those houses are in the northern part of the country. This article takes a detailed look at one such house in rural Minnesota that is so tight and well insulated that its heating costs are surprisingly low. Designed by architect Rachel Wagner, the 1950-sq.-ft. house makes use of passive-solar techniques, double-stud construction, R-80 attic insulation, and triple-glazed windows.
---
When I heard that Rachel Wagner, a Minnesota designer known for her efficient homes, had designed a cold-climate house with electric-resistance heat, I was intrigued. After all, homes with electric heat are usually known for their high fuel bills. When I investigated further, I discovered that the house not only is an energy miser but is also very handsome. Although electric heating systems have a bad reputation, some designers are rethinking their prejudice. A tight, well-insulated house typically has low utility bills even when using an expensive heat source like electricity. Moreover, all-electric homes don't need a chimney or fuel storage, and they don't suffer from fuel fumes or backdrafting. Finally, electric-resistance heaters have few maintenance issues.
Integrated design works well
Wagner's firm designed the all-electric house for Gail Olson and Erik Peterson in Esko, Minn. Olson is the fourth generation of her family to live on the 65-acre farm where the new home was built.
Using an integrated design approach, Wagner pulled together a team that included the homeowners, builder Steve Johnson, and energy consultant Michael LeBeau. The design process emphasized open communication among all the members of the team. The two-story, three-bedroom house that they designed follows classic passive-solar design principles. To keep the space-heat needs as low as possible, Wagner used double-stud walls (R-54), thick attic insulation (R-80), and triple-glazed windows.
At 0.50, the window glazing on the south side of the house has a higher solar heat-gain coefficient (SHGC) than the window glazing on the other three sides of the house, which is 0.31. This approach, called orientation-specific glazing, maximizes solar-heat gain in winter while minimizing it in summer.
It's easy to frame double-stud walls
According to Johnson, the double-stud wall framing — a method that uses two parallel rows of 2×4 studs to frame thick walls — was straightforward. "The window rough openings were lined with boxes made from 1⁄2-in. OSB," Johnson says. "The top plates were tied together by one layer of 3⁄4-in. plywood."
Johnson is a fan of double-stud walls. "This was the first double-wall house that I had built," he says. "I think one of the things that impressed me was how simple it was. What we need is better building and less technology. It was really just a matter of building another wall inside the outside one."
The walls were insulated with dense-pack cellulose. "The insulation contractor had insulated double-stud walls before and is very good at it," says Johnson. "The fire code requires that double-stud walls be divided into compartments with drywall or plywood every 10 ft. of linear wall, so we sectioned off the walls, and that helped the insulation crew." Like many builders in Minnesota and Canada, Johnson uses interior plastic as a vapor retarder. "We used Tu-Tuf, which is a high-quality poly, as the air barrier and the vapor retarder," he says. "Adhesives and tapes stick really well to the Tu-Tuf. All the poly seams are lapped at a stud and taped with 3M tape. We used Tremco acoustical sealant between the bottom plate and the subfloor."
To read the entire article, click the View PDF button below:
View PDF