Tools & Materials
Tool test: 18v Recip Saws
These tools combine corded performance with cordless convenience.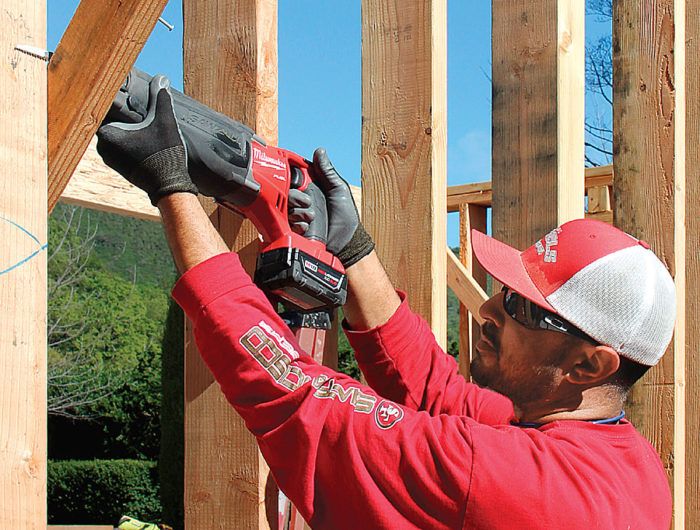 Synopsis: Cordless reciprocating saws are more portable than corded models, and they free you from the hassle of extension cords. Carpenter David Frane tested eight of the most popular 18v Li-ion saws for speed and run-time with cuts in both Douglas fir and black pipe. Here, he gives a brief description of each tool and names his best-overall and best-value models.
The advantages of cordless reciprocating saws are obvious. Cordless saws allow you to make cuts with less setup, and they free you from the weight and hassle of extension cords. It's been a while since I bought a new cordless recip saw, so I was eager to test eight of the most popular 18v Li-ion models.
Although some of the saws I tested are available in kits that include a battery and a charger, many are sold only as bare tools. For the sake of testing, I asked each manufacturer to provide the highest amp-hour battery it currently offers. Before each test, I put fully charged batteries and new blades into the tools: Lenox Gold Power Arc blades for wood and Diablo Steel Demon carbide-tipped blades for metal.
Top picks
The Milwaukee saw is my choice for best overall. It's comfortable to use, cuts faster, and has a longer run-time than every other model. The Ridgid is nearly as comfortable and came in a close second in cutting speed. At about $60 less than the Milwaukee (bare tool), it's an easy pick for best value.
Specs vs. real-world performance
Most saws have a 1 1⁄8-in. stroke and produce around 3000 strokes per minute, so their performance should be nearly equal. Yet testing reveals that their cutting speeds vary greatly.
Speed test
With the material mounted in a sturdy stand and a weight hung from the front of each saw (10 lb. for metal; 20 lb. for wood), I made 12 cuts in a Douglas-fir 2×12 and in 3⁄4-in. black pipe to test cutting speed. After throwing out the two fastest and the two slowest times, I averaged the remaining eight times.
Run-time test
To determine run-time for each saw, I used the same test rig to make as many cuts in a Douglas-fir 2×12 as possible. To prevent overheating, I switched blades after every five cuts. Because batteries vary, I divided the number of cuts by the respective battery's amp-hour rating. All of these saws are 18v except for the Hilti, which is 21.6v.
For more photos and details, click the View PDF button below:
View PDF