The Lego Lounge
The former unfinished basement now features a custom bar and a Lego collection of 250,000 pieces.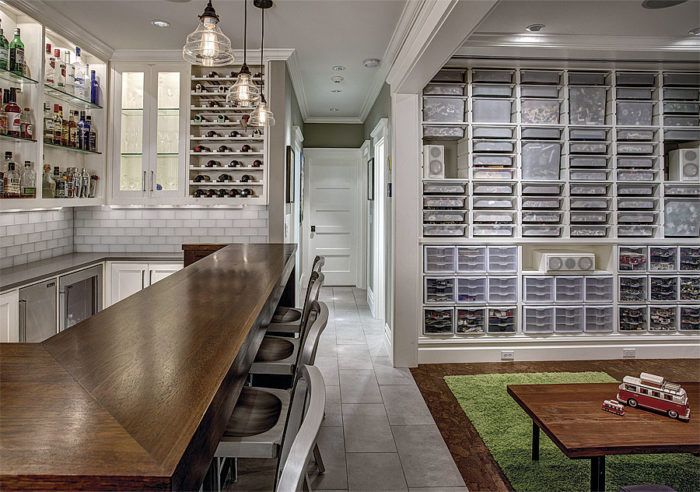 "I've always wanted a Lego room that I could hang out in with friends." Architect Jeff Pelletier is probably not alone in having said this. The difference between Pelletier and the rest is that he didn't just wish for a Lego room — he transformed his unfinished basement into one. The tastefully remodeled lower level now features a custom bar area adjacent to the Lego lounge, which elegantly organizes Pelletier's Lego collection — all 250,000 pieces. To locate the items he needs when the building bug hits, Pelletier keeps his Lego collection sorted by color and type and stored in Ikea Trofast storage bins housed in three walls of custom shelving.
The stylish space is a result of Pelletier's attention to detail and the tasteful color palette he used. The casework provides a clean look appropriate for his 1902 Seattle box home. Custom white cabinetry complements the Ann Sacks Lucian glass backsplash tile in Oxygen, the Ann Sacks Cappadocia floor tile in Flannel, and the Caesarstone Pebble counters. The stained Brazilian cherry bar top was designed to turn a corner and flow gracefully into a stair tread. Minimal furnishings keep the lounge area (which is also the family's media room) free of clutter, but a table on casters tucked under the desk can be rolled out for more extensive Legobuilding projects. The lower level also includes a laundry room, a bathroom, a guest bedroom, and a storage room.
Design: Jeffrey Pelletier, Board & Vellum, Seattle, boardandvellum.com
Construction: NRC Homes, Seattle, nrconstruction.com
Casework: Evan Scott Cabinet and Furniture, Seattle, evanscottcabinet.com
Photographs courtesy of Board & Vellum (John G. Wilbanks Photography, jwphoto.com, and Tina Witherspoon)