Repairing Rot With Epoxy
Use these versatile materials, simple tools, and straightforward steps to revive damaged exterior trim details.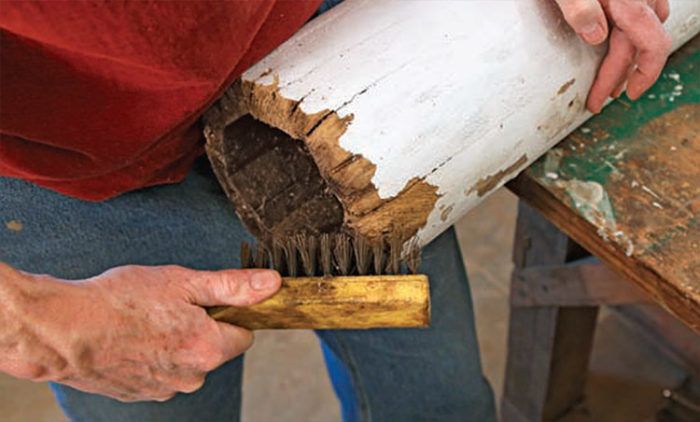 Synopsis: Andy Engel tackles the problem of wood rot, explaining that preservative-treated, rot-resistant wood is not usually trim quality, and builders generally try to prevent rot by keeping wood dry. But because this wood is prone to rot, Andy gives step by step instructions for using epoxy rot-repair products—putty and liquid consolidant—to repair a rotted piece of wood on a molding, column, or window.
Wood rots — particularly wood that gets and stays wet. In many cases (for example, when considering a rotted piece of 1x trim) the fix is straightforward: Replace the decaying material and address the detail that failed and allowed in water. With historic houses, however, replacement isn't always simple. Stock replacements for historic elements may not exist, and having custom replications made can be pricey. Even if you can take one of these approaches, odds are the wood available today won't be as stable nor as rot resistant as the original, making the longevity of the repair questionable. In some cases, PVC or cement-based products can be used, but these may not lend themselves to being machined to replicate existing elements.
Another option is to repair the rotted area with epoxy. Epoxy repairs make a lot of sense with old moldings, columns, and windows where exact-match replacements can't be found. After fixing the issue that allowed the piece to stay wet in the first place, an epoxy repair is a four-step process that includes removing the loose decayed material; hardening the mostly sound remaining wood with thin, liquid epoxy (also called consolidant or rot stabilizer); filling the voids with epoxy putty; and, finally, shaping the hardened epoxy to match the original details. Once it has set, epoxy is as strong as the wood it's replacing.
One complication with epoxy is that the material and the ambient temperature generally need to be between 50°F and 90°F. If it's colder than 50°F, the epoxy won't set. Above 90°F, it can set too fast and become difficult to work with. You can use heat to your advantage, however. Once you've finished applying the consolidant or putty, the setting time can be accelerated by using a heat gun or halogen lamp to warm the area.
Rot prevention is a battle
The organisms that cause rot need four things: food, water, air, and convivial temperatures. Eliminate one or more of these things and wood can't rot. Air and liveable temperatures are necessary for human life, so that leaves only deprivation of food or water as practical ways to thwart rot.
Rot-causing organisms eat wood itself. Nature has made some wood species highly rot resistant by loading them with chemicals called extractives that make the wood inedible (cedar and redwood are among these species). Humans have mimicked nature's approach by introducing chemical preservatives ranging from creosote to a variety of compounds containing metals such as copper or chromium that make wood inedible. However, it's rare to find preservative-treated wood of trim quality.
For more photos and details, click the View PDF button below:
View PDF