Self-Taught MBA: How Do You Measureup?
A recent survey reveals how owners rank contractors, and there's a lot we can learn from what homeowners say about our work and service.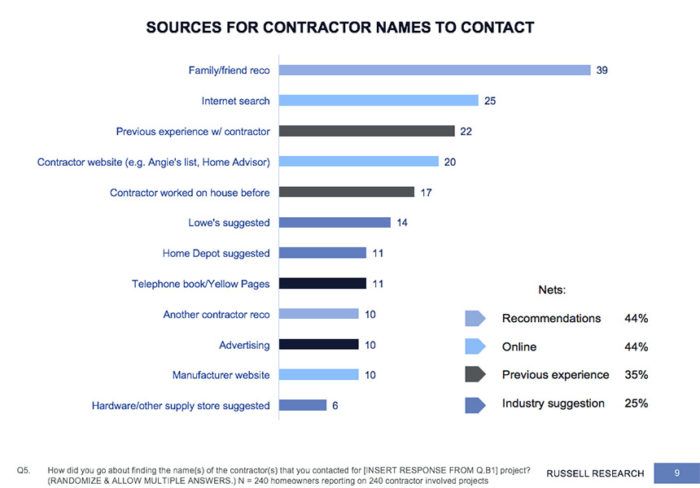 We're in the home improvement and home-building businesses. Our clients are homeowners. So, regardless of how highly we value our own work and service, homeowners have the final vote, and the only opinion that counts.
Recently I attended a private webinar on the results of a February 2017 industry survey on consumer attitudes toward contractors.
Conducted by Russell Research and presented through the Home Improvement Research Institute, the results provide an unvarnished view of contractors through the eyes of those who use our services. These results reflect 240 homeowners reporting on 240 completed projects using a contractor for part or all of the project. Here's what they said.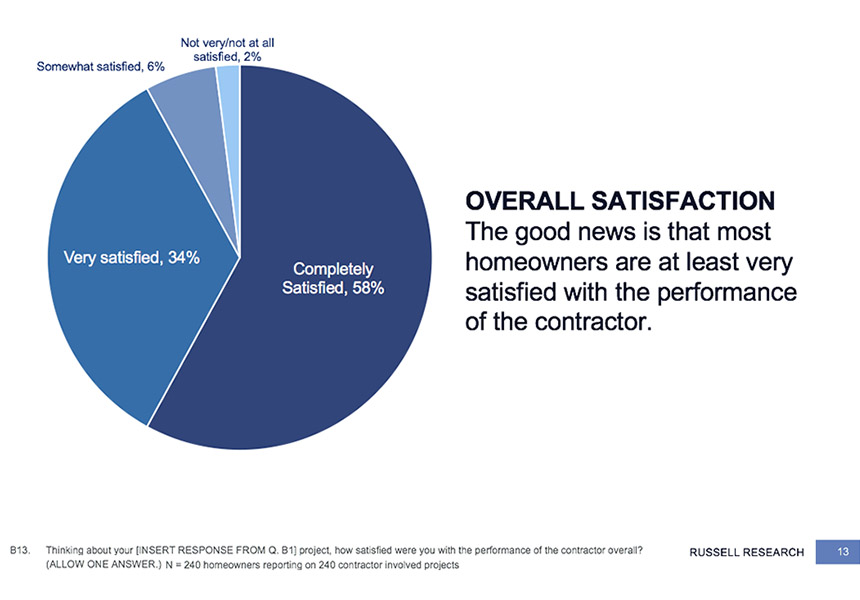 What Makes a Great Contractor?
Nowadays, consumers by and large do not obtain multiple bids, but rather negotiate with a recommended contractor. If they obtain bids, it's mostly for informational purposes. If your company does not come with a strong recommendation, it's tough to get the business.
Of those consumers that do ask for multiple bids, most — two thirds — end up with only one. Many contractors never return the call, and a full 16% of contractors never submit a bid after taking the time to visit the homeowner and discuss the project — although that's not based on the full 240 respondents; it's based on the 18% of the 240 who received fewer bids than they requested. The takeaway, though, is that if you thought price was the driving motivator, it turns out larger and more expensive contractors get a lot of business too.
During the purchasing process, the number one complaint homeowners voice about contractors is no callbacks. Fully 45% of general contractors that consumers contacted did not have the courtesy to return the call. This is one reason larger contractors have success: somebody in the office usually picks up the phone. Don't knock yourself out of the running and leave the homeowner with a poor impression of you. If you don't have time for the job, call them back and let them know.
Consumers also look for contractors with a website. Fully 50% of small contractors lack any web presence at all, and consumers find this off-putting. While 39% of consumers rely on referrals, a full 25% of homeowners identify their one-bid contractor through online research. So, if you have a website and social media presence, you have a much better chance of finding new customers outside your immediate network. Meanwhile, yellow pages and advertising in general rank low on the list as business drivers, with under 10% of consumers referring to these resources.
One interesting fact, of the homeowners that found their bid through either recommendation (word of mouth) or online, roughly the same number — 44% —  contracted the work with the contractor they found. So, the chances of landing a job through a contact online, is the same as landing a job through a referral.
In summary, to get the job, you need a recommendation, although you can overcome this with a strong presence on the Internet. Price comes in second to a recommendation. Most consumers don't shop price, but trust they will get a fair price from a contractor they find friendly and trustworthy.
A prompt reply to calls, presenting a bid, presenting yourself as friendly and trustworthy, and persuading the customer that you know what you're talking about (in a very friendly way) are the factors that consumers said influenced their choice of contractor most.
In ranked order, "friendly and trustworthy" came in first place, as the reason stated by homeowners when asked why they chose a contractor. "Lowest price" came in second. And "certification" came in third.
A brand affiliation helps too, so associating yourself with high quality products, especially as a certified installer, will drive business your way, as reported by 28% of the homeowners surveyed.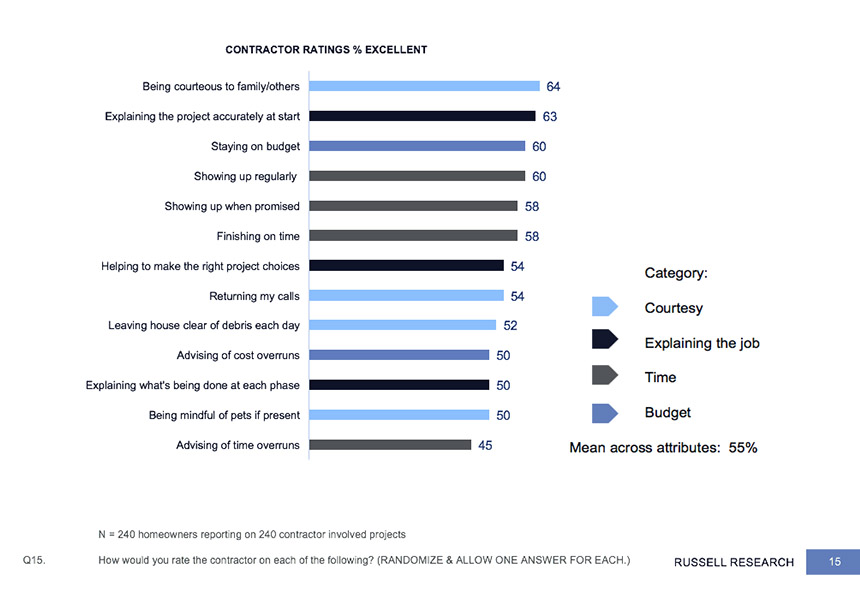 Once You Get the Job
The goods news comes with homeowner satisfaction survey. We do a much better job as an industry with the homeowner experience than we used to. Fully 58% of customers say their contractor satisfied them completely; 34% report they felt very satisfied; and only 8% were either satisfied (mediocre performance) or dissatisfied (poor performance).
As far as what homeowners rated as important in their contractor's performance, very little of it had to do with the actual work. The number one quality of an "excellent" contractor comes with "courtesy to family and others." The second important quality was explaining the project accurately at the start — or setting expectations. Staying on budget came in third. Surprisingly, most contractors in the survey remained on budget, with a small handful that came in under budget, and 13% that went over.
In the also-ran category come measures of excellence that, to my mind, simply break down into aspects of courtesy, such as returning phone calls, showing up as promised, and finishing on time. Cleaning up and good communication round out the list, which does not include a single observation about the work done.
Consumers expect good work, there's nothing extraordinary about knowing your trade. How well you handle the relationship with your client makes the difference between an ordinary and an extraordinary contractor.
In summary, with a lot of good-to-excellent contractors to compete with, you want to make sure your company satisfies every customer completely. Unfortunately, a completely satisfied customer will only tell 4.4 people about how good you were, and a merely satisfied customer will only tell 3 people.  
So, keep up the good work!
Credit: Infographics courtesy Russell Research. The "What Makes a Great Contractor?" Study included 240 U.S. homeowners who used a contractor to complete a home improvement projects during the past twelve months to understand the process of selecting a contractor (search process, decision criteria) as well as the outcome and drivers of satisfaction, and word of mouth after the project.  The survey was conducted online by Russell Research from Jan. 27  – Feb. 9, 2017.  For more information please contact Carol George at [email protected].