Tools & Materials
Capable Compact Drivers
Tool review: Makita Sub-Compact Cordless Impact Driver (XDT15ZB) and Makita Sub-Compact Cordless Drill (XFD11ZB).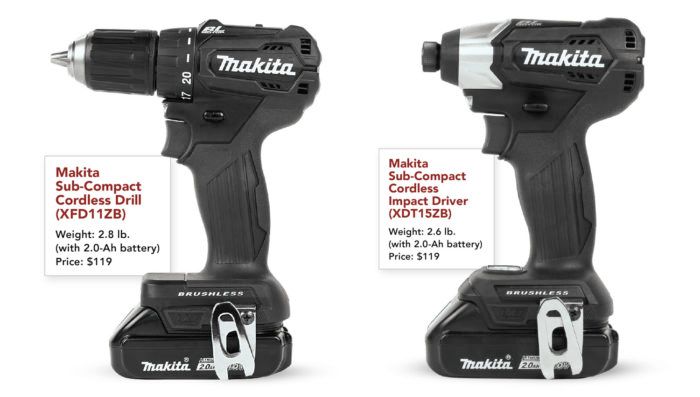 Makita's new 18v brushless drill and impact drivers are lighter and more compact than many 12v tools, but what's amazing is that Makita has achieved this with only a small sacrifice in power.
Impact driver
Although most full-size 18v tools produce about 1500 in.-lb. of torque, the sub-compact Makita's 1240 in.-lb. can handle all but the heaviest applications, and its small, short housing gives it access to the tightest of spaces. The impact driver has three modes: hard, soft, and auto. The hard mode is for full-speed, repetitive applications, while the soft is for more delicate fastening with shorter screws. Auto mode provides a soft start that ramps up in speed and power once the screw has started turning and encounters more resistance. The power in auto mode is more than sufficient for most applications. Plus, the ergonomics and balance of the tool are excellent. I think the handle may be a little small for my hands, but everyone else I loaned it to loved it.
Drill driver
The real surprise with this drill driver is that Makita included a 1⁄2-in. ratcheting chuck in a tool this small. Most drills of the same size have a 3⁄8-in. chuck, which seriously limits drill-bit options. While the sub-compact impact driver was nearly equal in power to its larger 18v counterparts, the drill, with its 350 in.-lb. of torque, struggled with large-diameter bits compared to only slightly larger drills. That said, this drill is a sleek tool, and it's not designed for large bits anyway. I really like its smooth clutch settings and wobble-free operation, even when running long bits.
I'm impressed with these new 18v Makita tools. They're light, super portable, and perfect for tight spaces and overhead work. I think they're definitely worth a look, ­especially for anyone looking to upgrade from compact 12v tools. The $239 kit (CX200RB) includes a drill and impact driver, two 2.0-amp/hr batteries, a charger, and a soft case with plenty of space for accessories.