Get Google to Pay Attention to Your Website
The Google search engine has over 200 different factors determining how they rank a web page. This article looks at the TOP 4 factors and how it applies to your website.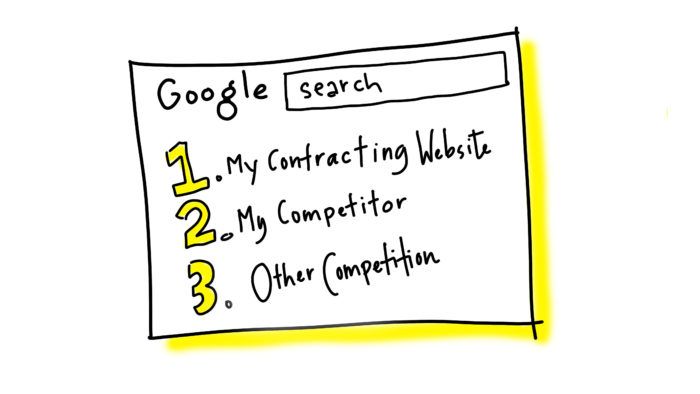 In this article we are going to look at the basics of SEO, and why Google ranks some websites but not others.
A website is essential to running a successful contracting business in today's marketing economy. A well-developed website serves as a central hub for the company; it's a place to list contact information, showcase pictures of completed work, answer frequently asked questions, and ultimately attract your target clients.
The most important factor in a website is how easily it can be found by internet users. You may have a beautiful, up-to-date, twenty-first century website, but if you are not visible when the right people are searching for you, you might as well not be online. You will get the most business leads when you are visible to potential customers searching for you.
We See Things Differently Than Google
When we view a webpage online, what we see is not what Google or other search engines see. Google views the coding and other factors that are not immediately obvious to the casual internet user. A lot of contractors assume if they publish a website they will receive immediate results by ranking high on a Google search. Unfortunately that is unlikely because Google uses over 200 unique factors to determine who will show up on the first page of an internet user's query.
What Does Google See In A Website?
Google has little robots crawling the Internet through millions and millions of pages, multiple times per hour. These robots sort through web pages all across the Internet, gathering keywords, sentences, and all sorts of information from each separate web page.
Then the robots take the information into the library Google has set up and begin to categorize each page. They index it according to topics and keywords, creating a tremendous library of information that is all filed, categorized, and indexed. This library system makes the Google search engine very quick. Therefore, it's very easy to find the web page answering a specific question within milliseconds.
A Shortcut To Get On The First Page Of Google

If you want a shortcut for getting your website to the first page of the results, you will have to pay Google to put you there. That's called Google advertisement.
Typically, on any Google search, two results will come up—paid ads and organic search results. Organic search results are ads that are not purchased.
When you perform a search such as "Seattle Kitchen Remodeling," you will find three different sections on the first page of the search results.
Paid ads. The contracting companies paying Google to be at the top of page one.
Local Search Results. The contracting companies optimizing their local visibility
Organic Search Results. Includes all the other results that Google thinks would answer the search term "Seattle kitchen remodeling".
The first results will always be the paid ads. If you don't want to pay Google, but you want to receive that high ranking you'll have to do some work!
The 4 Main Factors That Help You Rank in Google
The Google search engine has over 200 different factors determining how they rank a web page, but these four are the most important for optimizing your contracting website.
Location.
First, Google checks the location of the internet user's query. In our previous example, we used "Seattle Remodeling Company." Google wants to answer this question by showing results that relate to Seattle. It doesn't make sense to show a Miami, Florida remodeling company to someone who's located in Seattle.
Google is now paying more attention than ever before to the physical location of the person performing the search. In other words, if a person is located on the outskirts of Seattle, and searches for "Kitchen Remodeler," then Google will try to show results that are in close proximity to the person searching.
When you are optimizing your online presence for local people, make sure to clearly include your location in your website, and local directories, so that Google's robots know to categorize it to your region.
Relevance.
Second, Google examines relevance. If you were to ask Google how to lay tile, it would not make sense to read a web page about how to mow grass. Google wants to provide the most relevant results for a search query.
If you want your website to help you achieve a certain purpose (i.e, remodel kitchens for the older generation of your locality) fill your website with only content relevant to that purpose.
Authority.
Third, Google looks for authority. To be an authority, write and produce content that helps people. When you set yourself up as an authority on a subject, people will begin to reference your work by linking to your website.
If you're an expert tile layer, write blog posts about the best ways to lay a tricky tile piece. Share DIY videos on the fastest way to install a backsplash. Create content that shows you know your way around the business that you want to attract.
The more other websites link back to your page, the higher you will rise in the search engines.
Popularity.
Fourth, Google analyzes popularity. Are people staying for a long time on your website? Do they read the entire piece of content? Are they sharing it with their friends? Is it spreading across the Internet?
The more people share your website content, the more popular it will become, and therefore the higher you will rank in the search results.
Summary
All four of these factors help determine where your website ranks in search results. When starting your website, ensure that your location is locked into your website so that you're visible to local internet users. Create content that relates specifically to the work you are trying to sell. Become an authority on your niche by writing helpful, shareable blog posts. Do everything you can to become the source of information and authority for your subject. Gain popularity by sharing your posts on different social medias and inviting others to share them, too.
All these factors working together will steadily push you up the search engine rankings. Have a long term vision for your website, and do not be afraid to put in the hard work necessary to see it pay off!
*****
Thank you for joining me today. If you have any further questions or comments, please join the conversation in the comments below.
*****
Follow me on Instagram for behind-the-scenes stuff. And if you're wanting to go deeper with marketing your business, you may get a free copy of my new book, Contractor Marketing Simplified.