Podcast Episode 90: Metal Roofs and Thermal Bridges
Whistling hot water bathroom fixtures, closet flanges, replacing open-cell insulation, shed construction, and the paradox of caulking around the bottom of a toilet.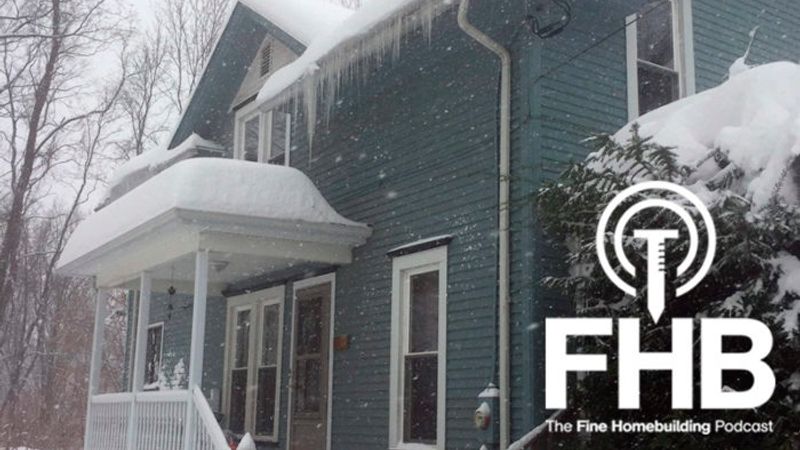 In this podcast, Fine Homebuilding staffers Justin, Brian, and Rob talk about kitchen cabinets, whistling hot water bathroom fixtures, closet flanges, and the paradox of caulking around the bottom of a toilet. Plus, Brian has strong feelings about how it is bad to finish your basement, because there's always flooding, he says. For the other side of the debate, here's a link to  an article by Steven Baczek's article.
And by the way, how many trips to the hardware store does it take to complete a project?
Listener Chris from Western New York has a question about metal roofing, specifically, about inexpensive Amish metal roofing. "Always use the Amish guy, that's the answer to that," says Justin. The guys also have opinions about metal roofing in general.
Chris has another question: replacing old open-cell insulation, probably urea formaldehyde foam. That provokes a detailed thermal bridge discussion, so check out the links on that below. Here's a photo of Chris's snow-belt house: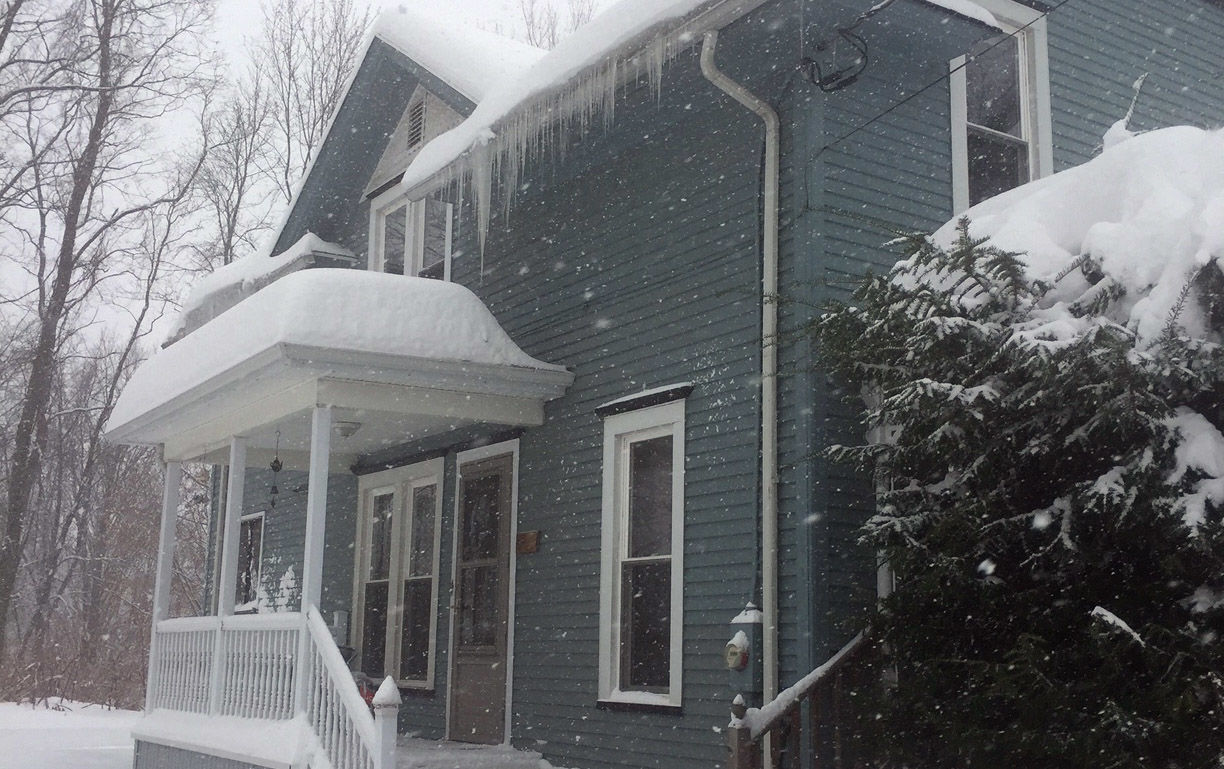 Listener Tim is a landlord who takes care of his properties himself. He's building a shed to hone his skills. Here are a couple photos of his shed in progress: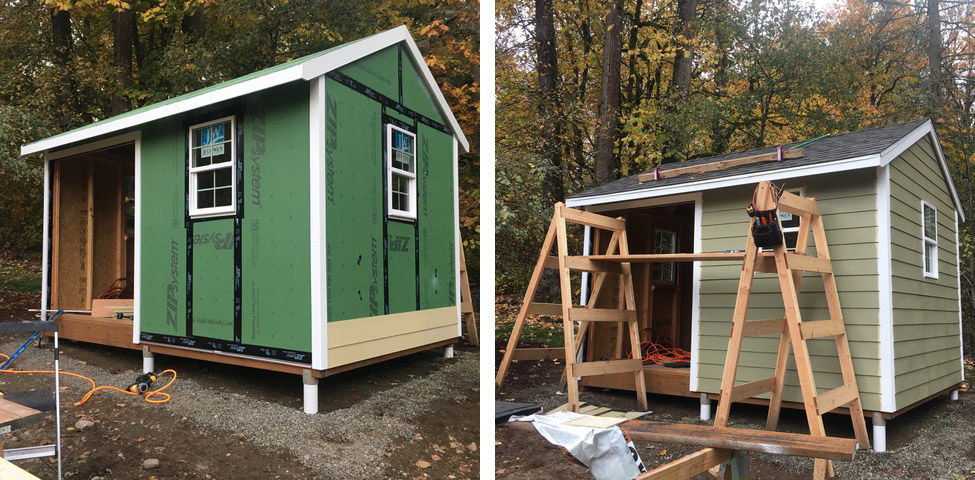 Here's the finished shed: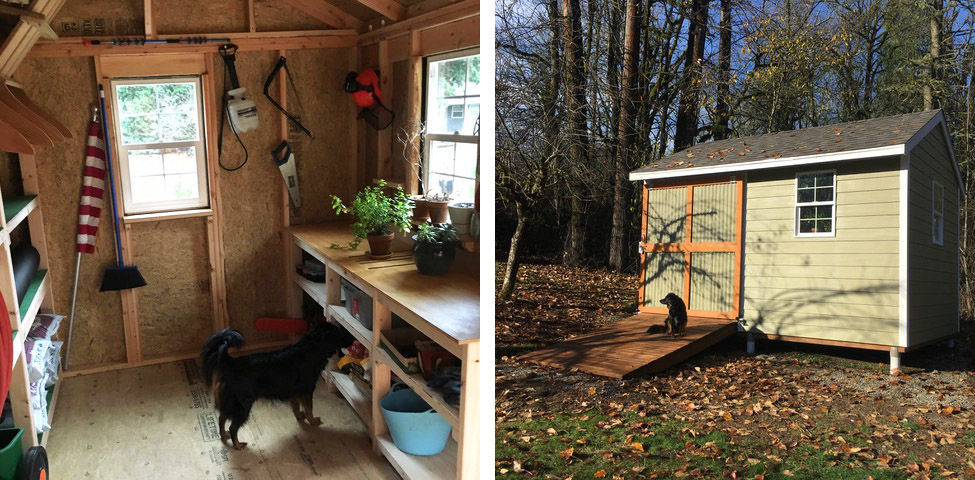 If you are going to IBS next month, please consider coming to our awesome fundraiser event. Check that out at the KeepCraftAlive website.
We hope you will take advantage of two great offers for our podcast listeners: A special 20% off discounted rate to subscribe to the Fine Homebuilding print magazine. That link goes to finehomebuilding.com/podoffer.
Also, we have another special offer for podcast listeners … use coupon code GIFT20 at the Taunton Online Store. We have tons of home construction and remodeling gift ideas over there, electronic and print, for you or for your friends and loved ones. You may even find some ideas for the people in your life who love cooking, gardening, and sewing.
But what about the special offer? The prices in the store have been marked down up to 80%. Yeah, the "up to" part of that is a little weaselly, and you'll find lots of things that are discounted by a lot less than 80%, honestly. There Ain't No Such Thing As A Free Lunch. But here's a true incentive: type in GIFT20 as a coupon code for 20% off.
Today's episode of the Fine Homebuilding podcast is brought to you by Weather Shield.
Sophisticated styling. Sleek lines. Stunning simplicity. From the sightlines to the finishes and hardware, Weather Shield has considered every element of design to achieve a true minimalistic appearance with its Contemporary Collection line of windows and doors. Developed in collaboration with architects and interior designers, this collection brings a bold and modern aesthetic to the residential market. With more than 60 years of experience and 33 patents, Weather Shield is faithfully focused on helping you create something better and more purposeful. Find out how Weather Shield can bring your next project to life by visiting weathershield.com and finding a dealer in your area.
Today's episode of the Fine Homebuilding podcast is also brought to you by Lenox Tools.
When you are in the middle of cutting, it is a hassle to change blades. That's why Lenox is excited to introduce their new line of reciprocating saw blades. Now, when you are cutting through metal with the Lazer CT, or through nail-embedded wood with the Demolition CT, you can count on them to last 10x longer than standard bi-metal reciprocating saw blades. And, with the Speed Slot Hole Saw, you get twice as much life along with a unique staircase design that lets you easily pop out plugs. So, if you' re cutting metal, demolishing, or drilling holes, you can rely on Lenox to last long after the job's done.

The show is driven by our listeners, so please subscribe and rate us on iTunes or Google Play, and if you have any questions you would like us to dig into for a future show, shoot an email our way: [email protected]. Also, be sure to follow Justin Fink, Rob Yagid, and Fine Homebuilding on Instagram — and "like" the magazine on Facebook. Note that you can watch the show above, or on YouTube at the Fine Homebuilding YouTube Channel.
The Fine Homebuilding Podcast embodies Fine Homebuilding magazine's commitment to the preservation of craftsmanship and the advancement of home performance in residential construction. The show is an informal but vigorous conversation about the techniques and principles that allow listeners to master their design and building challenges.
Here are a slew of links related to this podcast: