IBS 2018: King Slide Push-to-Open, Soft-Close Drawer Slides
These undermount drawer slides are aimed at making drawers safer for young children and in earthquake-prone areas.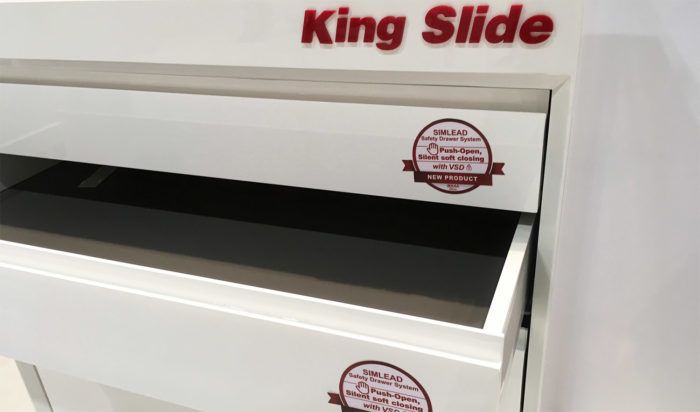 Coming to IBS, I did not expect to be wowed by drawer slides. But here I am, telling you about King Slide's SIMLEAD undermount drawer slides.
To open, just push on the drawer. You can stop the drawer partway open, then nudge the drawer again to open it the rest of the way. Drawers can be pushed closed at any point after opening (in other words, you don't need to open the drawer all the way to reset the slide), and it closes softly, without any bounce back, whether you push it hard or soft.
Those are great features, but the company is really highlighting the slides' ability to detect vibration or tilting and lock the drawers shut. Tilt a cabinet just a bit, and you can't pull it open. This is great for earthquake-prone areas, and adds some additional safety if you have young children that like to climb on things. You may have heard about deaths related to kids climbing the drawers of Ikea dressers; these slides, the company says, are designed to prevent those kinds of accidents.
Click below to play this Instagram video of the product, demonstrated by FHB's Patrick McCombe on site at the IBS 2018 event: