Best Energy-Smart Home 2018: Neighborhood Net Zero
This builder-friendly spec house fills out a narrow lot in a contemporary community.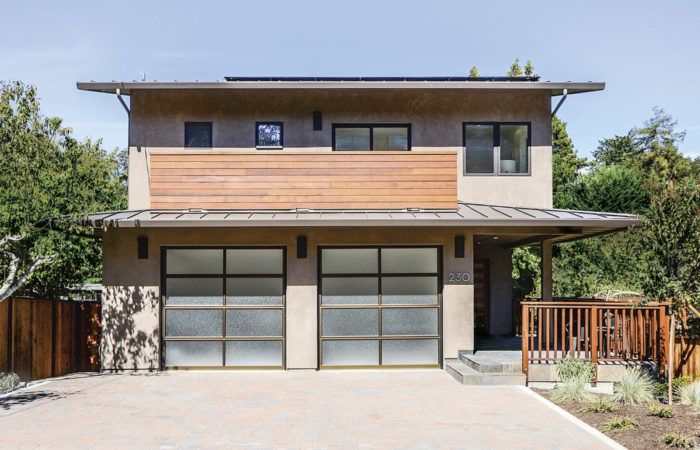 Synopsis: The 2018 Best Energy-Smart Home Award goes to Eric Woodhouse for a contemporary split-level spec house that achieved close to Passive House levels of airtightness. Rigid insulation was installed over the slab, and then 7-1/4-in.-deep double-stud walls were dense-packed with cellulose insulation. Open-web trusses were used for the second floor, and I-joists for the roof framing. Zip System sheathing is the primary air and water barrier on the walls and roof, and the roof system is unvented with dense-pack cellulose in the rafter cavities in addition to foam installed above the sheathing. The house is heated with a homebrew version of hydronic radiant tubing installed under the finished flooring, controlled by a Nest thermostat. The walls have conventional stucco over a ventilated rainscreen assembly, and there is a PV system on the roof sized to produce more energy than the building needs. The article includes in-depth drawings of the roof, wall, and slab details.
The original house on this site was built in 1946, and by the time I bought it in 2012, the house had become pretty run down. I'd had my eye on the site for several years, primarily because of the location. It's within easy walking distance of schools, shopping, and restaurants, and it's surrounded by public open space. Most of the other houses in the neighborhood were newer and in much better condition. It seemed ripe for a spec house.
Since this is a spec home, we attempted to design a house that would be flexible enough to meet the needs of a variety of potential owners, but we were also faced with some challenges. The 50-ft.-wide lot with required 6-ft. setbacks on each side definitely constrained what we were able to build, as did the limitation of being able to build to only 30% of the lot size, leaving us just over a 2000-sq.-ft. footprint to work with. I was actually happy for that constraint, as I personally prefer smaller houses, and my prior projects had been much larger.
The nearly flat lot was also new for us, as prior projects had been on much steeper sites. But we found a way to make the flat lot challenging, by deciding that the back of the house should open to the backyard at grade, with no steps. This led to the split-level design.
A mixed bag of materials
When building for energy efficiency, decisions about framing and insulation go hand in hand. And when building a spec home, size matters. It seems that most energy-­efficient homes are wrapped in rigid foam these days, but we had a different approach.
We did install rigid insulation over the slab, over which we installed subfloor sheathing. We didn't carry the rigid-foam plan to the walls, though. We had done exterior foam on a previous job and decided the work was kind of a pain, so we decided to try something else for the walls on this build. We ended up going with 7-1⁄4-in.-deep double-stud walls, which we dense-packed with cellulose insulation. I would have preferred a thicker wall, but a deeper double-stud wall would have meant a further reduction in our interior square footage, so the wall design was a compromise.
We used open-web trusses for the second floor because they gave us nice, stiff floors and made it fast and easy to route the plumbing and electrical. For the roof framing we opted for I-joists, which gave us longer lengths and spans than we could get from 2x12s, and are far lighter.
As is typical of many energy-efficient builds nowadays, we relied on Zip System sheathing with taped seams as our primary air and water barrier on the walls and roof, which we framed without overhangs to allow for faster and easier air-sealing at the wall-to-roof intersection.
The roof system is unvented, and has dense-pack cellulose in the rafter cavities, in addition to foam installed above the sheathing. In places where the roof didn't have drywall in contact with the insulation (over bedrooms with flat ceilings, for instance), we used Intello membrane in place of the usual cellulose netting, supporting it with 1x strapping, in order to maintain our air barrier.
We buttoned up the envelope with Alpen windows and sliding doors, which have a clear film between the panes of glass for a semi-triple-pane effect. The large NanaWall door, however, is a true triple-glaze.
Modest mechanicals and durable finishes
For heating, we've had excellent results with our homebrew-version hydronic radiant tubing installed under the finished flooring. There are seven zones, each controlled by a Nest thermostat, and hot water comes from the same Sanden SANCO2 heat pump that provides domestic hot water, which is located in a mechanical room.
There is no cooling system in the house. Instead, we have clerestory windows on the wall above the stairway and in one of the bedrooms, each electrically operable so that they can be opened for stack-effect ventilation and night flushing.
Mechanical ventilation is provided by a Zehnder ComfoAir 350 HRV. We originally planned to put the HRV in the  crawlspace/mechanical room, but during construction we realized that there was room for it in the ceiling above the kitchen, which kept it inside the conditioned envelope and placed it centrally in the building, reducing the length of the duct runs.
The roof-mounted photovoltaic system consists of 27 SolarWorld 285w modules for a total of 7.7kw. It was sized to produce more energy than the building needs, in the event future owners want to charge an electric vehicle. For the exterior, we chose conventional stucco over a Stuc-O-Flex WaterWay 3-mm ventilated rainscreen assembly. Our local inspectors like stucco because it's fire resistant, and I like it because the color is integrated into the top coat, so the building should never require paint. I expect the same longevity in the metal roofing, which essentially lasts forever. The standing seams also make solar-panel attachment fast and penetration-free.
For the interior, we chose finishes that catered to the market. Hence, there's a lot of white. But we also opted for durable surfaces and took opportunities wherever we could to further our sustainability goals. To that end, all lighting is LED, all plumbing fixtures are WaterSense listed, and all appliances are Energy Star rated.
Click here for a slideshow of photos of this project.
For even more photos, floor plans, and information, please click the View PDF button below.
View PDF