Best Energy-Smart Home 2018 Photo Gallery
A look at a high-performance spec house built in a competitive California market.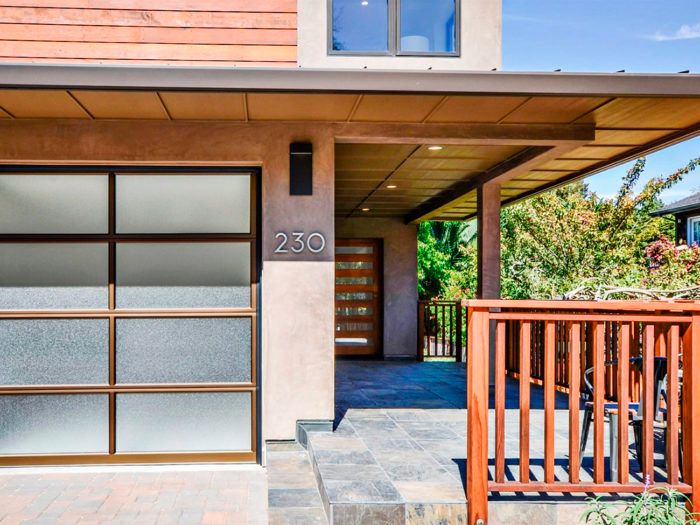 Our 2018 Best Energy-Smart Home Award goes to Eric Woodhouse for his recently completed spec house in Mill Valley, Calif. The contemporary split-level home achieved close to Passive House levels of airtightness, and exceeds California's Title 24 Building Efficiency Standards by 52.5%.
All photographs by smsmithphotography.com.
Please click the Laungh Gallery button below for a slideshow of photos — and check out the full article, "Neighborhood Net Zero," in FHB issue #275.
For the exterior, Woodhouse chose conventional stucco over a Stuc-O-Flex WaterWay 3-mm ventilated rainscreen assembly. His local inspectors like stucco because it's fire resistant, and he likes it because the color is integrated into the top coat, so the building should never require paint.
A split-level design defined by contemporary stairways and cable railings provides easy access to the bedrooms and bathrooms off the entry and upstairs, as well as a full view of the lower living level and surrounding yard and landscaping.
An open floor plan offers just the right balance of defined spaces and flexibility for a wide range of styles, which is crucial when positioning a spec house for success on the real estate market.
A well-appointed U-shaped kitchen offers high-end stainless-steel appliances, bar seating, and a connection with the dining room and living room.
A set of folding NanaWall doors provide access to the backyard that ordinary patio doors can't achieve. When open, the distinction between indoor and outdoor spaces all but disappears.
A small patio area, lawn, and landscape with fruit trees offers a private outdoor retreat in an especially narrow lot.