Best New Home 2018 Photo Gallery
This modern take on New England Colonial architecture has a flat roof and cantilevers that bring new life to more traditional materials and trim details.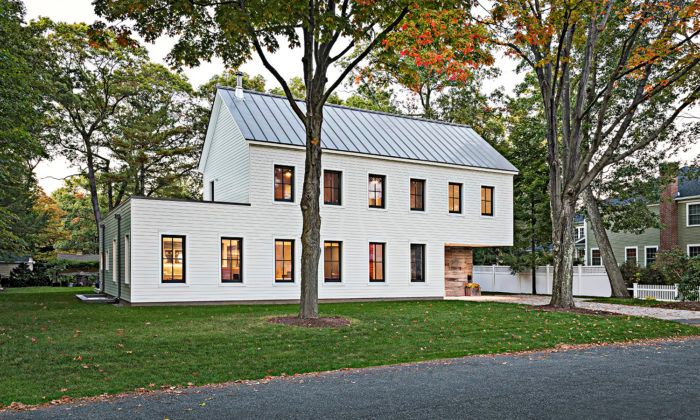 In a small amount of time, Matt O'Malia and the team at GO Logic have made a big impact on what it means to design and build a home in the Northeast. Their modern version of classic New England homes is rooted as much in making them edgy and modern as it is in saving their client's money—their minimalist details tend to cost less in materials and labor than more ornate traditional details. What's never lacking from their projects is an unparalleled level of performance. This new home, with no renewable energy source, cost the homeowners under $200 per sq. ft. to build and costs under $300 per year to heat and cool. Check out the gallery below for a closer look at the house and the read the full article in FHB #275 for more.
Photos by Trent Bell.
Click the Launch Gallery button below for more photos.
Inconspicuous but inviting. Turning the front entrance to the side and tucking it under the second-floor overhang allowed the architects to include a big glass door without making it feel too exposed.
Relaxed asymmetry. The GO Logic team felt comfortable keeping the details more loose and eclectic on this private side of the house. The back door makes the tandem garage a more adaptable storage and work space than you would get with a typical front-facing two-car garage.
Surrounded by nature. Slender hallways with lots of windows bring light into every corner of the house. Warm natural colors take the focus away from the walls so you notice the view outside and the occasional pops of color indoors.
No hallways. To make the most of the first floor, there are no hallways. Rooms are divided by other means. The glazed brick fireplace wall is just tall enough to visually separate the dining and living spaces without disrupting the home's feeling of openness.
Big effects for a bright bath. A red mosaic pattern in the tiled tub surround and matching red cabinet knobs liven up the kids' bathroom. The floating vanity, large mirror, large-format floor tiles make the narrow bath feel big and bright.