Expanding Your Reach on Instagram
Instagram is a great platform for featuring your best work, but how can you expand your reach and grow your following? Here are five ways to do that.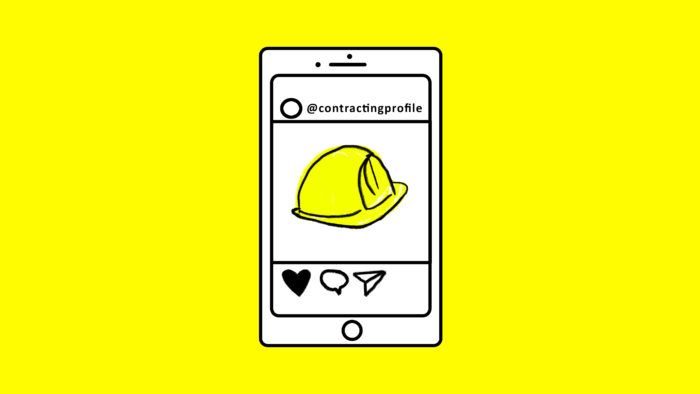 After you've made an Instagram account; after you've set up a business profile, posted your first good quality pictures of finished jobs; maybe even done a few Instagram stories showing the behind-scenes of your current project … What's the next step?
How do you take your initial number of followers, your first batch of interactions on social media and expand them into something larger and profitable for your business?
In this blog post, we're going to look at five things you can do to expand your contracting company's reach on Instagram. Some of these steps are simple (geotagging your posts requires just a click of a button) while a few of them take more effort (networking with other contractors requires time and forethought), but each will be helpful to your end goal: using Instagram to grow your company!
Five Steps to Expand Your Company's Reach on Instagram
1. Use Hashtags
Instagram hashtags (#hashtag) work within the app both as a search engine and a catalogue. Searching for specific hashtags within Instagram is the easiest way to find a localized and/or specific post. Searching for a hashtag on Instagram will show you all the posts on the app that contain that keyword.
It's been proven that Instagram posts with hashtags get much more interaction within the app than posts without hashtags. Without hashtags, it's easy for your posts to be seen once and then lost in the algorithm.
Hashtag all your posts with appropriate tags relating to your location, your project, and your company specifically. This makes your posts searchable by location, product, name, etc, and you are far more likely to get found on the app.
2. Include Your Location
Instagram is not just a photo-sharing platform, it also contains a very high-quality search engine. Instagram's search engine answers a user's search based on their location, past "likes," who they are following, etc.
One way to really take advantage of Instagram's search engine for the expansion of your company's Instagram account, is to always use the location feature. Posting pictures with your location allows any Instagram user (not just your followers!) to see your post when they search a certain location. If you've tagged your photos with your Seattle, WA, location, every time Seattle, WA, is searched, your photos will appear in the results.
Every time you post a picture of your work, make sure to enable your location settings and add your location to each post. I see a lot of people forget that, which is understandable, but remember how foundational your location is to your online presence. An Instagram user based in Canada won't be as helped by your Phoenix, Arizona, kitchen remodeling Instagram posts, but a fellow Phoenix resident looking to remodel their kitchen will be!
Research has shown that photos posted with a location get 79% more engagement than photos without a location. That's huge! If you want to be found by potential customers in your locality, you should always use your location when you post.
When you create an Instagram Story, add your location from the collection of stickers in the top right corner. Instagram creates a big story made of all the stories posted with that location, and Instagram users are automatically shown the featured stories from their city. Your story will be added to the collection of stories from your city, and anyone clicking on the featured story will see it!
3. Post Consistently
Instagram rewards consistency.
There are two different types of consistency related to Instagram posts; one is consistency in the amount of photos you post (one a day? One a week? Twice a day?); and the second is consistency in the content you post. We'll look at both of those types.
– Consistency In Time/Amount of Posting
It's generally recognized that the more often you post on Instagram, the more opportunities there are for engagement with other Instagram users and more opportunities to be found within the app. That being said, 10+ photos a day could end up cluttering your follower's Instagram feeds and lead them to unfollow you. Moderation is important.
Decide for yourself and your company's brand, what works the best for you. Try posting once a day for a week and see what happens; try once a week. However, once you find what schedule/amount gives you the best interaction, stick with it consistently.
– Consistency in Content
The most popular Instagram accounts maintain a cohesive 'theme' with each photo they post. Maybe it's the same filter applied to each photo, maybe they post inspirational quotes every three photos, maybe they always post before-and-after collages of their finished products.
You want your Instagram profile to look cohesive and tidy, not randomly cluttered or disorganized. Your followers come to expect a certain kind of post from you; that's why they follow you! They like your content. Try to reward them with consistency.
4. Network with Other Contractors
Making connections is the key to growth on Instagram.
As soon as possible once you're active on Instagram, find your strategic partners and fellow contractors and connect with them on the app. Your strategic partners are people you work with in your town who don't directly compete with what you do. If you're a custom remodeler, they're the designers. If you're a home builder, they're the architects and designers. You want to connect with them and help them promote their companies on Instagram as well.
Your fellow contractors, of course, are the men and women in the trenches with you. While you might often be competing for the same target audience, you can also help each other out by providing value and exposure to each other's companies on Instagram.
Post shout-outs about contractors you admire; share other contractor's work; like and comment on their posts; ask questions. Get to know the other contractors in your area by interacting with them on social media; this gives you more exposure every time your fellow contractor's followers come across your page or information.
5. Connect People to Your Website
We've established that Instagram is a great place to feature yourself and your work with high quality images, but it's unlikely that you'll get all your business from an Instagram account. If you're in the business of contracting, and you want to generate leads from your local market, what's the best way to do that?
People nowadays want to "be in charge" of their own research. They want to go online, research companies, and find who they specifically want working for them. The best place for them to find out who you are and what you do, is your website. It's your home base. All your social media, advertising, etc, should always point back to it. That way whenever people are searching for you online, they'll be directed to your website even if they found you on social media.
Link your website in the bio of your Instagram profile, direct potential customers to it often, whether you've posted a new blog post, are offering a sale, answering questions—anything. They can delve further into research there.
You might even want to form a "landing page" specific to your business and link that in your Instagram bio. Design the page to answer your potential customer's questions. Tell them where they can get started. Click through to fill out a form with their contact information so you can follow up with them.
Make calls to action in the description of your posts or in your stories. There are many different ways to get potential customers to take action.
Finally, one thing you can do is sponsor your best performing posts within Instagram. If you want to pay a little bit to get in front of more people, go into your statistics and find some of your best performing posts; take one of your images that has done well and sponsor it for a week. If you spend a hundred dollars on something, choose your targeting wisely. You don't want the people seeing and liking your sponsored post to be only other contractors. You want to get it in front of the right potential customers and homeowners in your city.
Summary
Instagram is an excellent platform for displaying your work, attracting potential customers, and connecting with other contractors. More than just a display case though, there are many ways to use it to expand your contracting company's online reach. Take advantage of hashtags, post your location, connect with other contractors, and always link back to your website. These simple steps will help you develop a following on Instagram, get found on the app, and get more leads.
*****
Thank you for joining me today. If you have any further questions or comments, please join the conversation in the comments below.
*****
Follow me on Instagram for behind-the-scenes stuff. And if you want to go deeper with marketing your business, you may get a free copy of my new book, Contractor Marketing Simplified.
*****
Here is more reading about Instagram for Contractors:
https://www.finehomebuilding.com/2018/03/15/instagram-for-contractors
https://www.finehomebuilding.com/2018/03/22/optimizing-instagram-hashtags-contractors
https://www.finehomebuilding.com/2018/04/09/instagram-stories-for-contractors