Fine Homebuilding and Benjamin Moore Recognize the 2018 ProPaint Award Winners
In partnership with Benjamin Moore, Fine Homebuilding names the winners in our Pro Paint awards contest.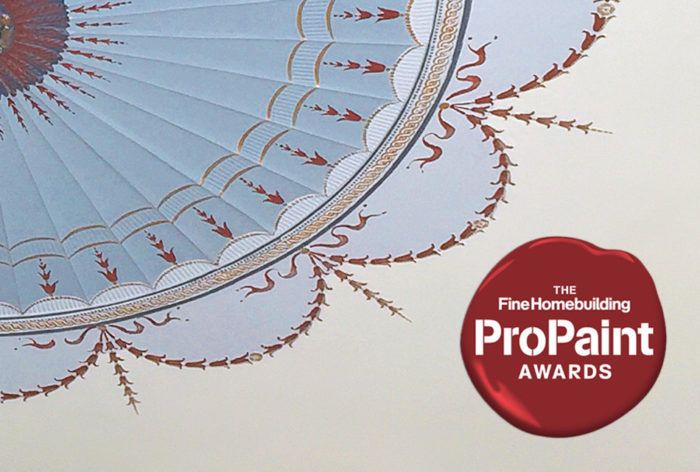 At Fine Homebuilding and Benjamin Moore we know that exceptional homes aren't crafted by any one particular individual. It takes a talented team of committed men and women to build the best homes possible. What we've recognized here is that within every job there are painters and finishers who complete the aesthetics of the home, and their work contributes significantly to the durability and longevity of the homes and spaces we love.
We've selected three professional painters who exemplify craftsmanship in their trade and have presented them with the first Benjamin Moore/Fine Homebuilding Pro Paint awards in the following categories:
The Master Painter Award— to the dedicated painter who not only has the skill to excel within the most demanding jobs, but executes his work with considerable precision and job-site management.
Best Historic Preservation Award— to the painting contractor who most successfully executed the painting and finish of a home with local, regional, or national historic significance.
Best Transformation Award— to the painting contractor who reimagined an existing space to elevate its character, quality, and beauty.
Thanks to Benjamin Moore, each winner will receive a generous prize package redeemable for Benjamin Moore products at any Benjamin Moore store. Please join us in congratulating these three "Proudly Particular" professionals as we celebrate their hard work and dedication to their craft.
The Master Painter Award
Winner – Steven Shumway, Shumway Painting, Greenfield, Massachusetts, Instagram: steve.shumway
Steve Shumway had never entered a contest before but was extremely proud of this particular project. A painting professional for over 35 years, Steve started painting part time in high school with the painting company his father and grandfather started in the early 1960s. After graduation he tried a variety of jobs but eventually went back to work in the family business. His firm does residential repaints, new custom homes and condos, and light commercial build-outs, using Benjamin Moore paints. Regal Select Eggshell is their go-to wall finish and a particular favorite of Steve's is Advance, which he finds to be the best replacement for oil products on woodwork.
When asked about his many years as a professional painter, Steve had this to say. "I love this trade. I consider myself so lucky to have worked with my father, grandfather, and the many other very talented painters they employed. The knowledge I gained working alongside them has been my greatest asset as a contractor. And I have met so many great customers from all walks of life. The biggest problem I am now seeing is encouraging new talent to join our trade and showing them that it is a respected industry and a great way to make a living. To have our craft recognized by Benjamin Moore and Fine Homebuilding goes a long way and is greatly appreciated."
Best Historic Preservation Award
Winner – Carlos Vazquez, Vazquez Painting and Remodeling, Oak Park, Illinois
Residential restorations of an historic nature are the specialty of Vazquez Painting, a second generation family business that has been in operation for 28 years in Oak Park and River Forest, Illinois. In these neighborhoods are many famous and fine homes, including those which belonged to Frank Lloyd Wright and Ernest Hemingway, and Vazquez Painting is justifiably proud to be the top professional painters in the area. Owner Carlos Vazquez says that house painting and historic preservation are more than just a job for him and his crew. It is an honor to be a part of helping to restore these fine homes, many of which are still family residences, to their original beauty.
Upon learning he was selected to receive the Best Historic Preservation award, Carlos had this to say, "I am thrilled to have been chosen as winner in the Best Historic Preservation category of the Fine Homebuilding and Benjamin Moore Pro Paint contest. As professional painters, we always strived to obtain and maintain a trusted reputation. Being recognized with this award is a great honor and achievement for us as a company.  Since the founding of our company in 1990, we have used Benjamin Moore products.  And while we have also painted many homes with other name brand paints, we find that Benjamin Moore delivers the highest quality materials for our fine home restorations."
Best Transformation Award
Winners –
Brian Von Moritz, Columbia Painting, Kinderhook, New York, Instagram: columbia_painting
and Joshua Winn, The Paint Bureau, Nassau, New York, Instagram: paint.bureau
Brian Von Moritz has been a professional residential and restoration painter for 17 years and thoroughly enjoys his work, especially the creative aspect of transforming peoples' spaces so that they can enjoy using them. Years ago Joshua Winn started working for a general contractor and after the first job on which he painted, he was hooked. He found it to be extremely rewarding and described it as an "almost Zen-like" experience. After a few years, he started to just do painting under a painting contractor. Constantly turning down side work, he started his own painting business in the summer of 2016. Brian and Josh started collaborating on projects in early 2018 and as Josh says, "It's nice to have two brains, two sets of tools and two people to help shoulder the responsibility of delivering the work!"
As residential paint contractors, Brian and Josh stay almost exclusively under the Benjamin Moore umbrella because the finishes they can achieve, as well as the consistency and durability of the Benjamin Moore products, both of which are important to them. Josh says, "There is so much more to a paint job than just a color change and from our experience Benjamin Moore has the products we can stand behind." Brian added, "They offer a wide range of products that suit all of our clients' needs. The results we get speak for themselves–in my humble opinion!"
Unbeknownst to Brian, Josh entered the Pro Paint contest to bring recognition to Brian, who he describes as a seasoned veteran when it comes to residential painting. "The painting trade is often looked down upon and it's important to me that people understand that we are professionals and craftspeople at our core. Brian's passion for and dedication to his craft is such that I believed being profiled by Fine Homebuilding would be a well-deserved feather in his cap and validation that is otherwise hard to come by," said Josh. "The project depicted is one that snowballed out of scope and budget. Painful, uncomfortable, never ending and cursed are a few ways that I would describe the work executed on this project. Brian and I joked that once enough time had passed, we would look back and see that all of our hard work was worth it. Winning this contest is a testament to that!"
View the slideshow below for more photos
This highly detailed, multicolor ceiling medallion is a beautiful example of Master Painter Award Winner Steven Shumway's work.
This close up showcases the fine details in this painting project by Steven Shumway.
Steven Shumway – winner of the Master Painter Award
Best Historic Preservation Award winner Carlos Vasquez is continuing a decades-old family tradition of restoring homes in Oak Park and River Forest, Illinois to their former glory.
Carlos Vazquez – Winner of the Best Historic Preservation Award
The meticulous restoration of these porch balusters secured the Best Transformation Award for Brian Von Moritz and Joshua Winn.
When you compare the finished project with what they had to start with, you get a better appreciation for the great work Brian and Joshua do.
Brian Von Mortiz – Co-winner Best Transformation Award
Joshua Winn – Co-winner Best Transformation Award