Podcast Episode 145: Do Whole-House Fans Really Work?
When a listener asks what measures he should take to keep cellulose from falling through his exhaust fan when insulating and air-sealing his attic, the Fine Homebuilding editors wonder if he should get rid of the fan altogether.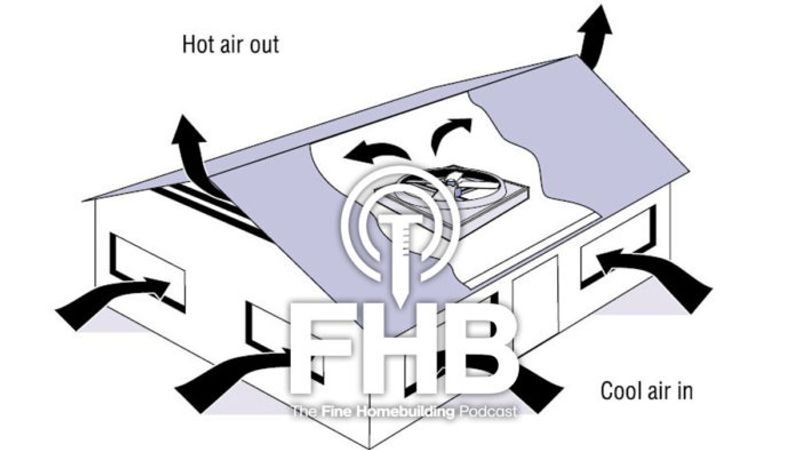 Patrick, Matt, and Rob start the podcast off with some FHB staff topics, including Rob's electric service panel upgrade, Matt's air-sealing and insulation projects, and Mike Guertin's research into the varying quality of pressure-treated lumber. Then it's on to listener questions, where they ponder a mysterious concrete sealer called Xypex, try to decide what one listener should do when insulating around a whole-house fan, investigate methods for building earthquake-resistant homes, and advise a friend on the perils of cheaping out on a roof for his weekend home.
---
Editors' home project updates
Rob's new electrical service: In preparation for a new solar PV system, Rob hired an electrician to tidy up the electric service panel in his basement. In looking at the photos of the work, Patrick asked about the unusual orange box sticking out of the side of the panel. It's a Sense smart energy monitor, which uses machine learning to identify and measure how much electricity each device in your home consumes.
Matt's air-sealing and insulating: A conversation about attic air-sealing devolves into swapping stories about gross mouse encounters in remodeling projects.
---
Patrick shares some feedback he got from Mike Guertin—one of Fine Homebuilding's most dedicated remodeling experts—about pressure-treated lumber and retaining walls.
Mike writes: You may find this interesting. It isn't specifically related to the podcast question from Jonathan on the retaining wall, but it relates to pressure treatment.
Generally speaking, most 6×6 and 4×4 timbers have been and are treated to ground-contact-level as a matter of course at preservers' facilities. There has been controversy over the past three years regarding which types of PT lumber used for decks (timbers, dimensional framing, decking, railing components) should be treated to ground-contact-level and which can be above ground. Part of the issue came up when the AWPA changed its guidelines and came down on the side of dimensional lumber and timbers being all ground-contact treated.
Of course, some chemical companies (like Viance) primarily make treatments that only work above ground, so preservers and lumber dealers who rely on Viance are in a bit of a bind. There's more background on this, but the move is for ground contact being the treatment of choice, and there is a push by NADRA and other groups to get something in the IRC requiring ground contact for all structural components of a deck. And NADRA started its CPAC program to have more informative labeling on products.
Depending on when the retaining wall was built, the timbers Jonathan has on the wall may have been inadequately treated. There was a period from 2003 to 2006 (or so) when the agreement between the pressure-treatment industry and the EPA to reduce use of CCA-treated lumber resulted in chemical companies moving to a few alternate treatment chemical cocktails—that in many instances didn't work well. Whether it was the chemicals themselves or the recalibration of injection practices by treaters using the chemicals, a lot of treated lumber coming out from 2003 to 2006 was not treated well enough to provide decay and insect protection. Those timbers may have been from that period. They kind of look like it.
The more interesting thing (and you discussed this regarding variation of treatment level, even in the same batch/unit) that has been hushed up recently is that the grading/treatment rules rating the retention level of treated lumber coming from treatment facilities permit up to 15% of the lumber not to meet the grade specified. IOW—15% of the lumber is allowed to be graded at "ground contact" even when it doesn't meet that grade. And what has been discovered in random checks is that this is a low figure of what is actually getting on the market: 20% or more ground-contact-rated lumber may not actually be. When an industry organization ran some numbers based on the board feet of ground-contact lumber produced each year and boiled it down into terms us mortals can understand, 15% equates to 85,000 full 53-ft. by 8-ft tractor-trailer loads of undertreated lumber was delivered over the past year (Aug 2017–Aug 2018).
This hasn't made the industry news widely yet, but I don't think it will surprise you. There are a couple of groups trying to come up with a higher standard—I've heard 3% and 5% limits of undertreated lumber being proposed—but even then, it still amounts to a lot of undertreated lumber being sold. So even if Jonathan's timbers are younger than the 2003–2006 period, the batch may have been part of the 15%. And when you dive deeper, you start hearing about different standards within the ground-contact group of treatment systems (UC4a, UC4b UC4c) and then higher treatment systems (UC5a–c).
Oh, I long for CCA. I have a pile of CCA lumber from some decks I dismantled lying in a pile on the ground under a carpet of leaves, and whenever I dig one out, it's still solid.
When I get asked about building/replacing retaining walls now, I recommend using cast concrete, stone, or concrete wall block like Patrick suggested.
More nerdy building information. Build-on!
A tip for interior concrete waterproofing
Ian writes: I am writing regarding damp and leaky concrete walls and slabs. I live in southeast Alaska, which has one of the wettest climates in the United States. A number of times I have used a product called Xypex, which you can paint onto either the exterior or interior of a concrete wall or on top of the slab. It will seal up all of the pores inside of the concrete so that moisture cannot enter. This product has been in use for 40 years and is primarily used for dams and bridges, but it works wonders on residential foundations and slabs. The Xypex crystals actually grow inside of the concrete. It's a really cool product and can save a lot of headaches for contractors.
Thanks. I love the podcast. Keep up the good work.
Info from Patrick: Xypex is a powder you mix with water. You can buy a 60-lb. bucket on Amazon for $160, plus about $40 shipping.
---
Question 1: How should I install insulation around a whole-house fan in my attic?
Brett writes: Hi guys—Love the show. I just purchased my first home and plan on insulating the attic as one of my first projects. It is a 1950s ranch, in mixed humid climate zone 4, and currently has about 2 in. of insulation
The house has a whole-house fan that sits in between the joists and vents directly into the attic. Regardless of the insulation I go with, I plan to follow Mike Guertin's air-sealing video series before I start, make rigid-foam ventilation baffles, and build an insulated box with a removable cover for the whole-house fan so it can be sealed each winter.
I am using blown-in cellulose because it is by far the biggest bang for the buck in my area; I can get R-49 worth of cellulose for about $500. My question: Will the whole-house fan be a problem with the cellulose? (Dust coming into the house through the fan, dust blowing around in the attic and clogging vents, airflow degrading the insulation?)
Some secondary questions
I have heard you guys talk about the need to cover non-IC-rated lights, but what about old wiring?
Do you guys plan ahead for future remodels when blowing in insulation? For example, if you wanted to add a new recessed light in the future, do you plan ahead somehow or just go full mole and tunnel through the insulation?
Related links
---
Question 2: What construction details should I use to convert a concrete front porch into conditioned space?
Chris Stoodley from St. John's, Newfoundland, Canada, writes: We are adding a new entrance on our 45-year-old split level. The existing outdoor entrance area consists of a concrete slab and concrete steps leading to the front door. We intend to build over the slab and the steps to create a new interior conditioned space. The existing concrete slab is directly at grade with the asphalt driveway. My question is; what is the best way to tie the new walls into the concrete slab to ensure no water penetrates? I am considering two options; (1) Use a waterproof concrete and bonding agent to pour a small kneewall directly on the slab. I would drill for rebar etc., then place anchor bolts and frame the walls on that new concrete wall. (2) Cut the asphalt back about 12 in., build the wooden walls directly on the concrete using sill gasket, and then use a waterproof membrane on the bottom portion of the wall and extend it down below grade. I would then use concrete pavers in place of the cut concrete to finish things off.
| | |
| --- | --- |
| | |
Just wondering if you guys have any other suggestions?
This is part of a larger project that includes a new truss roof and 4-in. nailbase on the exterior with new siding and triple-pane glass windows. We will be starting the project in April, and I am getting my ducks in a row now so I can be ready to roll in the spring.
Love the podcast, always a source of great information.
Related links
---
Question 3:  Where can I find advice for building a disaster-resistant home to resist earthquakes?
Lloyd Brown from Utah writes: Hey, guys. Great discussion in Episode 142 about resources for building houses that are resilient in the face of hurricanes, storm surge, etc.
Where I live in central Utah, we're extremely close to a major seismic fault line, and have been warned for years about being "overdue" for a big earthquake, though of course it's impossible to predict when that would happen.
So, here's the question. If you were building a new home in an earthquake zone like this, what would you do to try to minimize the damage from a significant quake? Are there learning resources beyond FEMA and the IBHS, that you referenced already?
Thanks, and keep up the good work.
Thoughts about building to resist seismic activity
Wood frame is better than masonry
Lightweight roofing vs. tile or concrete tile
Create continuous load paths with anchor bolts and metal connectors between levels
Avoid narrow walls adjacent to garage doors
Secure appliances and furniture
Avoid masonry chimneys
Related links
---
Question 4: How can I get more life out of an old roof on a weekend cabin without a total reroof?
Colin writes: My friend has a second home in Vermont. The house is a ranch with a low-sloped roof—not ideal for Vermont winters. Currently, there are at least two layers of asphalt shingles; both are in bad shape. If you walk on the roof, it sounds like popcorn because the shingles are cracking. You can even grab a piece and crumble it in your fingers. It's worth noting that leaks only happen during ice dams in the winter. Here's the dilemma: The house is being torn down and replaced in 10 years. So what to do in the meantime?
Originally, my friend thought about cutting into the roof where the damming occurs to replace sheathing, add new roofing material, then tie back into the old roof. I don't think tying back is an option due to the crumble factor. So, my friend asked, "Can we make a tar joint?" I thought, "Beyond being ugly, that will require maintenance." Is there a product we could roll out and cover the hole roof and get 10 years? What would you guys do? 
Related links
---
This episode of the podcast is brought to you by ProVia, BuildDirect PRO, and Stanley.
This episode of the Fine Homebuilding Podcast is brought to you by ProVia—makers of vinyl siding, manufactured stone, and energy-efficient windows and entry doors. When you arrive at a new job site to replace a door and pull out your measuring tape, does your heart sink when you discover the door is not a standard size? Custom sizes don't have to be a hassle, and they don't have to be time-consuming. Every ProVia door can be built to a custom width and height and shipped off to you in two weeks. Talk to your local ProVia dealer to learn more. You can find them at Provia.com.
This episode of the Fine Homebuilding Podcast is also brought to you by BuildDirect PRO. Looking for quality flooring materials at wholesale prices, but also want to cut out that time consuming "looking" part? Stop driving from store to store searching for a product that might not even be in stock. Let BuildDirect PRO do it for you. For free. As a BuildDirect PRO you'll be connected with a personal account rep that sources your products to spec, at the lowest tiered price, and manages the logistics and delivery of your order directly to your job site. Plus, you get added perks like unlimited free samples delivered overnight, and up to $5000 credit on product purchases throughout the year. Join for free at BuildDirect.com/BDPros.
This episode of the Fine Homebuilding Podcast is also brought to you by STANLEY tape measures. One hundred and seventy-five years ago, STANLEY started making tape
measures for all kinds of folks who worked hard for a living. What started as a wooden rule soon became something people didn't even know they needed. Something that reached farther, and stood out straighter. Something that could drop, tumble, get back up again and keep working. Something tough, like the folks wearing STANLEY on their hip every day. Now, one hundred and seventy-five years later, STANLEY is still at it. Because as long as their name is still found on the hips of hardworking Americans, STANLEY will only work harder to stay there. Pick up a STANLEY FATMAX today, and see for yourself what a difference 175 years of innovation can make. Visit Stanleytools.com for more info.
We hope you will take advantage of a great offer for our podcast listeners: A special 20% off the discounted rate to subscribe to the Fine Homebuilding print magazine. That link goes to finehomebuilding.com/podoffer.
The show is driven by our listeners, so please subscribe and rate us on iTunes or Google Play, and if you have any questions you would like us to dig into for a future show, shoot an email our way: [email protected]. Also, be sure to follow Justin Fink and Fine Homebuilding on Instagram, and "like" the magazine on Facebook. Note that you can watch the show above, or on YouTube at the Fine Homebuilding YouTube Channel.
The Fine Homebuilding Podcast embodies Fine Homebuilding magazine's commitment to the preservation of craftsmanship and the advancement of home performance in residential construction. The show is an informal but vigorous conversation about the techniques and principles that allow listeners to master their design and building challenges.
Other related links