Podcast Episode 146: Why Do Contractors Get Such a Bad Rap?
A listener asks the Fine Homebuilding editors for advice on how to get her MIA carpenter to come back and complete her shed project.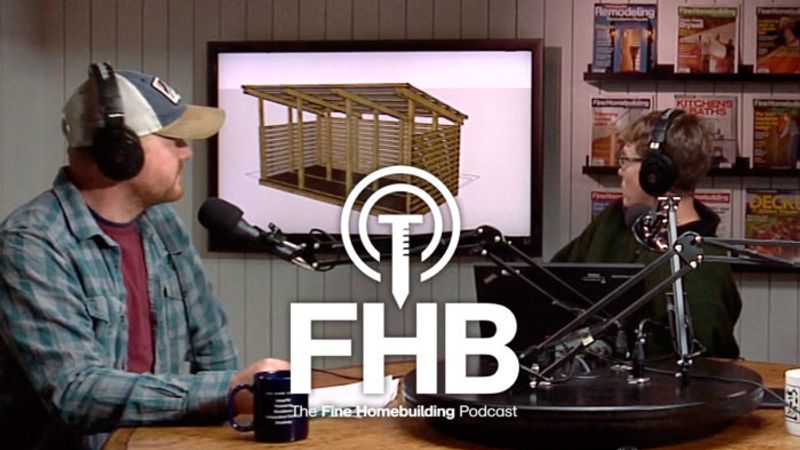 Patrick, Rob, and Matt cover a wide range of topics in this week's podcast, including building wood sheds, wrangling missing contractors, choosing an air conditioner, sealing cracks in garage floors, and providing makeup air for boilers and water heaters.
---
Editors' home project updates
Rob's friend's firewood shed
Fine Homebuilding digital brand manager Rob Wotzak designed and helped build a large wood shed for a friend over the weekend. He talks about how he put a little extra effort into designing a structure that would go up quick and be super sturdy, but one that had very simple construction details. Here are a few pics—maybe we'll compile his construction drawings and share them in a future article.
---
Question 1: How can I get my contractor to finish the job?
Katherine writes: Dear FHB, I hired a contractor to tear down my existing shed and replace it. The old shed had been chewed up by powder post beetles, red squirrels, and carpenter bees. Anything stored inside would get damaged or ruined by rodents & insects. I needed a place impervious to critters. The contractor has put up a nice wood framed, metal sided, rock wool insulated shed on a concrete pad.
It is insulated because the well pressure tank and new water filter are inside and must be kept from freezing.
The shed is almost finished; the contractor has been paid in full, as the contract requires, but the work is not yet completed. There is no electricity to some of the outlets, no ceiling in part of the shed, no gutter on the shed roof. He put the pressure tank on a plywood pedestal which is already rotting and moldy, so I asked that it be put on concrete block. This hasn't been done either. He does not respond to my phone call, nor text messages. I am not being a jerk and blowing up his phone; I've tried to contact him only every other week or so. But, nothing. Silence.
I understand that contractors do several jobs at once, and he's got other things to do. The shed was begun almost 5 months ago, and should have been completed by now, I feel. He is blowing me off, I think because:
He's been paid in full. There is no incentive to finish the job.
I'm a middle-aged woman, so thinks he can easily ignore me.
There is no completion date stated on the contract (enclosed), so I'm SOL.
Am I right? How do I get the contractor to complete this job? Do I have any legal rights to stand on?
Your podcast discusses professionalism in practice by contractors. This guy personifies the kind of builder who gives your profession a bad reputation. What can I do?
Related links
---
Question 2: What kind of air-conditioning system should I buy?
Fr. Chris writes: Following up from my last email. My A/C units in my rectory (the priest's house) will have to be replaced because of the storm surge.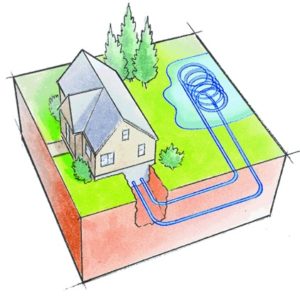 Does it make sense to have an alternative to traditional A/C in Florida, like geothermal cooling (I saw it a lot on This Old House a few years ago)?
Is that currently a viable and useful technology for saving on energy costs?
What would something like that entail?
Related links
---
Question 3:  How should I seal a masonry crack?
Brandon writes: Hello, Fine Homebuilding folks: What product recommendation would you suggest for sealing between the garage door apron and the asphalt driveway, and/or any sidewalk cracks for that matter as well?
Thank you for doing what you do!
Brandon, a furniture maker
Related links:
---
Question 4: Should a mechanical room be air-sealed and vented separately from the rest of the house?
Brett writes: Good 'morrow. My name is Brett Johnson. For the last couple months it seems that the topic of negative pressure and backdrafts due to combustion appliances in otherwise airtight spaces.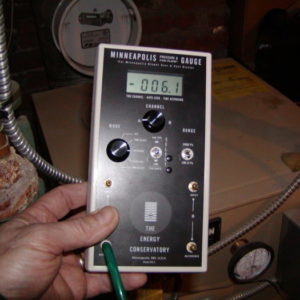 As a hypothetical exercise, what would the viability be of having a room that isn't airtight that you put most of the appliances in (e.g. water heater, furnace), excluding a fire place?
To clarify, all rooms but one are airtight and in the same system. The last room, while attached to the house, has been isolated and allowed to breath. My thought is that this would allow air to the devices to without causing drafts in the house.
Thank you much!
Brett
Related links:
---
This episode of the podcast is brought to you by ProVia, BuildDirect PRO, and Stanley.
This episode of the Fine Homebuilding Podcast is brought to you by ProVia—makers of vinyl siding, manufactured stone, and energy-efficient windows and entry doors. When you arrive at a new job site to replace a door and pull out your measuring tape, does your heart sink when you discover the door is not a standard size? Custom sizes don't have to be a hassle, and they don't have to be time-consuming. Every ProVia door can be built to a custom width and height and shipped off to you in two weeks. Talk to your local ProVia dealer to learn more. You can find them at Provia.com.
This episode of the Fine Homebuilding Podcast is also brought to you by BuildDirect PRO. Looking for quality flooring materials at wholesale prices, but also want to cut out that time consuming "looking" part? Stop driving from store to store searching for a product that might not even be in stock. Let BuildDirect PRO do it for you. For free. As a BuildDirect PRO you'll be connected with a personal account rep that sources your products to spec, at the lowest tiered price, and manages the logistics and delivery of your order directly to your job site. Plus, you get added perks like unlimited free samples delivered overnight, and up to $5000 credit on product purchases throughout the year. Join for free at BuildDirect.com/BDPros.
This episode of the Fine Homebuilding Podcast is also brought to you by STANLEY tape measures. One hundred and seventy-five years ago, STANLEY started making tape
measures for all kinds of folks who worked hard for a living. What started as a wooden rule soon became something people didn't even know they needed. Something that reached farther, and stood out straighter. Something that could drop, tumble, get back up again and keep working. Something tough, like the folks wearing STANLEY on their hip every day. Now, one hundred and seventy-five years later, STANLEY is still at it. Because as long as their name is still found on the hips of hardworking Americans, STANLEY will only work harder to stay there. Pick up a STANLEY FATMAX today, and see for yourself what a difference 175 years of innovation can make. Visit Stanleytools.com for more info.
We hope you will take advantage of a great offer for our podcast listeners: A special 20% off the discounted rate to subscribe to the Fine Homebuilding print magazine. That link goes to finehomebuilding.com/podoffer.
The show is driven by our listeners, so please subscribe and rate us on iTunes or Google Play, and if you have any questions you would like us to dig into for a future show, shoot an email our way: [email protected]. Also, be sure to follow Justin Fink and Fine Homebuilding on Instagram, and "like" the magazine on Facebook. Note that you can watch the show above, or on YouTube at the Fine Homebuilding YouTube Channel.
The Fine Homebuilding Podcast embodies Fine Homebuilding magazine's commitment to the preservation of craftsmanship and the advancement of home performance in residential construction. The show is an informal but vigorous conversation about the techniques and principles that allow listeners to master their design and building challenges.
Other related links