Tools & Materials
New Technology Improves Airtightness
AeroBarrier uses compressed air to aerosolize a water-based sealant to fill gaps and cracks in an entire house.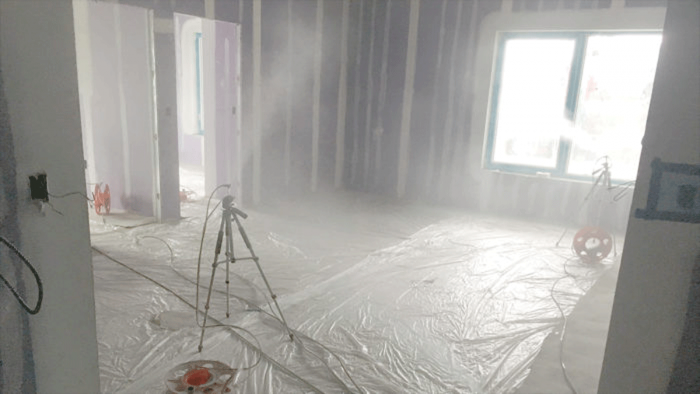 Despite five years of successful blower-door tests, airtightness requirements so worried new-home builder T. J. Ryan of Sloatsburg, N.Y., that he told me he would lose sleep wondering if a newly completed home would pass the IRC's 3.0 ACH50 requirement for an occupancy permit. I understand his concern. Failing the blower-door test can hold up closings and lead to a lengthy process of calling back multiple subs to seal holes of unknown size and location. When Ryan's insulation contractor Yudah Schwartz, president of SuperSeal Insulation of Airmont, N.Y., said he could guarantee a pass on the airtightness test, Ryan agreed without hesitation.
Schwartz and SuperSeal are among the first 30 installers of the new AeroBarrier air-sealing system that launched in January 2018. AeroBarrier is a spinoff of Aeroseal (aeroseal.com), developed to seal existing ductwork. Both systems use compressed air to aerosolize a water-based sealant. AeroBarrier uses the pressure from a blower door to force the airborne sealant into gaps and cracks, where it accumulates to block airflow. The system can seal gaps as wide as 1/2 in., Schwartz tells me; wider gaps are first sealed with canned foam. The amount of sealant being dispensed and a host of other conditions inside the house are monitored and controlled with a pump and computer interface that Schwartz purchased from Aeroseal. His AeroBarrier truck includes an on-board generator for power and an air compressor to convert the liquid sealant into an aerosol.
The AeroBarrier installation I witnessed brought the house from 4.5 ACH50 to 1.5 ACH50 in a little over two hours. Although it can be used in existing structures with proper surface protection, Aero Barrier is normally installed on new homes just after the drywall is hung and finished and before any trim is installed. This allows the sealant to flow more efficiently into the small gaps between the framing and the sheathing. The sealant doesn't stick easily to vertical surfaces, but it does settle out of the air on horizontal surfaces, so windowsills and finished floors must be protected. I walked through Ryan's new house immediately after the air-sealing work. The air had the smell of fresh latex paint, and the only residue I could detect, besides the accumulation of sealant around most electrical boxes, was a slight tackiness on the subfloor.
Including AeroBarrier with Ryan's insulation package on the 2200-sq.-ft. house cost an additional $1500, but Ryan figured it eliminated at least $500 in air-sealing materials and hours of work. When I asked him about the price, he told me, "It costs a little more money than conventional air-sealing methods, but a failed test could easily cost thousands in trying to fix the problem, and there's no guarantee of a solution. In my opinion, not doing AeroBarrier would be penny wise and pound foolish. It's just one less thing to worry about."
Patrick McCombe, senior editor
Photos: courtesy of Aeroseal
From Fine Homebuilding #281
More about air-sealing: