Podcast Episode 154: Lead-Paint Removal, Cracking Drywall, and Moldy Siding
Several frustrated homeowners ask the Fine Homebuilding editors to suggest the best course of action for some common DIY dilemmas.
Rob, Matt, and Patrick–plus podcast producer Jeff–talk about their own experiences with homemade workbenches, plugged sewer pipes, and basement remodels before doing their best to solve a bunch of listeners' old-house problems.
---
Editors' project updates

The trials and tribulations of an ancient waste line
Rob recaps his month-long quest to have reliable plumbing drains in his home so that his family doesn't have to keep sneaking into neighbors' houses to use the bathroom.
Matt's new workbench
Planed 2x6s are coming together to make a hefty new work surface for Matt's woodshop.
Patrick's closet project is coming to a close
Built-ins are done, doors are installed, and paint is on–now it's time to start on the other closets in the house.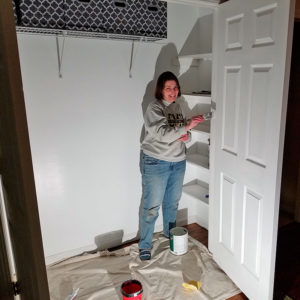 ---
Listener Feedback: Cold windows and insulated ductwork

Kurt writes: Hi Guys, I wanted to put my 2 cents in regarding the window condensation discussed in podcast 150. My experience has been that windows with metal spacers are more susceptible to condensation because the glass tends to be colder. I had this problem with my Simonton replacement windows at my previous house. The Mathews Brothers windows I used in my house that I just built utilize Duralite warm-edge spacer which reduces the cold transfer. Andersen uses stainless steel which is better than aluminum but probably still transfers the cold.
I haven't had any condensation issues except when it was -10° F. I'm sure it helps that it is a new house with humidity that is managed through an HRV and a basement dehumidifier
One last thing… During episode 149 you had a discussion about keeping your ductwork and equipment inside the conditioned space and one option that didn't come up was burying your ductwork in insulation. My ductwork runs in a chase from the basement to the attic and then rests on top of the of the bottom cord of the raised heal trusses. The ductwork is sealed and insulated to R-8 (which is code in Massachusetts) and then buried with R-49 of blown cellulose.
Related links:
---
Question 1: Is it uncool to ask contractors for advice?
Dave from Delmar, N.Y., writes: My question deals with getting advice from professional contractors. I am a DIY homeowner, albeit a relatively skilled one with kitchen and bathroom remodels along with doors and windows, decks, and a couple of sheds under my belt. I usually try to read books or magazines (FHB) and do the jobs the correct way, but there are times when I'm faced with a job where there is no guidance. This is especially so in my current house, a 1902 Dutch colonial that appears to have been built with whatever wood scraps were left over after a barn was dismantled.
There are times I want to call a pro and get their advice on how to approach a problem. I don't want free advice—I'm happy to pay for their time and expertise. I've approached a few people and while not explicitly rejected, it's been clear that they're uninterested.
Is this a major faux pas? Is there a better way to broach this subject? What's the angle here?
Related links:
---
Question 2: What should I do about the lead paint on my wood siding?
Luke from Virginia writes: Hi, I'm a huge fan of you guys, so thank you for doing what you're doing! I just finished podcast 148 and I have a similar decision ahead of me as did Dan from Podcast 148: What to do about peeling clapboards with lead paint.
My Situation: In July, we bought a 1920 farmhouse that I've been fixing up and restoring its original charm (my dad was a carpenter for 25 years, so I'm leaning heavily on him … and you guys!). We're not currently living in the house, which makes things a bit easier. I'd intended to restore the original (lead-painted) wood clapboard, but the lead paint is giving me a little pause. Currently, the house has 30+-year-old vinyl siding on it. (No insulation anywhere in the house, by the way.) The siding is damaged in places and failing in other areas such as around windows, so I believe something needs to be done. I also think the siding is ugly, so that's another motivator. I wouldn't hesitate to rip it all off, sand/repair/prime/paint the wood (I don't mind painting the house every X years), except for the fact that it has (who knows how many) coats of lead paint on it (see pics). We have three kiddos from one to seven years old, so the lead is a concern.​
QUESTION: What are your recommendations? Here's my current thinking:
Option 1) get a company to remove the siding in a lead-safe manner, and if in not-terrible condition, to also prime/paint the original clapboard. (total estimate ~$8k)
Option 2) hire out the siding removal only (~$2k) Then assess the clapboard myself, rent scaffolding(?), and prime/paint as safely as possible.
Option 3) forget about restoring the original wood clapboard, remove the siding and install new siding (and get a third job to pay for the HardiePlank!).
Related links:
​
---
Question 3: How can I stop my drywall seams from cracking?
Dave from Plainfield, Vt, writes: Hi guys! My wife and I bought a house from an "owner-builder" a few years ago. We're in central Vermont, climate zone 6. When we initially looked at the home there were noticeable cracks in the ceiling along the drywall seams. The owner said he was aware of it and planned on repairing it before we moved in. He did—I guess. His solution was to heap 1/8 in. to 1/4 in. joint compound (all-purpose, or green-top, I believe) over the cracks in a pretty mean way. Needless to say, most of the cracks reappeared eventually, and especially after the humid summer we just had. The seams were all originally taped with mesh tape, and the "builder" did an excessively thick skim coat over the entire surface. The house is built with trusses, 2 ft. o.c., making a clear 30-ft. span. The drywall was installed perpendicular to the truss' bottom chord. Half the house is an open floor plan, with a thick wet wall down the middle which is parallel to the trusses. There's one wall that runs perpendicular to the trusses for the bathroom. These interior walls do not have attachment hardware that accommodates truss uplift, though that doesn't strike me as being the cause of this issue, judging from where I'm noticing the cracks.
My question is how to best repair these seams so they stop opening back up after a year or two?
I really appreciate the podcast and everything you're doing to #KeepCraftAlive!
Related links:
---
Question 4: How can I stop mold from growing on my vinyl siding and concrete walkway?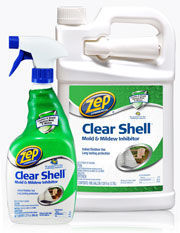 Adam writes: Gentlemen, I love working on my house and being a master of my own stuff, but I despise scrubbing my vinyl siding. It's my least favorite thing to do. I'm surrounded by trees and there are numerous areas that don't get direct sunlight. It feels like I'm constantly scrubbing one section while another is growing green. I don't power-wash anymore. Too much water and potential for problems. A soft scrub is the way to go. Is there a product out there that will help deter mold growth? Ditto for my concrete walk—it's constantly getting green. Will a concrete paint slow or prevent mold? Thanks.
Related links:
---
IBS 2019

If you can make it to the International Builders' Show (Feb. 19th – 21st) in Las Vegas this year, you can get FREE tickets to the floor show courtesy of Fine Homebuilding.
---
 One Final Thing… 
Thanks to Jim Collins of Toronto who alerted us to another knot head who lost a sheet of plywood from the back of his truck on highway 410 near Toronto on January 2nd. Amazingly nobody was seriously hurt.​
---
This episode of the podcast is brought to you by Huber Engineered Woods
This episode of the Fine Homebuilding Podcast is brought to you by Huber Engineered Woods, makers of  AdvanTech and ZIP System products.
If you're going to the International Builder's Show in Vegas, don't miss Huber Engineered Woods – they will have two locations. The Prove It Tour product experience will be right outside on your way to pick up your badge near Show Village. Try ZIP System liquid flash, stretch tape and register to win a $15,000 product rebate prize. Catch Huber's booth in the Central Hall where they will host the 2nd Annual "Best of Social Awards" with Matt Risinger Wednesday at 3:00. Not going to the show? Follow @huberwood on Instagram to see.
We hope you will take advantage of a great offer for our podcast listeners: A special 20% off the discounted rate to subscribe to the Fine Homebuilding print magazine. That link goes to finehomebuilding.com/podoffer.
The show is driven by our listeners, so please subscribe and rate us on iTunes or Google Play, and if you have any questions you would like us to dig into for a future show, shoot an email our way: [email protected]. Also, be sure to follow Justin Fink and Fine Homebuilding on Instagram, and "like" the magazine on Facebook. Note that you can watch the show above, or on YouTube at the Fine Homebuilding YouTube Channel.
The Fine Homebuilding Podcast embodies Fine Homebuilding magazine's commitment to the preservation of craftsmanship and the advancement of home performance in residential construction. The show is an informal but vigorous conversation about the techniques and principles that allow listeners to master their design and building challenges.
Other related links