Design
Extreme-Green Desert Rain
The world's first Living Building Challenge-certified home is a study in integrated, sustainable design.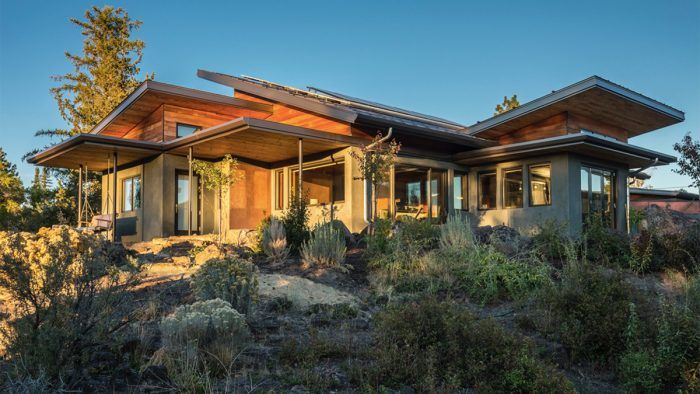 "Desert Rain showcases the transformative potential of our residential design-build community."
The Living Building Challenge (LBC) was designed by the International Living Future Institute (ILFI) as one of four pathways to designing and constructing high-performance buildings. The LBC is organized into seven performance areas called Petals; each Petal is sub-divided into Imperatives, which address specific sets of issues. It is considered to be the world's most rigorous green building standard. As required by the LBC, Desert Rain achieved all 20 Imperatives. The chart below provides an overview of how Petals and Imperatives work together across three project types: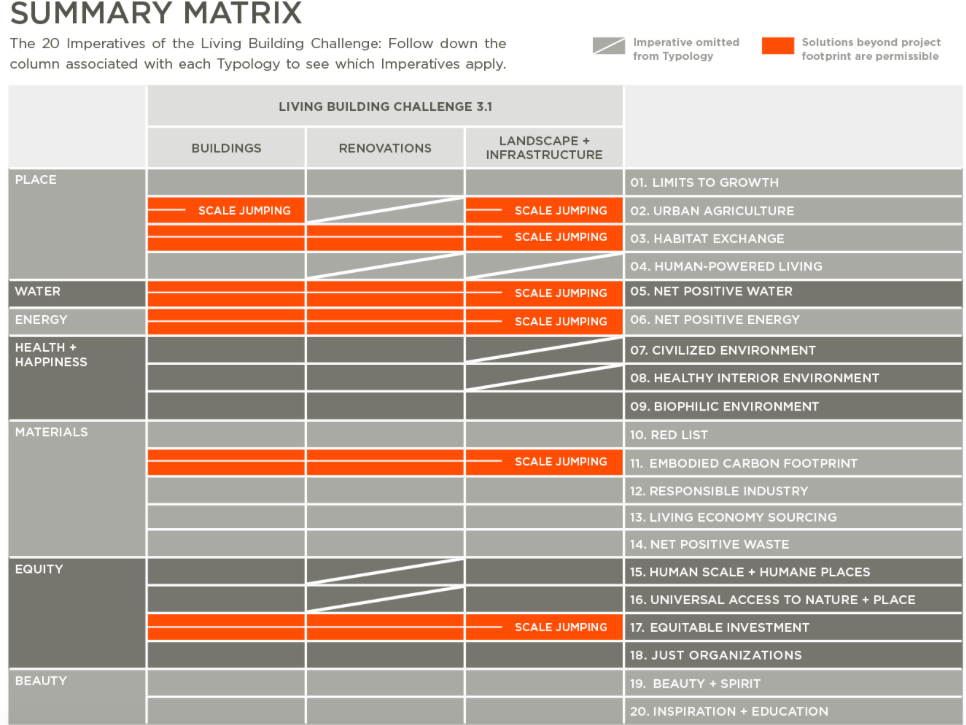 Designed by architect Al Tozer, ILFI's Education + Living Building Challenge Director, the world's first LBC-certified home is located on a .7-acre lot at the edge of a historic neighborhood in Bend, OR. Perched atop a basalt cliff, "Desert Rain," a 2236-sq.-ft. one-story home is the main of three buildings that comprise this residential compound. There is also a 489-sq.-ft. accessory dwelling unit, a 512-sq.-ft. detached garage that supports solar panels and houses the rainwater collection cistern, and an 815-sq.-ft. apartment above the garage.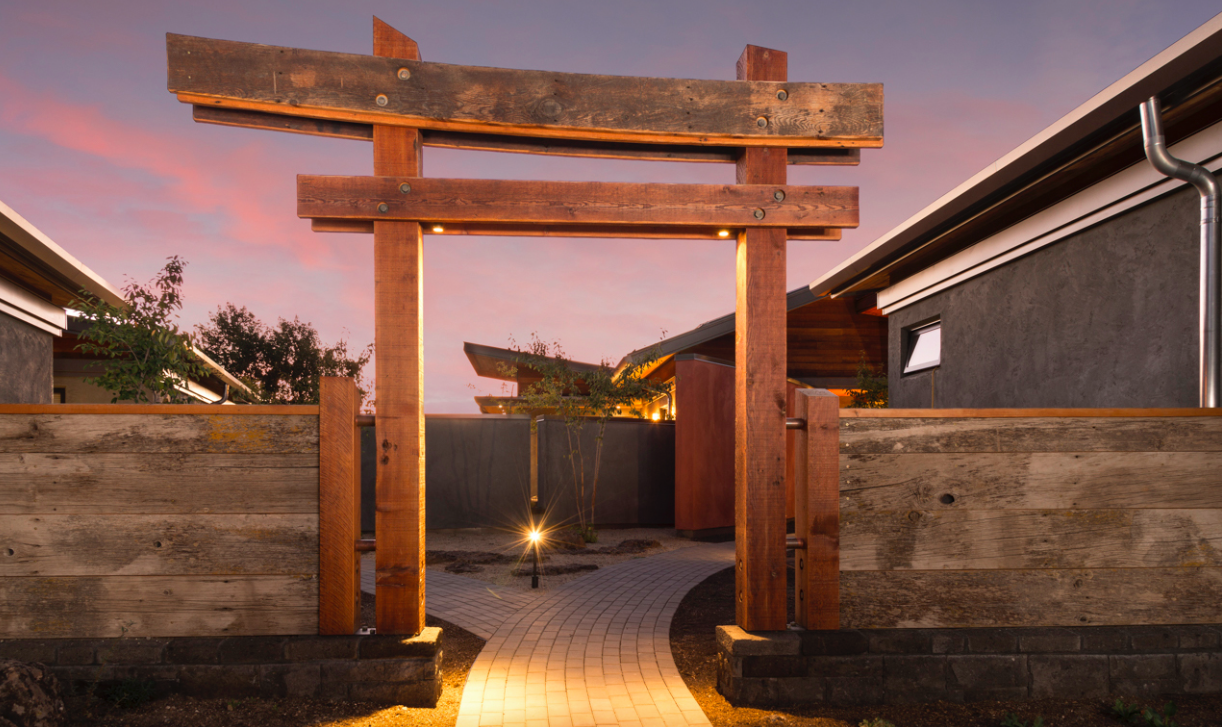 This project's course was neither straight nor narrow. In fact, the homeowners only learned about the LBC after the work was well underway. What began in 2008 as an endeavor to construct one couple's "extreme-green dream home," ended up being the most advanced approach to high-performance homes to date.
At the start, two existing single-family homes, built by mill workers in the 1920 and 1930s were deconstructed and the materials salvaged for reuse. Those structures were replaced with this net-zero-energy, net-zero-water compound built from nontoxic local materials sensitive to Bend's natural ecology.
Among the 20 Imperatives achieved, Al hits on five that relate to materials: Red List, Embodied Carbon, Responsible Industry, Living Economy Sourcing, and Net-Positive Waste.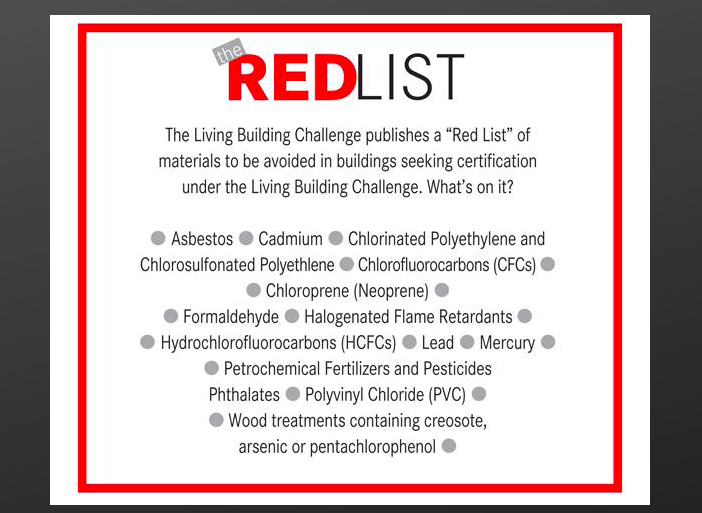 ILFI's Red List names the worst-in-class materials commonly used in the building industry; they are banned from use in Living Buildings. "Even new high-performance building products come at a cost to the environment," Al notes, pointing to all of the plastics, particularly PVC. The Desert Rain project substituted fiberglass for PVC piping, and used aluminum-clad wood windows instead of vinyl. Al spec'ed Loewen units because of their Forest Steward Council (FSC)-certified wood, and most materials were left unfinished to avoid VOCs, including the standing-seam metal roof with TPO roofing membrane.
The Embodied Carbon Imperative is straightforward: Minimize carbon by every means available, then offset climate change-related impacts. Teams working on LBC projects are required to use carbon calculators to measure for carbon offsets and carbon credits. The Responsible Industry Imperative ensures third-party verification for sustainably managed and harvested forest products. "It's about doing the right thing on a global scale," says Al, explaining that the Living Economy Sourcing supports local economies and communities, which in turn, minimizes the environmental impacts of shipping over long distances. And the Net-Positive Waste Imperative mandates recycling, reclaiming, and repurposing as many construction materials and packaging as possible.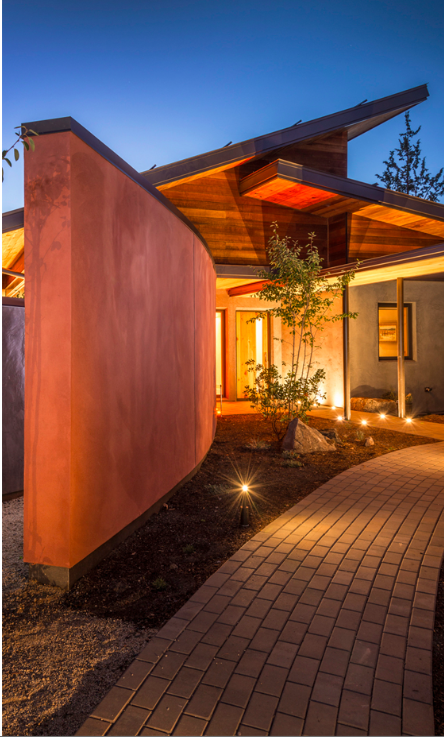 Of course, these parameters, among many others, influenced the look of Desert Rain. The Northwest desert-inspired exterior features a native stone foundation and an indigenous stucco mixture cladding made by local stucco contractors. Fascias are clad with metal for longevity and unfinished soffits are protected by roof overhangs.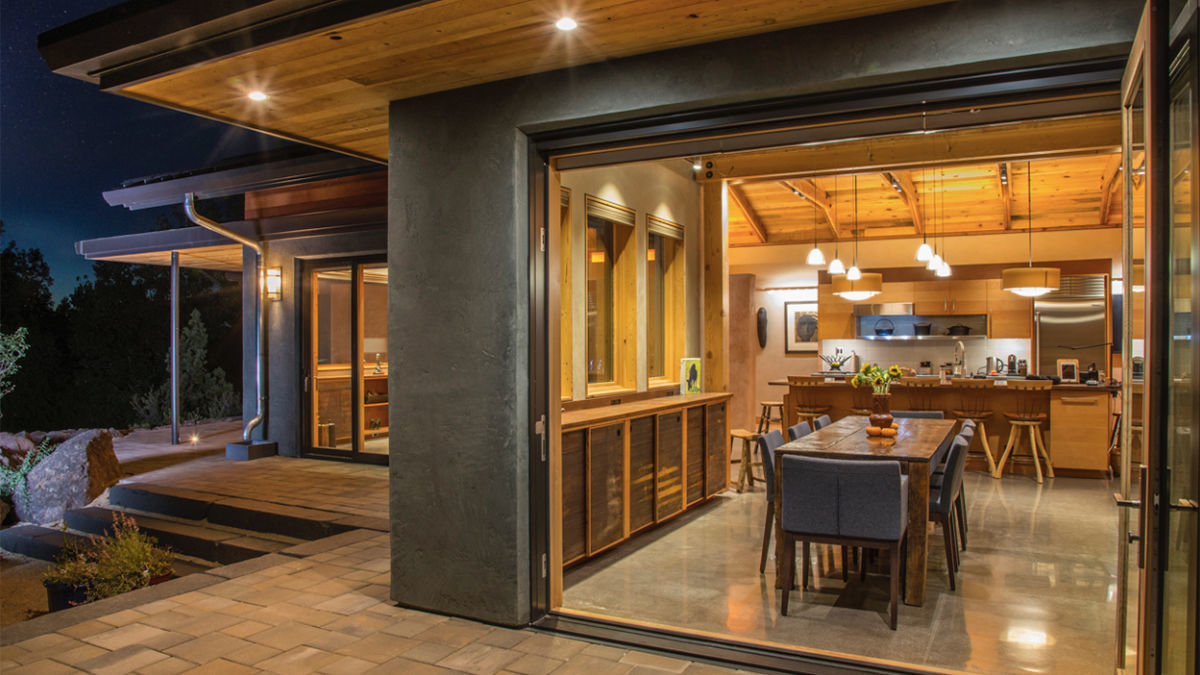 Biomimicry principles were part of the design from start to finish; the building operates like a deciduous shade tree. A combination of shed and flat roofs are oriented to provide protection from overhead summer sun and to allow low winter sun to reach deep into the building. The southwest elevation has the best views of the Cascade Mountains but is vulnerable to harsh afternoon sun. Al gave west-facing windows raised sills, and a flat roof overhang extends out to the west so the sun has to get very low before it penetrates the west side of the house.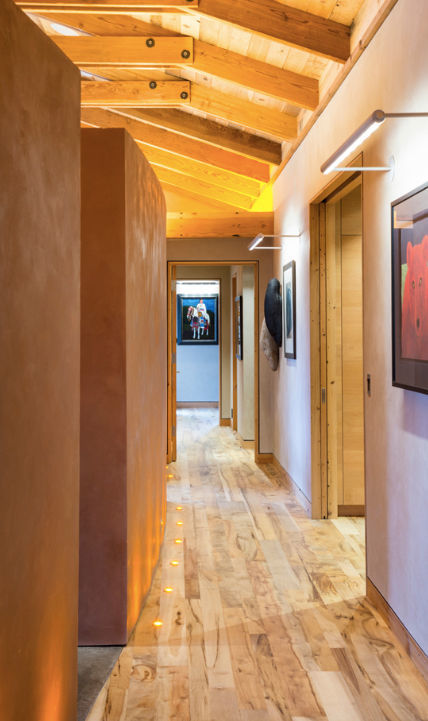 Inside, American clay clads many wall surfaces, absorbing and releasing moisture, which helps to modulate indoor air humidity. The house can be flushed at night to release warm air and trap cool desert air in the slab floor and double-layered sheetrock walls, eliminating the need for air conditioning. The radiant-heat slab floor was mixed using aggregate from the site, and some sections feature Madrona wood that was specially milled in Oregon.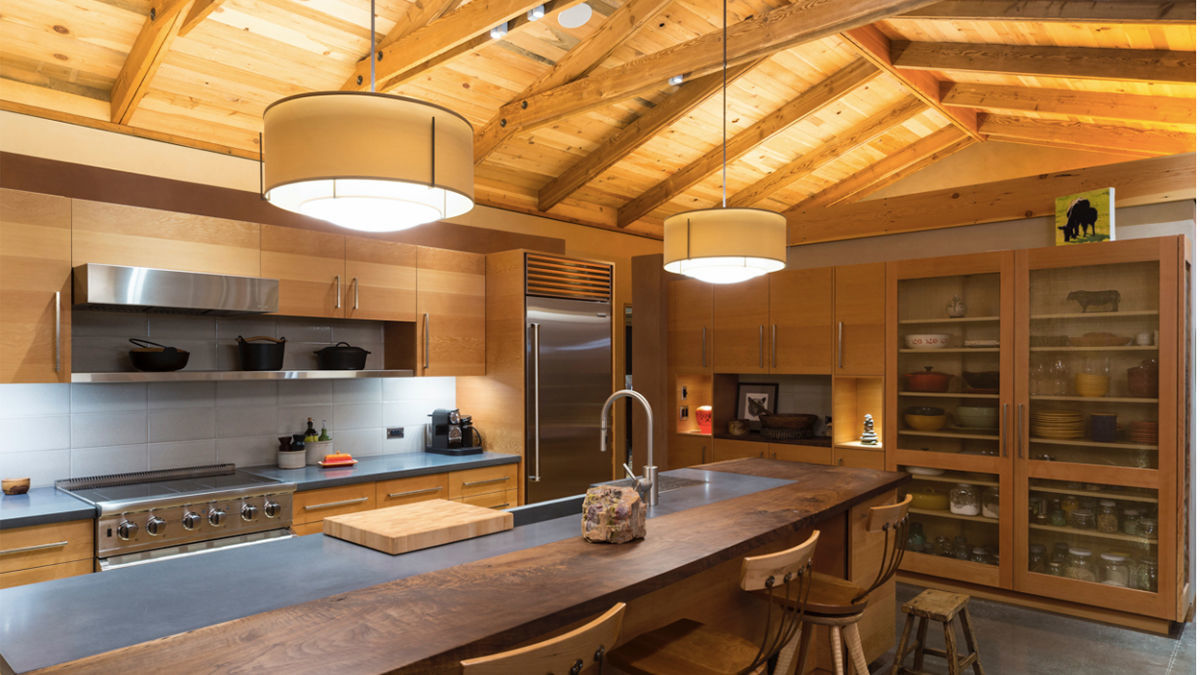 The exposed soffits and some of the ceilings were made with reclaimed pine from the original buildings, and the rafters and collar ties were built with wood from a nearby derelict barn that the homeowners purchased. The remarkable kitchen island is a slab of reclaimed walnut from a tree that blew over in a storm; and the Portland-made kitchen sink is recycled aluminum.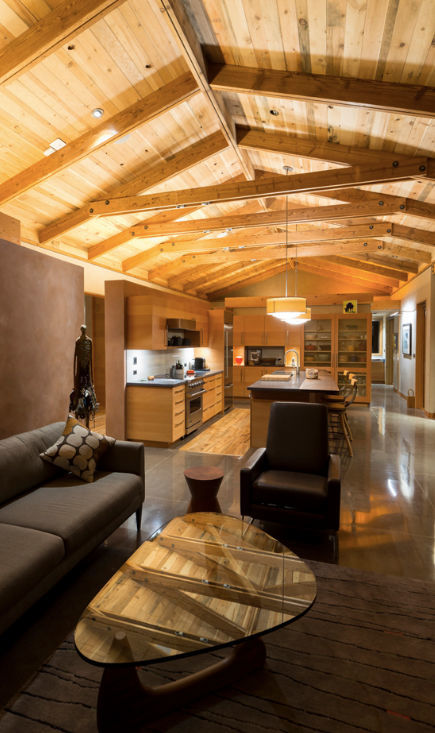 The craftsmanship on display throughout the house was born of a commitment made by all involved. "A lot of different tradespeople worked together to make up the expertise needed to design and build Desert Rain," Al explains. "The Living Building Challenge is so unique and so special—you have to avoid using materials that people in these trades use on a daily basis, so there is a learning curve for everyone."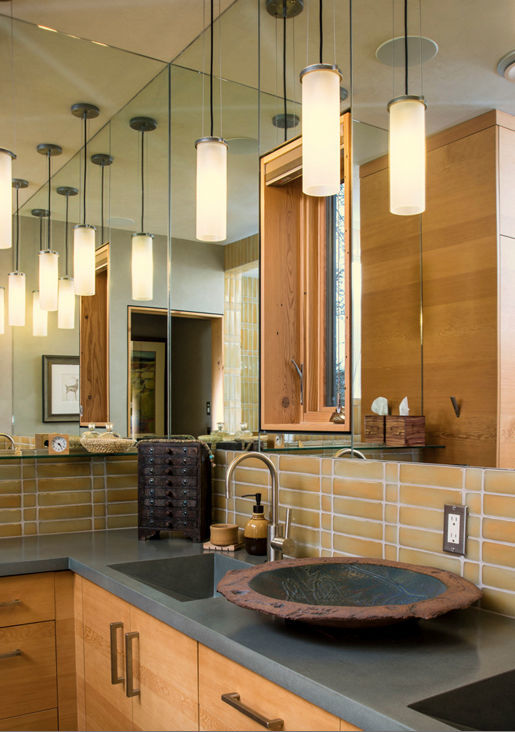 Their commitment paid off. Though 10 years old, Desert Rain remains ahead of the pack when it comes to high-performance homes. Of course, much of that gap relates to cost. It's expensive to build a LBC home. But Al sees some progress on that front: "When we did Desert Rain, nothing could be done with an off-the-shelf product without exhaustive research, which required a lot of time, and time is money. The soft costs were much higher than they would be if we were to build it today." He notes that more manufacturers are providing Declare labels and certified Living Products. Additionally, at the time of the build, there were not as many sustainable and appropriate building materials as there are today.
For a full description of Desert Rain's green building features and systems: Living Building Case Study
Photos by Ross Chandler, courtesy of Tozer Design
For more high-performance homes: