Podcast 184: Insulating an All-Brick House, Working with Engineered Siding, and Carpentry as a Second Career
The gang shares some listener feedback about workshops, painting brick, and cleaning products before answering questions about insulation, siding, and framing.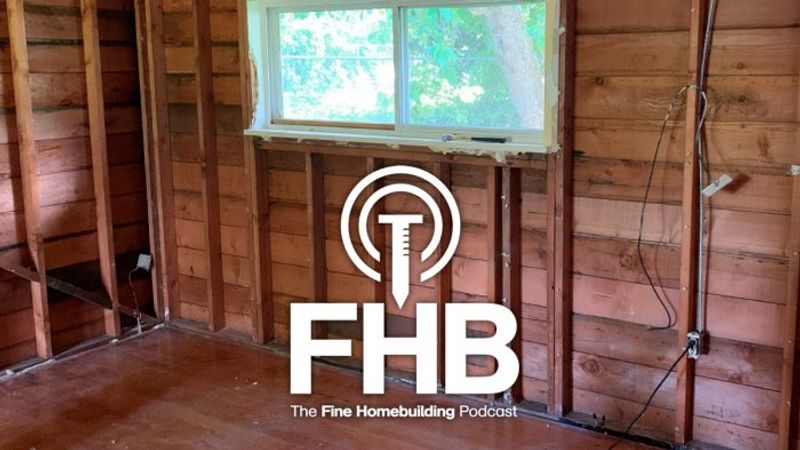 Follow the Fine Homebuilding Podcast on your favorite app. Subscribe now and don't miss an episode:
Justin starts things off by announcing Fine Homebuilding's first-ever summit featuring a dozen construction-industry heavy hitters before Patrick, Matt, and Justin discuss the challenges with insulating masonry buildings, what it's like to work with SmartSide lap siding, and leaving tech to become a full-time carpenter.
---
Reader Feedback
Doug from writes: Hi Team, I just watched podcast 180 and as to your comment that cabinets take a lot of room to build, you are right. That's why after we bought the land and took care of well, septic and power, the first thing I did was to build a 30×40 metal building. It is insulated (not enough) has heat and a 3/4 bath. I knew I was going to need the space to build the house. Besides all the cabinets and other built-ins I also had to build 8 interior doors. I based those on an article (Build Your Own Interior Doors) in issue 192 by Paul Levine. My only change was to make them stain grade so I used clear Alder for the frames and Knotty Alder plywood for the panels. The doors also took a lot of space. The shop also allowed me to keep building through the winter. When it got too cold to sleep in my Coleman camper I bought a futon and put in a corner of the shop. With a small refrigerator, microwave and toaster oven it made a usable if not quite legal living space.
Fine Homebuilding was a source for me in many areas of the construction. Besides the doors, a couple of other articles were helpful in building the shower in the master bath. I didn't always follow the very best practice because budget was an issue and sometimes you have to go with good enough. It was good to know what the best materials were even if I couldn't afford them.
Thanks to you and the team for all the info.
Ben writes: In podcast episode 183 Allen from Western Kentucky wrote in about painting brick. He mentioned a product made by Romabio, which is mineral-based, but he was concerned it would be tough to find somebody locally who is familiar with the product.
Travis Allen an estimator with Hansell Painting explained there are 3 1/2 ways to color brick.
Our recent discussion of Magic Erasers triggered several emails and web comments. At one point I asked what it was. Ben Bogie was among the respondents. Magic erasers are melamine foam. Yup… same melamine compound as the ubiquitous flake board coating. It's a mild abrasive (don't use it on glossy finishes).
If you hit the search and look for melamine foam sponges you can get large bricks of them for less then the cost of one of the name brand option.
I use them a bunch at the end of large projects to clean up finger prints and related construction grime.
---
Editor Projects
Justin: Looked at a 1790s Saltbox, gets a SawStop, and introduces Fine Homebuilding SUMMIT, and new video content
​Matt: Update on his garden shed​. Using LP Smartside OSB.
Patrick: Working on the bedroom.
​
Learn more and register for the Fine Homebuilding Summit.
---
Question 1: How to best insulate my historic brick house?
Christian from Baltimore writes: In 2017 I purchased a historic home built in 1840. Unfortunately, during a cold snap in 2018, several pipes burst causing lots of water damage to existing plaster walls, trim and floors.  It also damaged knob and tube electric and disturbed lots of friable asbestos.
We are going to be renovating the home and gutting it to the studs (saving trim, railings and/or anything we can preserve from the original structure).  All plumbing, wiring and mechanical systems are going to be replaced.  The home is a brick home with 3 widths of brick on the ground floor and two widths of brick on the 2nd and third floors. Most interior walls are wooden lathe installed directly on the interior salmon brick walls covered in horsehair plaster.  There is no insulation to speak of in the entire house.  The home is 1,878 square feet not including the unfinished basement.  The basement has a concrete slab floor.
Currently, the home is heated via a natural gas boiler that heats a steam radiator system throughout the home.  There is no A/C system.  Most pluming including all radiator pipes are not concealed and are installed outside of the walls since it was one of the first homes in the area with indoor plumbing.
Our energy bill during the winter including gas and electric is over $750/month.
We are considering removing the radiators / boiler and replacing with a ductless mini split system for both heating and cooling.  We are considering replacing our natural gas water heater with a hot water on demand system.  We are also considering furring-out the interior walls so that we can insulate.  Our home is only about 12′ wide wall to wall (interior) so space comes at a premium.  Our plan is to use 2×4 studs run perpendicular to the brick walls in most areas and 2×4 stud installed parallel to the brick in areas where space is extremely tight.  Due to only having 1.5″ to 3.5″ for insulation, we were considering cellular foam, however, I just read on your website that you do not recommend this.  I like the idea of sealing many of the penetrations, especially where floor joists are pocketed into the interior brick walls and at the eaves of our roof.  There are local codes with regards to historical preservation that restrict us modifying the exterior of the home in most cases (including replacement of windows and doors).  We will be replacing them, but they will have to be wooden variants in most cases.
My question are:
What type of insulation would be best to use in a tight space (as described above) to be most efficient but environmentally friendly?
Do you think ductless minisplits will be a good HVAC solution for us for both heating and cooling?  If not, which type of system would you recommend?  We are considering electric radiant floor heat for bathrooms.  We also plan to install ceiling fans throughout the house and are looking for solutions to control humidity (to both dry and removed humidity).  We also like the idea of saving space by not having the duct work that a conventional system will require.
Since we are performing a full renovation and budget is always a factor: Which green building techniques / products should I prioritize the highest?  Any suggestions regarding building methods and energy efficient products.
Any information ie links to articles about improving energy efficiency for historic homes etc. would be greatly appreciated.  Our renovation is planned to start in July or August.
I appreciate your time and look forward to hearing from you.
Related links:
---
Question 2: What's the best man-made siding in terms of holding paint and durability?
John from Durham NC: Hi podcast team, I'm getting ready to replace the 70-year-old yellow pine siding on my house. It is cracked, warped, twisted and is not capable of holding paint. It will be easy to remove because it has pushed out most of the nails holding it.
I'm going to use a manmade lap siding and I was wondering what your staff and contributors consider the best in terms of holding paint and durability. Right now, I'm leaning towards Hardie cement board siding, which I've had good results with. But I'm also very interested in what people have to say about Louisiana Pacific Smart Siding, which seems to be sturdier than the Hardie siding.
Thanks in advance for any opinions or information.
Related Links:
---
Question 3: Should I add some shear strength to my walls?
Kane from Pacific, NW writes: We have a 1920s craftsman home in the Pacific NW that we're currently updating. When I pulled down the drywall in a few rooms, I see most of the sheathing is horizontal shiplap style boards – photo attached. Is it correct that these provide less shear strength than diagonal planks or modern sheathing, and is it worth strengthening the walls in any way while we have them open? I am guessing it isn't a major priority, but I would hate to get it all insulated and sealed back up and find out about easy steps we could have taken.
Some of the walls in the older section of the house also have the shiplap on the interior side, almost an inch thick, which had been wallpapered directly over. If I don't put the interior shiplap back up and just drywall directly on there, I'm wondering if I'm taking even more strength away from an old wall? I guess I'm not sure if it was adding much strength in the first place, and curious to hear what you would do.
For additional context, we're trying to avoid removing exterior siding. The home is one story with crawl space, so the walls aren't supporting a second story or anything. Thank you all. The house has plenty of other quirks and I expect to have some other questions before this project is through.
Related links:
---
Question 4: How do I accelerate my carpentry skills/learning as fast as possible?
Dave from Oakland, CA writes: Hey FHB podcast, About 9 months ago I left a career as a data analyst to pursue a life-long passion in carpentry at age 30. I'm in this to learn as much and as fast as possible, so I decided to join a small residential remodeling company (5 carpenters) here in the San Francisco Bay Area (I tried taking a class at a local community college, but there aren't great options around here). I quickly turned to your website as a way to speed up my education and make up for lost time. I've been listening to the podcast regularly when work allows to glean what I can as well.
My question is what you would recommend to someone in my position, who wants to be a builder and accelerate his learning as much as possible, but is frustrated by the best option available being the slow and steady, learn by osmosis path of an informal apprenticeship? I'm not sure if my end goal is to break off, get my license and start a design-build firm, or to do this long enough to learn a ton and be a skilled amateur that does side projects on the weekend, but the low wages, lack of benefits and lack of emphasis on accelerated learning and professional development can be frustrating for an impatient guy like myself.
In light of your discussions about getting people into the skilled trades and the Keep Craft Alive effort, I thought you all might have an interesting take on the barriers to entering the trades mid-career, including skilling up and learning, as well as the issue of low wages, unstable schedules, and scarce benefits (for reference, I'm making $25/hr and the master carpenter makes $40/hr). I love the work, but it definitely comes at significant financial sacrifice that can be hard to stomach. Commentary on the wage and benefits issue, as well as advice on opportunities to step-up my learning, and self-teaching options for millennials without homes to practice on would be greatly appreciated.
Thanks for listening!
Related links:
​
---
#KeepCraftAlive

Support the trades!
Buy a #KeepCraftAlive hat or t-shirt!
---
We hope you will take advantage of a great offer for our podcast listeners: A special 20% off the discounted rate to subscribe to the Fine Homebuilding print magazine. That link goes to finehomebuilding.com/podoffer.
The show is driven by our listeners, so please subscribe and rate us on iTunes or Google Play, and if you have any questions you would like us to dig into for a future show, shoot an email our way: [email protected]. Also, be sure to follow Justin Fink and Fine Homebuilding on Instagram, and "like" the magazine on Facebook. Note that you can watch the show above, or on YouTube at the Fine Homebuilding YouTube Channel.
The Fine Homebuilding Podcast embodies Fine Homebuilding magazine's commitment to the preservation of craftsmanship and the advancement of home performance in residential construction. The show is an informal but vigorous conversation about the techniques and principles that allow listeners to master their design and building challenges.
Other related links