Podcast 193: Understanding Permeability, Insulating Behind Fiberboard Sheathing, and Building a Patio Door
Rob, Matt, and Patrick get feedback about rain-barrel spigots and soil pressure before answering questions about WRBs, air-sealing walls sheathed with fiberboard, and making French-style patio doors from scratch.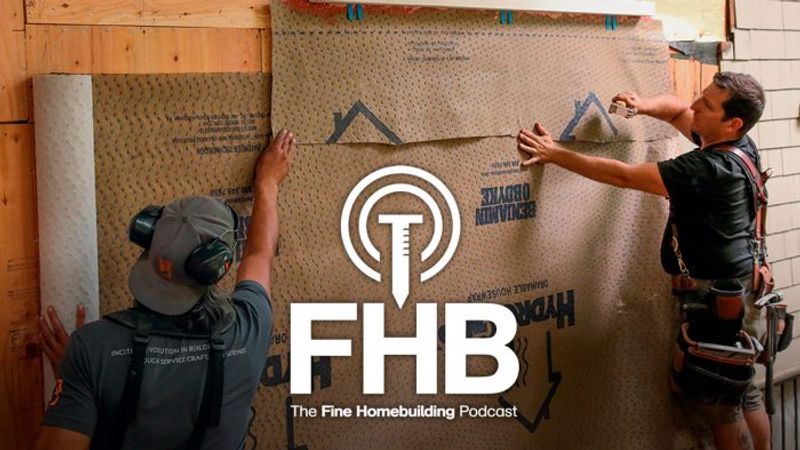 Follow the Fine Homebuilding Podcast on your favorite app. Subscribe now and don't miss an episode:
We he heard about Matt's rain barrel water woes, Dave from Charlottesville, Va. wrote in to tell us about a special rain barrel spigot available from Amazon with a built-in bulkhead fitting and large waterway. New Jersey architect Douglas Batterby wrote in response to recent discussions about insulating masonry buildings. He reminds us that a home's floor system helps masonry walls resist soil pressure. Tyler from Williamsburg, Va. wants to know how a WRB can resist water, but still allow drying. Ryan from Michigan asks how to insulate a brick-veneer house with fiberboard sheathing. Spenser in Ontario wants to know if he can build his own French patio door and Dave asks about airsealing the gap where the wall sheathing meets the foundation.
---
Listener Feedback
RAIN-BARREL HARDWARE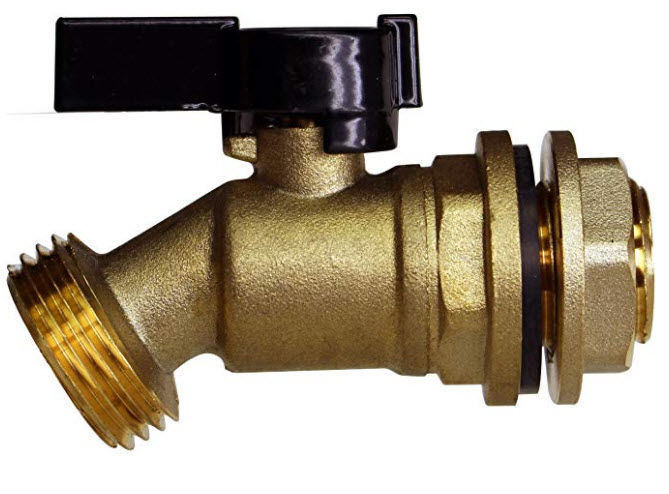 Dave from Charlottesville writes, FHB team – I'm no expert, but we've got three rainbarrels behind our carport (two purchased 65 gal barrels, plus a 50 gal former pickle barrel that fell off a truck near my house). Here's a tip for Matt so he gets better volume from his setup: use a quarter-turn ball-valve spigot like RAINPAL RBS005 Brass Water Container/Rain Barrel Quarter Turn Spigot. They cost about $15. Only downside is that you need a removable lid on the rain barrel for easy install.They put out a satisfying stream – a lot more water than a standard garden spigot.
Now I just need some ideas on how to filter the rainwater better before it goes into the barrel. The screening keeps out most debris, but in Virginia we get so much pollen in the spring that the water turns really foul, especially in the first barrel. Something like a simple back-washable sand filter, maybe?
Of course, the next level would be to install a cistern. We lived in a new house in Germany for five years, and it included a huge (maybe 1,500 gallon?) cistern under the driveway. I had to buy a submersible pump to use it for watering the garden. One advantage of having a cistern in that part of Germany: we didn't have to pay the "impervious surface" stormwater tax.
FRAMING CONNECTIONS IN MASONRY WALLS
Douglas Battersby, R.A. from Oakland, NJ writes, Hey guys, The last couple podcasts you talked about insulating brick homes and how to deal with the floor joists when they're pocketed into the masonry.
In modern construction, foundations shouldn't be backfilled until the floor system is installed otherwise the masonry isn't just a foundation wall it's also a retaining wall. Disconnecting the floor joists in an old brick home that are pocketed into masonry is essentially turning that foundation wall into a retaining. Now, I'm not saying that the wall will inevitably cave in if the joists are cut from the pockets, but it is something to evaluate before you start any work. I would assume (which I really shouldn't) that in most cases you would be alright, but there will be some cases such as a straight and long foundation wall that is receiving a lot of soil pressure that you may run into issues. Another factor that can add strength would be are there any first-floor walls that are perpendicular and intersect the outside wall, these perpendicular walls would (could) help keep the outside wall plumb and that outside wall is connected to the sill plate which is sitting on the foundation (retaining) wall.
An engineer wouldn't assume any structural integrity is added by these first-floor walls (or floor sheathing running over the sill plate), but it just part of the structural redundancy of wood construction that allows some mistakes to be made.
If I were doing this in my own house, I would securely fasten the new stud wall (that supports the newly cut joists) in the basement to the slab and joists above and then provide some blocking that is tight to the studs/foundation wall or maybe a steel bracket, just for some peace of mind. I would do the same thing on the 2nd floor joists as well.

---
Editor Projects
​Matt: Gazebo.
Rob: Closing up the barn.
Patrick: Platform bed, Carol's patio, and shower valve.
---
Question 1: How can housewrap be airtight but still let water vapor through?

Tyler from Williamsburg, VA writes, Hey everyone, finally writing in regarding a topic that seems a little confusing. When researching house wraps and weather barriers I have found that a "tight house" refers to limiting air coming into and out of the house to control the micro environment inside. How does a WRB prevent air from coming in or out and still allow water vapor to escape. Doesn't water vapor ride on air to permeate through a barrier? Can you also talk about weather and air barrier assemblies and what situations and environments require what general assemblies and why. For example hot humid climates, wet climates, moderate east coast areas etc… I know this isn't the most specific question but just an overview may help.
Perm rating tells us the amount of water vapor flowing through one square foot of material. In the U.S., a perm is defined as 1 grain of water vapor per hour, per square foot, per inch of mercury. … In both cases, the higher the perm rating, the more water vapor can travel through a material.
A grain of water is approximately one drop, and there are 7,000 grains of water in a pound of water. 1 pound of water = about 1 pint (15.3 ounces)

According to Martin Holladay
"Asphalt felt has a permeance of only 5 perms when dry, but a much higher rating of 60 perms when wet. If water gets behind felt — either due to a flashing leak or condensation from solar-driven moisture — the felt can soak up the liquid water and gradually dry to the exterior."
Martin Holladay says that according to John Straube, who is a noted building scientist, permeance values for #30 asphalt felt range from 0.5 perm to 3.0 perms. However it becomes more permeable when it's wet.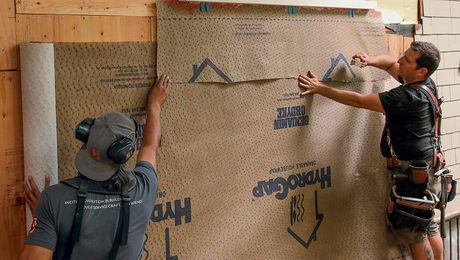 Related links:
---
Question 2: What's the best way to insulate walls with fiberboard sheathing?
Ryan from Vassar, Mich. writes, I love listening to your podcast and spending hours getting lost on FHB articles.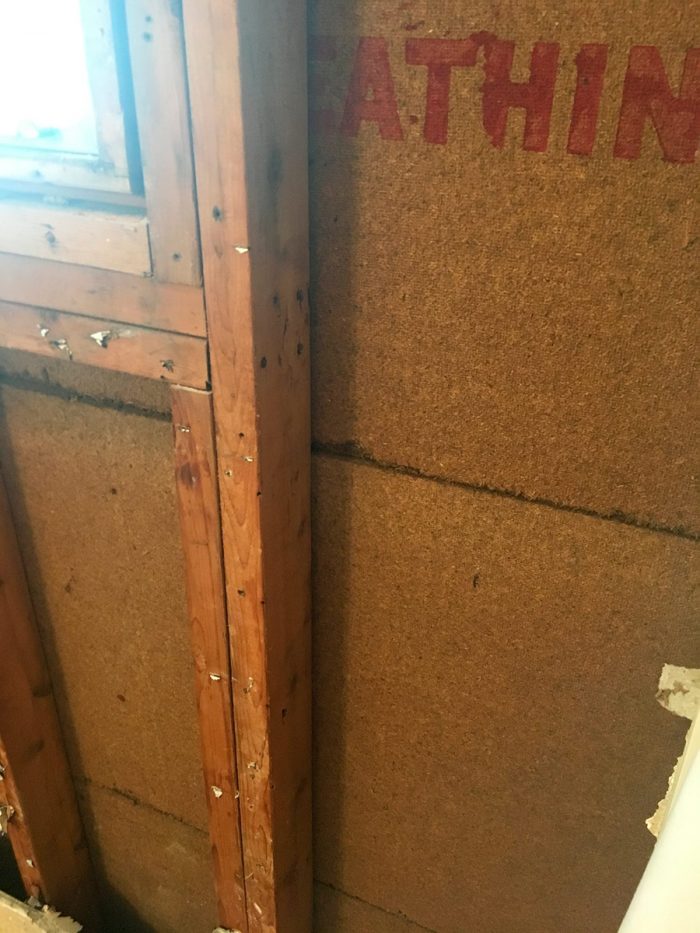 My wife and I purchased a 1950s brick ranch home a few years ago and have been doing reno projects from day one. I was hoping the team could help us come up with a wall assembly that will work for our house. We've rebuilt a couple of our exterior walls where we had access to the interior and exterior sides of the wall. These 2×4 walls were constructed of some type of fiberboard sheathing, see photo of our bathroom walls, and interior foil faced paper batt insulation. The old insulation barely filled half of the stud cavity depth. We did new unfaced batt insulation, sheathing, wrb, and exterior rigid xps foam insulation with a lot of attention to air sealing. The new walls came in with an r value of 30. We are now doing a reno in our full bathroom and are trying to figure out an insulation solution for the exterior wall. The old fiberboard sheathing is very air leaky and we'd like to seal up the cavity. Its not very feasible to remove the original brick and old sheathing to install new sheathing and siding. I've reviewed the GBA articles describing how to insulate walls with no sheathing but I'm not sure if it applies to my situation.
I was wondering if I can use 2 inch XPS foam to air seal the cavity then fill the rest of the cavity with rockwool batt insulation? If so I'd plan to seal the edges with canned spray foam and high performance tape. I'd like to avoid any solutions that I'm not able to complete on my own such as spray foam or packed cellulose. I'm concerned about how this approach will perform given we have fiberboard sheathing then about a 3/4 inch to 1 inch air gap before the brick. Do you have any ideas on how to best air seal the sheathing side of the cavity? We live in zone 5 but border 2 counties that are in zone 6. I heard you guys talking about the Bonfiglioli wall assembly on the July 19th podcast and am hoping to incorporate it into our house to achieve an thermal stud break and increase cavity insulation values.
Thanks letting me ramble on. We appreciate any help.
Related links:
---
Question 3: Is it practical to build your own French doors?
Spencer from Ontario writes, I removed a French patio door set from our dining room because it and the wall had rotted due to a leak in the roof. We fixed the leak, and reframed the existing opening, which was 80″ wide x 83″ high, but as it turns out 80″ wide double out swing doors are expensive! Around $1400 CAD expensive. The cheaper options are still around $1000 and are single side 72″ sliders, which cuts down the opening considerably.
My question is have you ever made your own sliders or French doors for a well-insulated house? I'm in Ontario, Canada so the issue would be air sealing them well enough to compete with store bought. I could get two 3' exterior doors and try and recreate the middle seal that comes with the big box kits. I could also see three 30" doors on slider tracks that collapse back to one side, leaving a 60" opening, but that would probably be harder to seal. Let me know what you think. Off the shelf is fine too, I just like this kind of project.
Other details that might or might not be important. I'm a carpenter, The roof overhangs 16″ and the walls on this side are 2×6 with 2″ of exterior insulation, 3/4″ furring, and lap siding. Been listening since episode 1, keep up the good work.
---
Question 4: What's a good way to weather-seal gaps between foundations and sheathing?
Cantankerous Dave from YouTube writes, In episode 188 you talked about how the wall sheathing to foundation is a difficult area to seal. How would you go about addressing the problem transition area? Can anything be done after the fact? That sounds a lot like what I've got going on in an extension built off of the house I bought.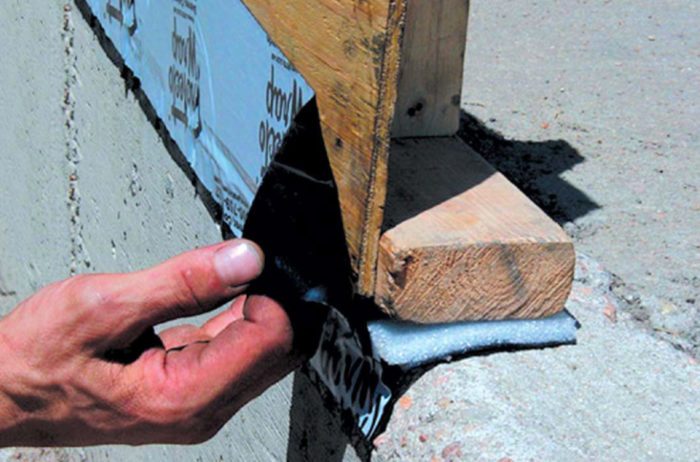 Related Links:
---


Learn more and register for the Fine Homebuilding Summit.
---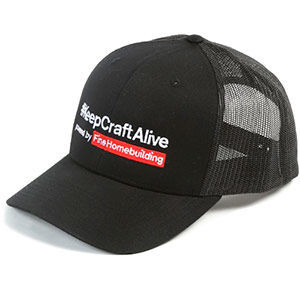 #KeepCraftAlive

KeepCraftAlive hats help celebrate the value of true craftsmanship–plus 50% of all proceeds from every hat sold go to the #KeepCraftAlive Scholarship Fund, supported by Fine Homebuilding and SkillsUSA.
Buy a #KeepCraftAlive hat or t-shirt
---
This episode of the podcast is brought to you by Feeney and Benjamin Obdyke
Feeney has been making it easy for more than 70 years. Our stylish and innovative railing systems, architectural rods, cable railing kits, awnings, and garden trellises offer innovative, sophisticated accents to any custom home or commercial space. All Feeney products are precision crafted from highly recyclable materials, engineered to stay beautiful for years with little maintenance. Feeney's focus on clear and quick installation will save you and your team labor on the job site. Feeney makes it easy. Visit feeneyinc.com to learn more and find your nearest Feeney dealer. That's feeneyinc.com.
Benjamin Obdyke would like to use the special occasion of our 150th anniversary to thank the nuisances that builders and homeowners despise. Our premium products protect from those pesky things like rain, snow, UV rays, and the neighbor's sprinkler system. Take HydroGap, a drainable housewrap that eliminates moisture from your wall assembly. Or the new InvisiWrap UV, an all-black WRB, perfect for long-term moisture protection behind open joint siding. Find out more at www.benjaminobdyke.com.
---
We hope you will take advantage of a great offer for our podcast listeners: A special 20% off the discounted rate to subscribe to the Fine Homebuilding print magazine. That link goes to finehomebuilding.com/podoffer.
The show is driven by our listeners, so please subscribe and rate us on iTunes or Google Play, and if you have any questions you would like us to dig into for a future show, shoot an email our way: [email protected]. Also, be sure to follow Justin Fink and Fine Homebuilding on Instagram, and "like" the magazine on Facebook. Note that you can watch the show above, or on YouTube at the Fine Homebuilding YouTube Channel.
The Fine Homebuilding Podcast embodies Fine Homebuilding magazine's commitment to the preservation of craftsmanship and the advancement of home performance in residential construction. The show is an informal but vigorous conversation about the techniques and principles that allow listeners to master their design and building challenges.
Other related links