Podcast 239: Old Windows, Bouncy Floors, and Moldy Lumber
Kiley, Rob, and Patrick hear from listeners about gravel paths and metal railings, before taking questions on restoring historic windows, undersized floor joists, and moldy framing lumber.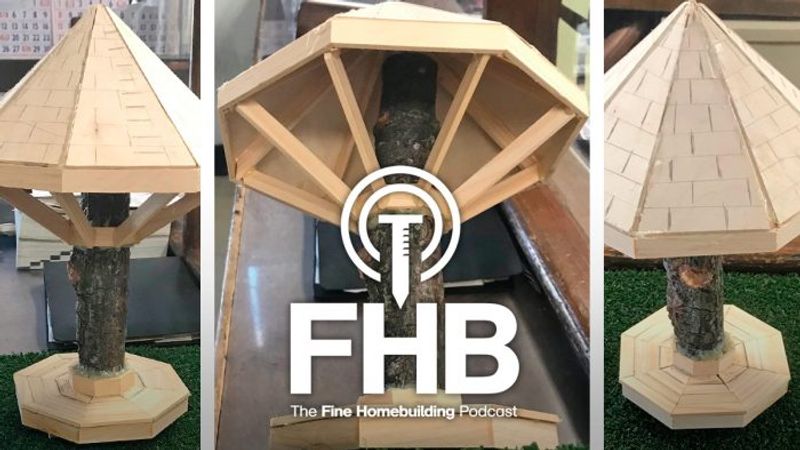 ---
Follow the Fine Homebuilding Podcast on your favorite app. Subscribe now and don't miss an episode:
Andre writes in with his experience making and living with gravel paths. Nathan shares his thoughts on zoning and Will writes in about Colin's proposed cable railing. Christine wants to know what's involved in restoring a mill's worth of historic windows, and Steve needs a fix for his bouncy floor. Bradley wants to know if moldy framing is a problem. Finally, Ray seeks opinions on a proposed gazebo in a top-secret location.
---
Editor Updates:
Rob: Light-up Easter egg made from shop scraps
Jeff: Bedroom remodel (where the Airframe Exoskeleton would have come in handy)
Kiley: Gravel driveway update
Patrick: Installing more windows and cutting down IKEA Billy bookcases
---
Listener Feedback:
Listener feedback #1:  
Andre from the Vancouver, Canada area writes, Nice job with the "squadcast" in our brave new world of physical separation.
I'm following up on Patrick from Nashville who wanted a mud-reducing pathway around his house and backyard. I am writing from the wet coast – we have a lot of winter rain experience up here in the Vancouver, Canada area. At our last house we had a similar issue and needed a cost and time effective solution. We used landscape ties pinned down with re-bar as the path edges. We used pavers for the high traffic pathway. and gravel – around here it's called 3/4 crush for a sharp-edged granite – for lower traffic pathway. We filled in between the path way and the house / foundation with smaller (+/- 1.25″) drain rock. One side effect was that the house stayed cleaner with no mud splashing up onto it. With the landscape tie the same level as the lawn Kiley's cordless lawn mower will cut the lawn and do the edges without needing the pesky string trimmer.
I'm not a fan of the plastic edging either – it never seems to stay in place and looking nice for me.
Looking forward to the Friday edition.
---
Listener feedback #2
Nathan, from outside Spokane Wash., writes, Hi FHB team, I love the show and have been working my way back through old episodes. One topic that seems to come up a lot is "why is housing so unaffordable" these days. In recent podcasts you have rightly pointed out that much of the costs is land. In our area of the country land is relatively inexpensive. You can for example find 30 acres within a half hour of downtown Spokane for under $200k. That seems cheap right? Think of all the houses you could fit on 30 acres!?!
Well I think the big issue across the US is zoning and not land availability. That 30 acres at most can be subdivided into 3 lots in Washington unless I somehow convince the county to change the zoning. So, what happens? A 10 acre and smaller parcel has a minimum value of around $70k here. Even .5-acre parcels… So basically, the growth control in our area and many others limits availability of parcels and drives up prices. Those 30 acres are capable of supporting at least 25 houses with on-site sewage systems so the individual parcels could easily drop down to $25k if allowed but they aren't.
Anyway, I feel we are legislatively shooting ourselves in the foot and this is somewhat driving the divide between the haves and have nots in our country. Anti-growth strict zoning folks generally already own a house and young people don't understand that zoning constraints are really driving up their cost of living. I'd really rather that extra 50k in zoning costs pay for a higher quality house than more expensively zoned land and possibly help raise the wages of our tradespeople. All those costs factor in what people can afford to do for trim, cabinets etc.
Keep up the great work. I will definitely keep listening and appreciate the extra content during covid lockdown. Thanks.
---
Question 1: Is restoring old wood windows a doable DIY project?
Christine, from CT, writes, I'm buying a cool new house somewhere in CT. It used to be a sawmill in the mid 1700s, I think. Our inspector said it needs new windows, but I want to restore and keep them, and willing to try it myself. And it seems to have interior storm windows. Can you address this on the podcast? We could talk about the choices, how to do it yourself, safety concerns with old paint, and options if she really does need or want to replace them (reproduction sashes, insert replacements, etc.).
Related links:
---
Question 2: What is the best way to take the bounce out of a wood-framed floor?
Steve writes, Hey FHB podcast crew! Really love the show and been listening back older episodes trying to catch up as found the podcast maybe a couple months ago to listen while at my day job and then during projects on the weekends 🙂
We purchased a 1974 two-story house in December and the inspection showed some minor things. I pointed out to the inspector that almost every door has spider cracks coming off the top corners and some on the ceiling corners too. The inspector simply said, you can chase those for the rest of your life and in this house style he has seen similar cracks but he said it wasn't a structural issue. I demolished the basement after finding a leak in the sink plumbing… and then realized that the joists are 7″ and no cross bracing, I have never seen 7″ joists in a home, so not sure where or what the thinking was during the build. There are two I-beams that span 75% of the house and are offset from each other. No blocking at the ends of the joists either. The deflection and squeaks are significant, obviously the house is still standing but it seems like it isn't correct.
After thinking, researching (I have a masters in systems engineering but not a practicing engineering) and listening to more FHB podcasts I wanted to get your feedback and thoughts on my ideas, and these are not in a priority at all.
1. Add blocking between joists – in a line, not offset – at 4′ intervals to reduce twisting (the joists off of the beams are about 12′) – I will likely do this to start and below options should also further increase integrity
2. Spray closed cell foam – small bonus on sound dampening – however after listening to your podcast and others I am not a huge fan of spray foam with the off-gassing issues. But time savings could be nice and should tighten up the entire space. I did come across this manufacture and emailed them but haven't heard anything back as they have updated the chemical compounds to be healthier and reducing the ozone impact.
3. Add engineered lumber (was thinking LSL's) 2×4's and add a vertical block / riser from the beam to the LSL and run those at the top joint of the subfloor and joists. Could do 2×6's and still add blocking too, ideally I would prefer not to rip them down to the 7″ joist depth. Then add Roxul safe and sound
4. Add a 3/4″ plywood to bottom side of joists and then sheetrock (would like to have a level 5 finish smooth ceiling)
5. At future hardwood install on main floor, replace subfloor with Huber AdvanTech T&G subfloor and glue it down as well. Issue is if spray foam is the best / better option this obviously isn't an option anymore.
Hopefully this helps to break this down and would be outstanding to hear your thoughts as this one has been keeping me up at night.
(I'll call it a modified two-story with an open loft, we have three little kids 6, 4, 2 and ideally this is our "forever home" so doing my best to really improve and build to higher performing standards).

Related links:
---
Question 3: What's the best way to clean mold off of framing lumber?
Bradley, from Mebane, NC writes, Hi F.H.B. podcast. My wife and I have been building a house ourselves. When I say that we are building it, I truly mean our hands built it and not simply writing checks or managing the project. So far, we did cave in and have hire a crew to place the concrete for the basement slab, but even with that, we did all the prep work and wire mesh. That same crew is coming back to finish the concrete porch too, but we did the steel work supporting the concrete. Anyway, as you can imagine, with only two people who don't have any real experience doing this sort of thing, every step takes a really long time. As a result, it took quite some time before everything was dried in and some surface mold grew on some of the Southern Yellow Pine joists.
Do you have any suggestions on how best to treat the house's framing? I was hoping some sort of liquid that I can lightly coat the entire framing before it gets covered up. My first thought was bleach, but I'm not sure how well wood reacts to bleach. I've attached a few photos. Thank you.
Related links:
---
Question 4: Is it OK to build a permanent wood structure on an old tree stump?
Ray writes, Dear FHB podcast friends, I'm a carpenter now for 45 years, started my career building homes on Fire Island got pushed into organized labor, where I went from building houses to commercial carpentry mostly architectural woodworking. Yes I have installed 100's of miles of trim. My career took another turn when I became a civil service carpenter / carpenter supervisor. With all that said, here is my question to you all.
I've been tasked to build a gazebo in place of a beloved shade tree using the remaining 16ft stump of lighting damaged tree to support the structure. Please see model I had to build for approval. Comments and suggestions are welcome.
Related links:
---
End Note: People doing more DIY during the coronavirus lockdown has led to an increase in serious eye injuries, a hospital has said.
Coronavirus: Eye injuries increase 'due to more DIY'
AND
What is this tool used for?
---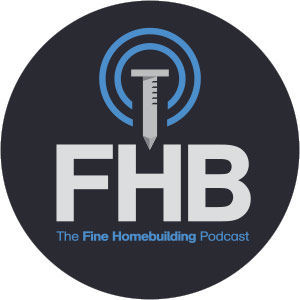 If you have any questions you would like us to dig into for a future show, shoot an email our way:

[email protected]

.
If we use your question we'll send you a FHB Podcast sticker!
#KeepCraftAlive

KeepCraftAlive hats help celebrate the value of true craftsmanship–plus 50% of all proceeds from every hat sold go to the #KeepCraftAlive Scholarship Fund, supported by Fine Homebuilding and SkillsUSA.
Buy a #KeepCraftAlive hat or t-shirt
---
This episode of the Fine Homebuilding podcast is brought to you by Danner.
If you believe in timeless ideas like quality, craftsmanship, and blazing your own path, I want to introduce you to our friends at Danner who sponsor this podcast. A Pacific Northwest original for over 85 years, Danner makes boots for people with purpose in their step. Boots like the new Steelyard family—featuring 8 different models with game-changing comfort, legendary durability, and performance features for any jobsite. Earn a pair and join the family at Danner.com.
---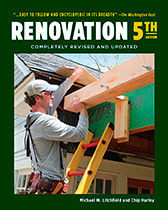 Fine Homebuilding podcast listeners can now get 20% off anything in the Taunton store, including the Renovation 5th Edition.
Use the discount code FHBPODCAST to take advantage of this special offer.
---
We hope you will take advantage of a great offer for our podcast listeners: A special 20% off the discounted rate to subscribe to the Fine Homebuilding print magazine. That link goes to finehomebuilding.com/podoffer.
The show is driven by our listeners, so please subscribe and rate us on iTunes or Google Play, and if you have any questions you would like us to dig into for a future show, shoot an email our way: [email protected]. Also, be sure to follow Justin Fink and Fine Homebuilding on Instagram, and "like" the magazine on Facebook. Note that you can watch the show above, or on YouTube at the Fine Homebuilding YouTube Channel.
The Fine Homebuilding Podcast embodies Fine Homebuilding magazine's commitment to the preservation of craftsmanship and the advancement of home performance in residential construction. The show is an informal but vigorous conversation about the techniques and principles that allow listeners to master their design and building challenges.
Other related links