Sensitive Scale, Modest Materials
This Cape Cod home maintains a pared-down simplicity with a low-pitch roof and visually separate forms.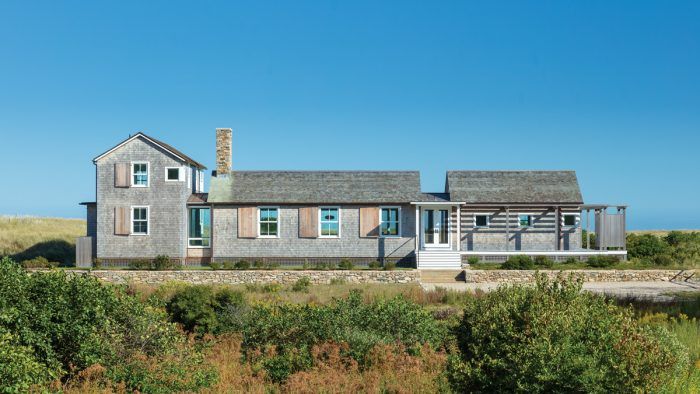 According to architect Peter Twombly, this project was influenced by a house designed by writer and naturalist Henry Beston, author of The Outermost House, which chronicles a season spent living on the dunes of Cape Cod. The new build took cues from the house that Beston designed, specifically its modest scale and pared-down simplicity. In contrast to the regional trend of razing old cottages in favor of elaborate mansions, this structure is actually smaller than the house it replaced.
Twombly says it was a challenge to achieve flood-zone elevations and provide water views over the dune while maintaining the low roof profile that the clients desired. The solution was to divide the house into small-scale, visually separate forms tied together with shared features such as shingles, shutters, boardwalks, and porches. The roof pitch was lowered as far as possible without sacrificing a traditional look, and a stone wall on the entry side reinforces the low profile and anchors the house to the site. To help obscure the flood- resistant pier foundation, Twombly used lattice panels around the base of the building.
Designer Estes Twombly Architects, estestwombly.com
Builder Fellman Brothers Builders, chathammabuilder.com
Location Chatham, Mass.
Photos Warren Jagger
From Fine Homebuilding #292