A Passion to Build
FHB readers share their stories of what got them started in construction.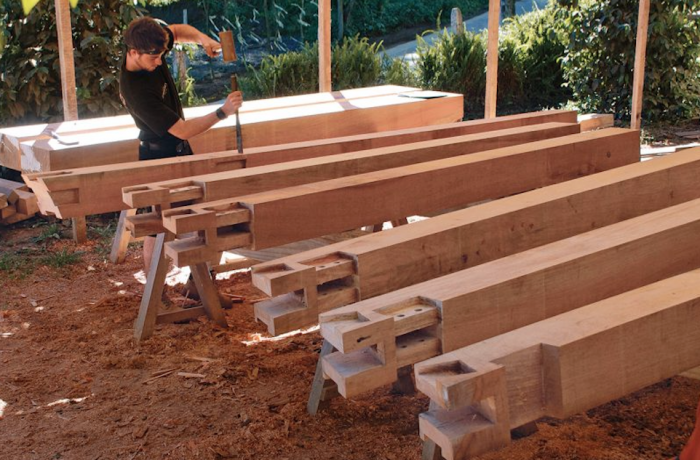 Everyone has got to start somewhere, but what sparked the interest to get started in the first place? We asked our readers on Facebook, "What inspired you to go into the trades?" With 80 comments of people detailing their experiences, it was hard to narrow down to just a few to feature in this post, so be sure to check out the full Facebook post.
If you'd like to share your own story, feel free to add to the original post or comment on the bottom of this blog post.
---
"My dad. I am a third generation contractor. I love what I do everyday and am thankful for the life that I live because of it! Thank you pops, Rest In Peace, love you!!" – Ryan Davis Contracting
---
"A passion to build/create that my Dad instilled in me as a very young boy (8-9 yr old). Still at it 60 years later." – Wayne V. S.
---
"I was artistic. And I found myself in need of a job when I was eighteen. So I responded to a "Wanted Ad" for a painting position. I had painted my bedroom, so I figured I knew how to paint. I was hired and fired the same day. I learned I didn't know how to paint. But I was able to acknowledge it and asked for an opportunity to learn. That led to more opportunities which included remodeling. I was hooked, and eventually I started my own business." – Jon S.

---
"To be honest it was Roy Underhill and Norm Abrams on public television when I was a young lad. Easily over 30 years ago." – Aryn H.

---
"We had the most awesome industrial arts program in grammar school; looked forward to going and got a lot of hands on experience, then went to Vocational High School were we actually built a house every year with all the different trades doing their part. My best friend's father owned a drywall company; did that during summer vacation and stayed with it, and 40 some odd years later have left my foot print on many custom homes and remodels. The money has been good, but the most rewarding thing is the people I met and the satisfaction of working with my hands." – Leonard F.

---
"Working at bank of America and realizing how I was currently defining success was void of fulfillment and decided to take care if my inner child who likes to own tools…a carpenter owns tools so I became a carpenter… mostly to own tools, and then fell in love with woodworking and finish work." – Andrew D.
---
"I loved/love woodworking and carpentry and being active and stepping back at the end of the day to see what me and my team have accomplished." – Chip M.
---
"If I'm being honest, necessity. Diapers and formula don't buy themselves. But, one day, I found myself in a cabinet shop working for like 12 bucks an hour. And. I. Loved it. 20 years later, I've had my own business, and now I'm a lead carpenter for a developer." – Jim M.
---
"I did not pick the trades, the trades picked me." – Mick P.
---
"My dad told me he had me a summer job at 14-15 years old , crew picked me up 6:45 next morning at the end of my lane, and after the first day of seeing them build bearing walls and install the floor and said tomorrow it's walls and next day it's trusses .. I was hooked .. been banging nails ever since!" – Rick B.

---
"Started in a cabinet shop sweeping floors and sanding when I was 13 and been in it ever since, besides a short football career. 49 years old now and still love it." – Joey S.
---
"My grandfather apprenticed as an iron worker. Ho told me to work with my head and not my back. I've been an estimator for almost forty years. I retire in 55 days. It's been a good career." – George P.

---
"My father was a 45 year union cement finisher I wanted to be like him ! Now I'm a union carpenter 36 years!" – Steve M.
---
"The realization that I'm actually building someone's home. I have the honor of building a person's place to live. I am building their little piece of the world. And that's pretty awesome!" – Rod S.

---
"Ever since I was a little boy I have wanted to build buildings. I used to draw downtown Detroit buildings and then build them out of my blocks. I worked through college as a carpenter then owned a construction company in Malibu, CA. I went to Japan after the Kobe earthquake to help with the recovery and build houses. I ended up teaching North American framing for about 3 years. After what I saw there I decided to dedicate my life to seismic safety in buildings. I am now the Market Segment Manager-Structural Steel for Simpson Strong-Tie and lead research and development teams in safer building systems. I am going on 20 years at Simpson. The trades are not only a great career but they can propel you into other endeavors as your expertise grows. We need more trade schools in this country." – Tim E.
---
Read more FHB reader responses:
Advice for People Entering the Skilled Trades – FHB readers offer guidance for people considering a career in the construction industry.
The Impact of Uncertainty – The Fine Homebuilding community shares stories of challenge, caution, and hope as they grapple with the Covid-19 crisis.
Readers Share Stories of Getting Started in the Trades – We asked, you answered. Here we share some of our favorite responses to the question, "How old were you when you got started in the trades?"
Photo above from the article "The Future Craftsmen of America" on keepcraftalive.org