Keep Craft Alive: Catherine Autio, Master Carpenter
This carpenter proves that business ownership and project management are not the only career paths for skilled builders.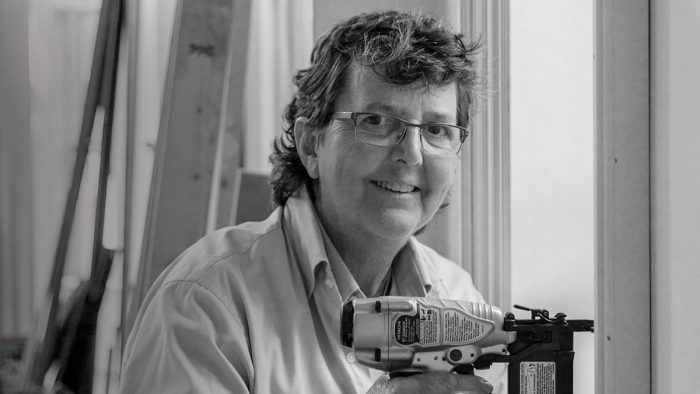 "My advice for other women who may be interested in the trades? If it is your interest and you feel capable and don't mind learning, just dive in and see if it's for you."

– Catherine Autio, Master Carpenter, Newton, Mass.

There is something unfortunate about the traditional trajectory for many of the most skilled builders and remodelers among us. They often succumb to the pull of business ownership if it is evident that recognition or reward is only possible through self-employment. Or, they move into project management positions and endure the crush of a new set of responsibilities for the sake of a "better" livelihood. Either option takes them away from what they love most about building and from where they excel. Paul Eldrenkamp, founder of the Massachusetts-based remodeling firm Byggmeister, understands this well. It's precisely why he created the role of Master Carpenter, a position he designed specifically for Catherine Autio.
"I have the best job ever," Catherine says of her position. "I show up to a project where there's a lead and ask what the goals are for the day, and then I work to accomplish them, teaching younger and newer trades along the way." She helped Byggmeister understand that she plays an important role as a highly accomplished staffer with real responsibilities to the business, who influences quality, teaches, and helps improve efficiency by handling demanding work.
Catherine has been a carpenter for the better part of three decades and feels very fortunate for how much support she's received. It's something the industry at large can learn from, not just with regard to inclusion and diversity, but when it comes to honoring talent, skill, and passion.
For true craftsmanship to exist, we need those committed to the craft to be given professional opportunities to immerse themselves in the work they do best. Catherine should not only be considered an inspiration to younger trades, but to other building-business owners as well. ­
—Rob Yagid, executive director, Keep Craft Alive
Photo: courtesy of Byggmeister
From Fine Homebuilding #294