Balanced Performance
A tiny footprint and the use of emerging building strategies were just two of the hurdles when designing this net-zero home.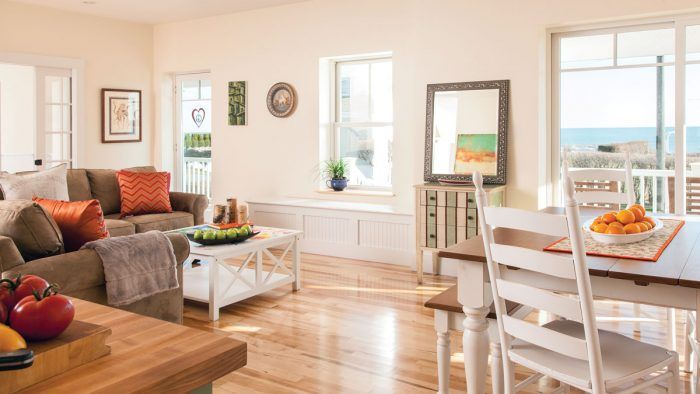 This is one of A3 Architects's earlier net-zero homes. It was built using double-stud wall construction at a time when few builders were doing so, particularly on Cape Cod. The all-electric, solar-powered house is insulated with dense-pack cellulose and ventilated with an ERV, also less common strategies at the time.
Finding the right contractors was one hurdle; another was the site itself. Located in a dense waterfront neighborhood on an undersize lot, the three-story home's footprint measures just 28 ft. by 36 ft. It forced a vertically organized floor plan, with the main living areas on the first floor, bedrooms on the second, and an office and playroom on the third. "It needed to fit on the lot and work for a family of four—now five," says architect Alison Alessi. "It's an urban design." To keep the modestly sized rooms from feeling cramped, the interiors are intentionally sparse. The kitchen, for instance, is nearly devoid of cabinetry; a tucked-away pantry provides the majority of storage.
The house's compact size and straightforward shape are advantages in terms of heating, but designing for net-zero energy use while remaining open to coastal views made windows a challenge. Alessi spec'd double-glazed units from Marvin's Integrity line. She admits to overglazing on the east—the water-facing elevation toward which all of
the main living spaces are oriented—but she pared back on the north- and south-facing exteriors, which nearly abut the neighboring houses. All told, she managed to strike a balance of functionality, energy efficiency, and privacy.
Designer A3 Architects, a3architectsinc.com  
Builder Ronan Residential, ronanresidential.com
Location Scituate, Mass.
Photos Dan Cutrona, courtesy of A3 Architects
From Fine Homebuilding #296