Educational Opportunities are Key to Diversifying Builders
Maria Klemperer-Johnson talks about building her first timber frame, teaching, and what it will take to get more women in the trades.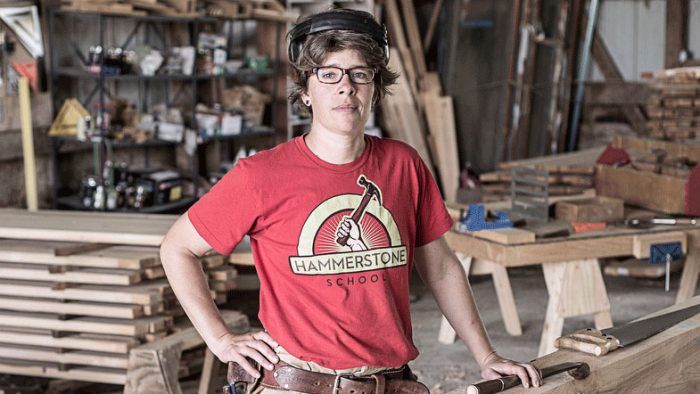 Construction has historically been thought of as a man's world, but it doesn't have to be. Although still comprising a small percentage of professional tradespeople, women are increasingly finding a place for themselves as skilled employees on home-building job sites and as teachers in building programs. Organizations like the National Association of Women in Construction are supporting women by providing greater visibility and opportunities to women in the trades through initiatives like Women in Construction Week.
After traveling the world in pursuit of what she thought would be a career in geology, Maria Klemperer-Johnson returned to her life-long hobby of working with wood and got a job in a cabinet shop. Now, a woodworker, timber framer, and the founder of Hammerstone School, Maria uses her years of experience to invest in other women who are interested in the trades.
When did you first know that you liked working with wood?
I have always enjoyed making stuff. My father is a hobbyist woodworker, and my grandfather was as well. Both of them encouraged me to build stuff. My grandfather had these German stone building blocks, and it was a big honor that I was allowed to use them when I was 12. When I went to college, I didn't think I would become a tradesperson at that point, but I look back on that and I realize I took the most tradesperson route in studying computer science. But I really missed the physical aspect, having something tangible. I would come home from school on break and go build stuff in my dad's woodshop, and I made some fairly nice furniture pieces. I remember I got a set of plans from Sunset Magazine, went to the lumberyard and got some redwood, and then went to the Berkeley tool lending library and I built this little chair. It's always been something I am drawn to, but I never thought of it as a career path because building always seemed like a foreign world to me. After marrying a carpenter, I had this window into that world and started meeting other people who worked as carpenters, and so they were no longer mysterious to me. I decided to get a job in a cabinet shop in 2002, and then I ended up taking a job with a local home builder, and that's when I became a carpenter. At one point, we were living in this little cabin in the woods, and it burned down—which was a chaotic and traumatic event—but it also opened up this opportunity for me to learn how to timber frame.
How did you come up with the idea for Hammerstone School and what is the purpose of the program?
When I started working in the trades, I knew intellectually there weren't a lot of women. Working in Ithaca, I always felt comfortable in the work environment, but I was pretty much the only woman on any crew, and really any job site. Of all the dudes I knew, no one would say to them, "that's cool you're a carpenter," so it started to wear on me that it was only because l because I was a woman that people would say that to me. There was always this underlying question, of "how do they mean this?"
And then there comes this tremendous pressure when you feel like you are the only representative of whatever minority you are in, that you can't fail or you're letting down your whole group. I started to realize that I needed to represent screwing up, because this is the thing about carpentry—it's not that you do everything perfectly 100 percent of the time. You get really good at fixing mistakes, and that is a skill I've learned as a carpenter that carries over into all aspects of life. I realized I need to be more public about that, because if it wasn't a big deal to me, it wouldn't be a big deal to them. I also just got tired of being around guys all the time. I was missing a type of friendship and energy, and the only way to achieve that was to encourage more women in the trades.
A friend of mine wanted to build a tiny house, and she was thinking of going to classes to learn how to do it. I said that she would learn a ton there, but the tiny house wouldn't get built. I suggested we start a workshop in which the students of our class would learn by building the tiny house. So that was the birth of the school in 2013. We spent the first five weeks framing, and then we installed windows and insulation, and we put up wall paneling and interior trim. I hung flyers at the local co-op, and within three weeks the class was full! I learned a lot that first year. I remember going into that first day of class and thinking that we would take half a day to learn some basic tool skills, but it took us two whole days to build a basic sawhorse. Now, the two-day basic skills class has become the bread and butter of Hammerstone. I had started the school with the goal of getting more women into the trades, but one of the things I realized is that the short-form workshop format is not really set up for building new tradespeople. You don't get enough experience. You need some type of apprenticeship or longer educational experience. So, I started Hammerstone Builders to try and create that apprenticeship. I hired other women to work with me and get that hands-on training. Running my own contracting business is where I felt the most sexism. When I was working for a crew, I could prove myself to my employer pretty quickly and just be another crew member. But as a contractor, every new contract I wanted to get was an instance of needing to demonstrate that women were just as capable at this work.
In 2018, I wanted to have more institutional support because I was completely self-employed, which felt like a lot of risk. I started looking at other places where I might teach carpentry and came across SUNY Delhi. And that's where I am now. This is the second semester of my third year teaching here. Our residential construction program is the oldest in the country, and we focus on home building. It is a very different-reaching environment than Hammerstone because it is a two-year program, and I get to work with the students for a longer period of time, and they get to come here and dive into their education with the goal of working in this industry. I am the only woman on the residential construction faculty, and our students are probably 5% to 10% women.
What else do you think needs to happen to get more women in the trades?
The general public's perception of what women can do is set in stone and hard to change. The only way it's going to change is when we get to the point that 30% of people working in the trades are women.
I see that as a great opportunity in today's economy. I know contractors who will snap people up straight out of high school, which is currently a great opportunity for boys who still culturally have that place in the world to step into a job like that out of high school. One pathway to increasing the number of women in any field is to have an educational route. There are supports that you can put in place through educational institutions that can increase the number of women who then walk away with a credential. And then if you're hiring, it's a lot harder to say no to a woman with a credential than it is to say no to a woman with no credentials. And psychologically, it's a lot easier for a woman with a credential to go to an employer and have some confidence. I see right now as a fantastic opportunity for young women to look for educational opportunities in the trades. The work can be volatile, but it doesn't get outsourced. We always need people working in the trades here. And it can be higher paying than other traditional women's work.
What would you say to a woman who is interested in trying a trade but has a lot of self-doubt in taking that first step?
Oftentimes, there is an aspect to self-doubt that is related to gender, because we just don't see images of women doing this work. Getting into a space that is women-only can eliminate that additional burden. Even if the guys in the room are supportive, we can still put pressure on ourselves that we can't screw up because we don't want to be the bad example. We think, if I can't hold the hammer right, I don't want to be a data point in that stereotype. But if you can't hold a hammer right, it's not because you're a woman. It's because you've never held a hammer before! And I can tell you, having observed young men holding a hammer for the first time, they don't know how to hold a hammer either.
It's also challenging to learn as adults. We expect to try something once and be really good at it. We forget how to try something and screw up, learn from that mistake, get up, brush ourselves off, and try again. We don't have as much space to practice unobserved. There is a practice to this just like there is in playing an instrument. Repetition builds expertise. You have to consciously tell yourself that it's okay to fail. If you want to get into it, have that pep talk with yourself. Tell yourself that you're not going to be good at first, but you're just going to keep practicing until you get better. Also, find a support group that is encouraging and recognizes that you have to fail to get better. A lot of us who have been doing this for a long time forget that things that have become second nature were hard at first. I watch my students struggle with how to position their body and leverage the wood and tools, but the act of learning a new skill makes it easier to learn a new one later. At Hammerstone, I would try to manage a skill lefty while students practiced with their dominant hand. It gave me some empathy and demonstrated how clumsy I can be when learning a new skill as well.
What are your favorite kinds of projects to work on?
I do find my interests following a trajectory. I started doing furniture work—the cabinet shop—then I got into home building and then timber framing. There was this arch from smaller construction to home building and larger construction, and then timber framing. I also did natural building, like straw-bale construction and natural plasters. What I find now is that I am actually moving back into the direction of more refined work. I am teaching some woodworking classes and I am missing that attention to detail and full ownership of a project. Recently, I've found myself going back toward smaller and more detailed work and wanting to hone my skills with more woodworking. I've been teaching some woodworking classes and getting into decorative work like veneering and kumiko.
Related Links:
Photo: Robyn Wishna