Butt Boards for Smooth Ceilings
These butt boards are easy to make on the tablesaw and create a recessed drywall-panel joint that's less visible and easier to finish.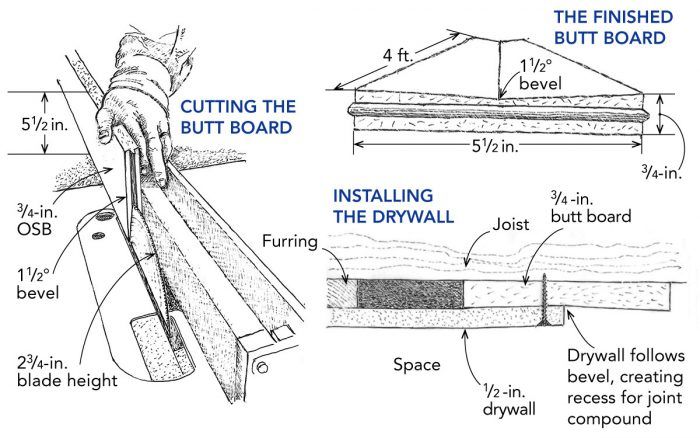 Finishing the butt joints where the short ends of drywall panels meet takes more time than finishing the seams where the tapered, long edges of panels meet. Because there isn't a recess at the butt, you get a buildup of joint compound. To combat this issue, we use butt boards. There are ready-made butt boards that you can buy, but we like to make our own. We use 3/4-in. OSB and rip 4-ft. pieces into 5-1/2-in. strips. We set our tablesaw's blade height to 2-3/4 in. and the bevel to 1-1/2° and run the strip through the saw. Once one side is beveled, we flip the piece and bevel the other side.
When using butt boards, hang the drywall panel so that the butt end lands in about the middle of a stud, joist, or rafter bay. Once the drywall is fastened to the framing, we install the butt board on the floating end of the panel. The next piece of drywall is installed on the other side of the butt board. The drywall ends follow the contour of the bevel, creating a recessed joint that's less visible and easier to finish.
—Aaron Miller, Pollard, Ark.
Edited and Illustrated by Charles Miller
From Fine Homebuilding #298