Insulating a Wall With No Sheathing
Always assume that water is going to find its way through, and provide a way to direct it back outside while providing inward-drying potential.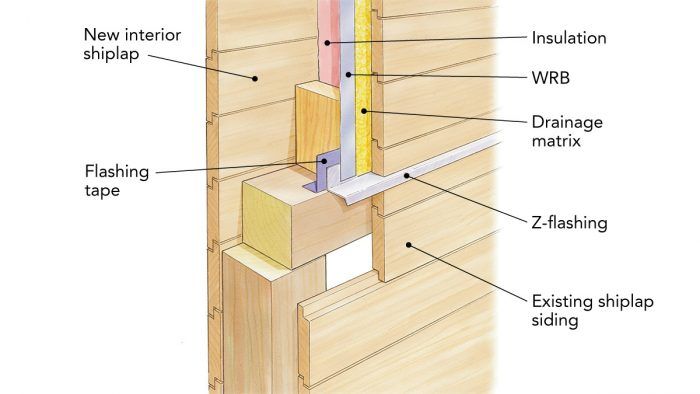 My clients have a new, two-story post-and-beam barn with shiplap pine siding and an unfinished interior except for the ceilings, which have been insulated with two layers of 3-in. rigid foam and covered in shiplap pine. They would like to insulate the walls and cover them with shiplap as well. What approaches might work best here?
—Charlie Krukowsk via email
Ben Bogie, a project manager with BPC Green Builders in Ridgefield, Conn., replies: This is a tough one with no quick or easy solutions, at least not any that are good practice. The key here is to always assume that water is going to make it through the siding and allow for it to drain down and out while provide some air space for drying.
The most effective solution would be to just go over the exterior of the siding with a water-resistive barrier (WRB) and continuous insulation. If you used rigid foam as the exterior insulation, you could treat it as the WRB if detailed correctly. Then re-side over that, preferably with a rainscreen between the foam and siding. This is assuming the back of the existing siding is aesthetically pleasing on the interior. This is probably the most costly approach, but also the most effective and durable.
If you're stuck working from the inside, a good option to promote drainage and drying is to apply something like a mesh matrix rainscreen material to the back side of the existing siding, and back that up with a WRB (some are available as a two-in-one product). This should be taped at the seams and to the timbers with a high-quality acrylic flashing tape. Ideally you'd pry the siding from the horizontal timbers so as to have the drainage material and WRB pass between and down to daylight.
Easier would be to cut the siding and integrate a Z-flashing through this cut (you could bend the "up" leg of the flashing after slipping it through the wall). Integrate the Z-flashing with the WRB, and with the horizontal timbers, and you've created a way to drain any water that makes it in (see drawing, above). You could then frame a 2x wall inboard of this to contain your insulation and act as nailing for your shiplap.
You can use whatever insulation you like in there. Any need for a vapor retarder will be dictated by code and your climate zone.
Drawing: Dan Thornton
From Fine Homebuilding #299
---
RELATED LINKS: