Building a Deck Without Treated Lumber
Straighter, lighter, and usually stronger than wood, light-gauge steel is a good alternative to pressure-treated lumber for shed or deck framing.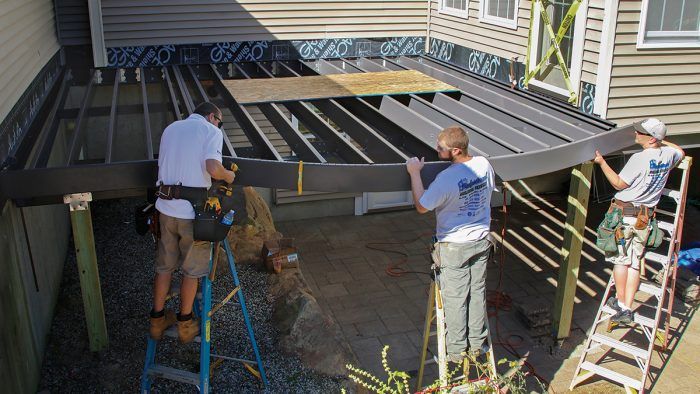 I'd like to avoid using pressure-treated lumber for my outdoor projects, which might include anything from building a deck to building a shed. Can you help me out with alternative options?
—Geoff Doebler via email
Andy Engel, a remodeling contractor in Roxbury, Conn., replies: The code is clear about the need to use rot-resistant lumber when building wood decks, but pressure-treated lumber (PT) is not specifically required. The International Residential Code (IRC) lists alternatives to PT, notably western cedars and redwood. Both are expensive options usually used for finish surfaces. For framing lumber, the code-allowed spans for these species are considerably shorter than for the southern pine typically used for PT east of the Rockies, but are in the ballpark of the spans possible with the Douglas fir and hem-fir used in the west. The solution is increasing the depth of the beams and joists using, say, 2x12s instead of 2x8s. For joists, you might be able to increase the allowable spans by reducing the spacing from 16 in. to 12 in. or less.
That can get expensive. Another option is light-gauge steel framing. The IRC has good details on steel framing, and it would work for deck or shed framing with no code issues at all. (Fine Homebuilding published an article on the topic, "Framing a Deck With Steel," in issue #244).
I had one customer who wanted me to build his deck from locally sourced materials. Both black locust and (to a lesser degree) white oak are decay resistant, and both are native to Connecticut, where the deck would be located. Both were available through a nearby sawmill. As insurance, I planned to tape the tops of the joists and beams with a flashing membrane and to treat the concealed end cuts with copper naphthenate. The town building inspector was intrigued, but wouldn't allow their use for framing because I couldn't source either one with a structural-grade stamp. There's no practical reason either one won't work, but their use depends on how the code is enforced where you're building. The inspector did allow locust and white oak to be used for the decking and railing. Fifteen years later, that deck is still sound.
Sheds are easier, as their framing is better-protected from the elements. Like a house, if you keep the framing at least 8 in. above grade, there is no code requirement to use rot-resistant lumber. I built such a shed at my house 20 years ago, and it's still going strong today.
Photo: Patrick McCombe
From Fine Homebuilding #300
---
RELATED LINKS