Tools & Materials
Decking Options
Real wood or composite? PVC or aluminum? Compare these popular choices based on cost, looks, durability, and maintenance needs.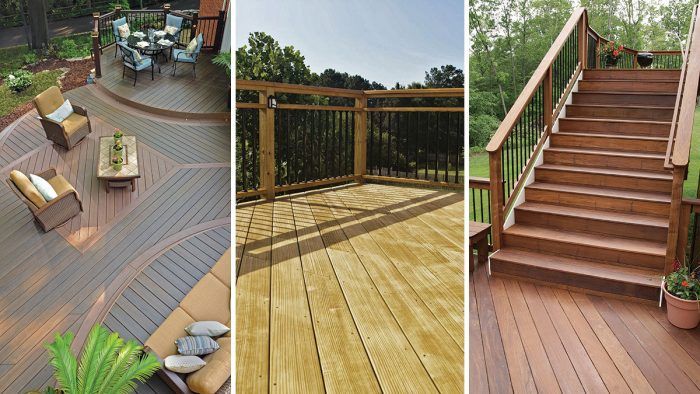 The most important decision you'll make when planning your project is the type of decking you will use. In an attempt to make the best choice, you'll find several factors rattling around in your brain. First, you want it to look great. For most people, that means something made of real wood. But if that wood is too exotic, you know it is going to cost a lot. And with exotics there is always that nagging doubt—might it have been harvested from already depleted rainforest?
In addition, for wood to maintain its good looks, it needs annual cleaning and resealing. The chore is not overly expensive if you do it yourself, but it will cost a few hundred bucks if you have it done. And coupled with maintenance is longevity—most wood decking is good only for a couple of decades at best.
Enter all those non-wood new kids on the block like PVC, composite, and aluminum. They are low maintenance, but will they look right? And don't synthetics need special framing? Are they really as long-lived as promised? And are they worth the extra cost?
To help make your choice, go to a diversified lumberyard or deck yard (the options at home centers are limited) and look at some samples. Have a rough idea of the square footage of your deck and get some costs to compare.
To get you started, here are some of the most popular decking options along with their cost relative to 5/4 x 6 pressure-treated decking, typical life span, and general strengths and weaknesses.
---
Calculating Lineal Footage
When purchasing decking, you can easily calculate square footage by multiplying the length of your deck by its width. Lineal footage is trickier. Here is how to determine the lineal footage you'll need, with allowance for about a 3/8-in. gap between boards, for 2 x 4 and 5/4 x 6 decking:
To calculate lineal footage for 4-in. boards, multiply square footage by 3.4. For example: 100 sq. ft. x 3.4 = 340 lin. ft.
To calculate lineal footage for 6-in. boards, multiply square footage by 2.2. For example: 100 sq. ft. x 2.2 = 220 lin. ft.
---
Pressure-treated wood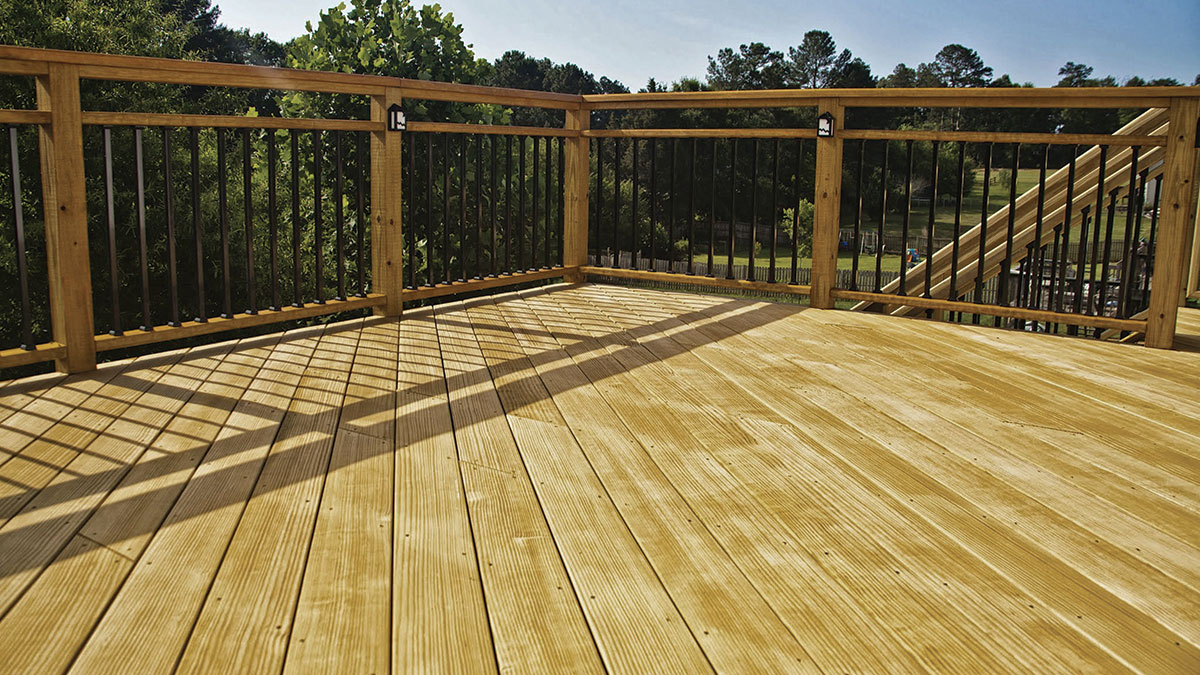 Made of inexpensive fir infused with an anti-decay and insecticide agent, pressure-treated decking is a low-cost ­favorite. The anti-rot treatment for pressure-treated once included arsenic, but since 2004 it depends on copper sulphate and related compounds that are much more ­benign. PT comes in green, tan, or brown but can be stained to suit your desired palette.
Cost: At about $2 per sq. ft., consider this your cheapest option
Looks: Not a stunner but can be stained
Maintenance: Treat with water repellent every couple of years
Longevity: 15 years
Cedar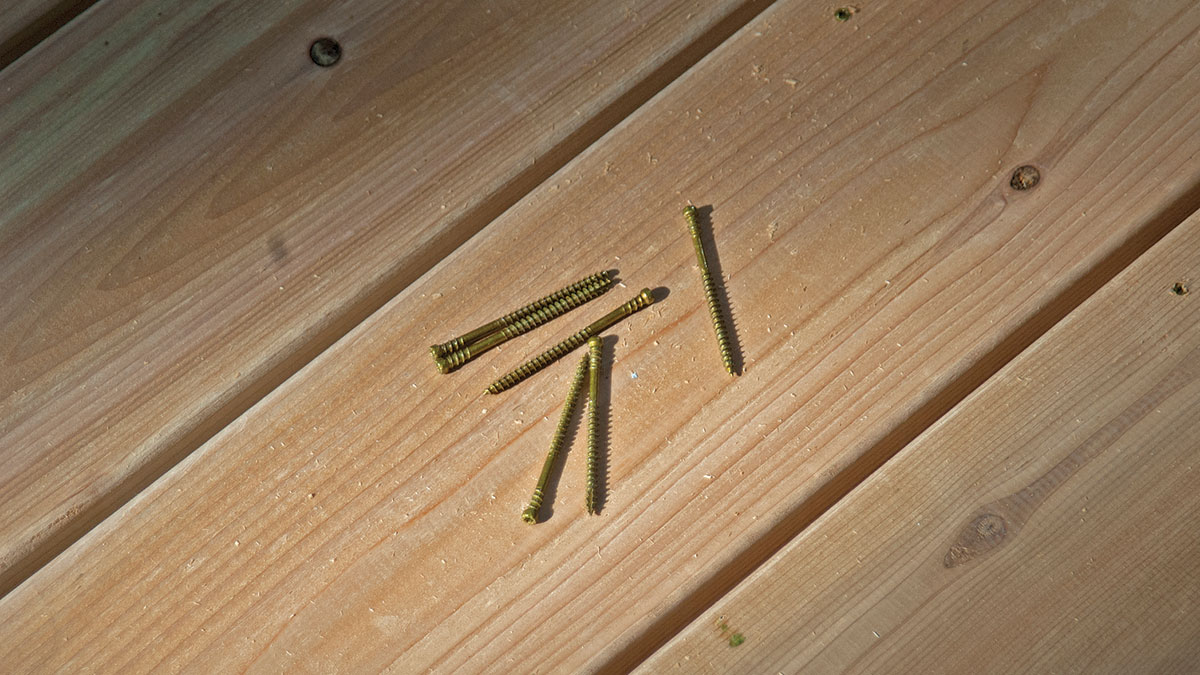 This perennial favorite is inexpensive, easy to work with, and good looking. Don't waste your money on anything but heartwood—sapwood will rot quickly.
Cost: Slightly more than pressure-treated
Looks: An interesting, consistent grain
Maintenance: Expect annual refinishing
Longevity: 20 years
---
TIP: It is going to happen. Somebody is sure to set a piping hot grill on the deck and singe the surface. With wood decking, the repair is no big deal—you can find similar replacement wood, though you may have to let it weather until it can be stained to match the rest of the deck. However, the particular style and color of PVC or composite decking may be impossible to find years later. After your deck is built, store a plank or two of such decking for just such a repair.
---
Composite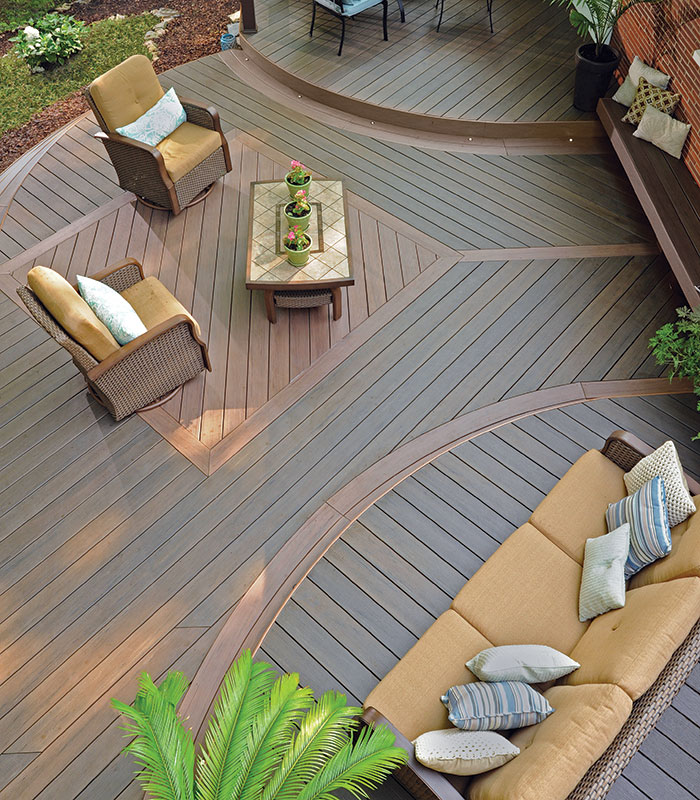 Made of wood fiber combined with recycled polyethylene (think used milk jugs), composite decking is a handsome, low-maintenance material. Composite comes in a broad range of colors and textures, some with a "capped" polymer surface similar to that of PVC. Upper-end types come with a 25-year warranty. A couple of washings every season keeps it looking good.
Cost: Three times as expensive as pressure-treated decking
Looks: Crisp appearance with many color-through tint options
Maintenance: The minimal wood content fosters some mold, though washing will keep it at bay
Longevity: 20 years
Aluminum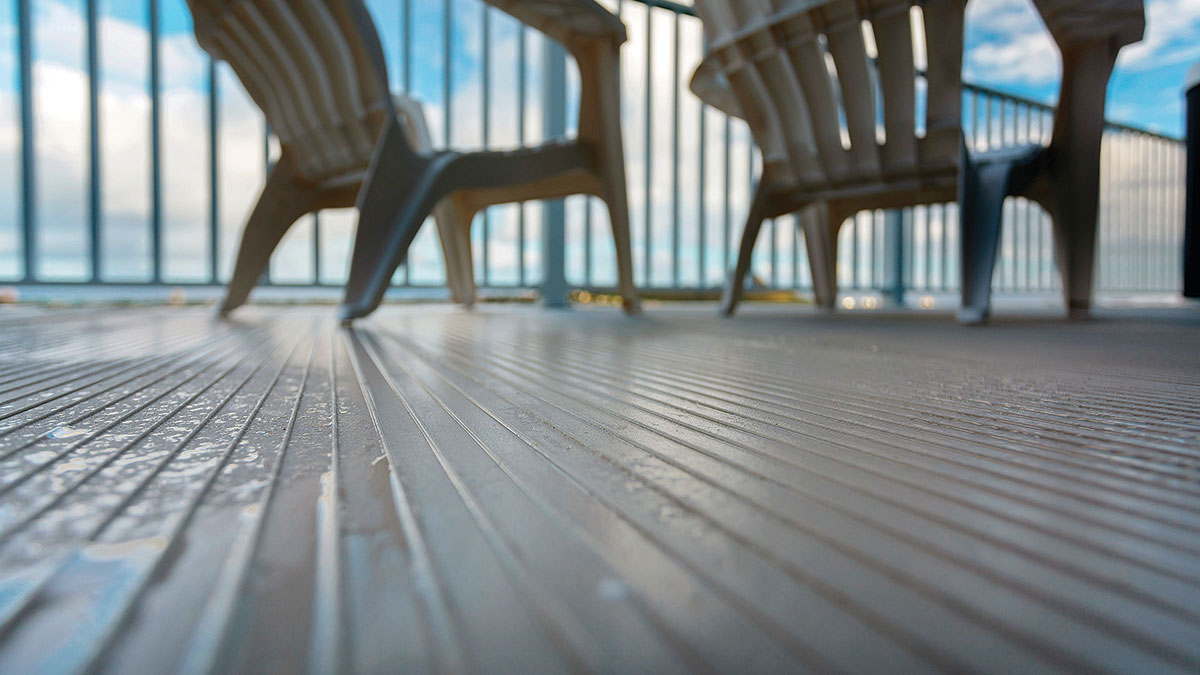 Made of marine-grade aluminum with a durable powder-coated finish, aluminum decking needs only occasional washing with soap and water to stay fresh. It is slip resistant and assembles with almost no visible fasteners. And it is surprisingly cool: Aluminum has high thermal conductivity, so it rapidly dissipates heat.
Cost: About four times as expensive as pressure-treated decking
Looks: A wide range of convincing woodlike finishes
Maintenance: Needs only occasional washing
Longevity: At least 20 years, likely longer
PVC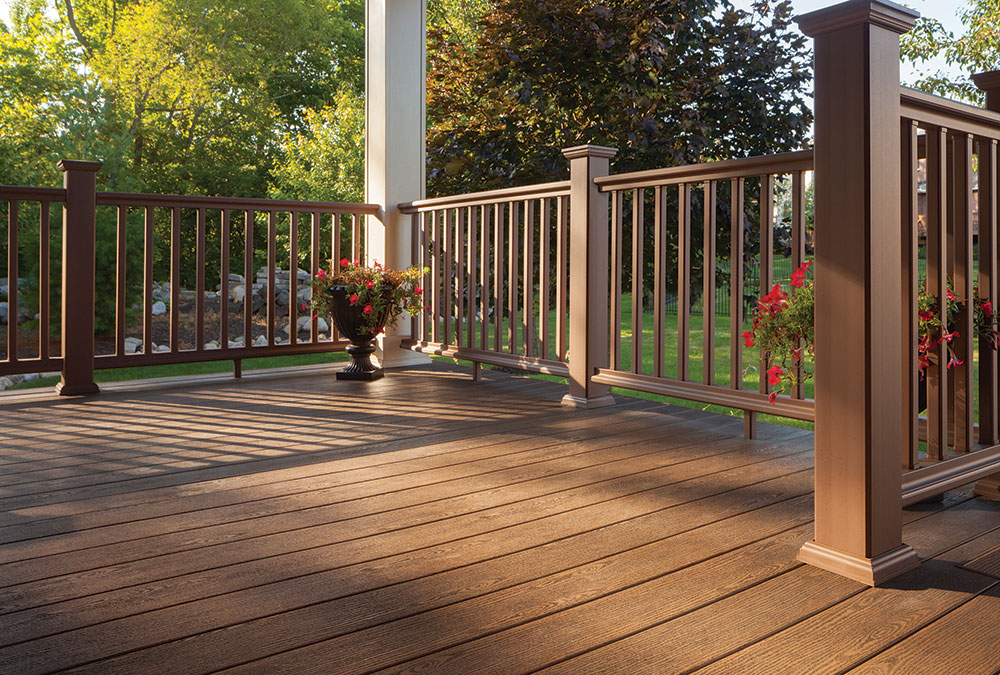 Polyvinyl chloride (PVC) decking is as close to maintenance-free as decking will ever be. Unlike composite decking, PVC has no wood content to foster mold. Vinyl typically has a cellular core wrapped with a very hard layer of PVC much like the skin of a golf ball. Color options include white, gray, browns, tans, and even burgundy. After heat is applied, planks can be bent to make eye-catching inset designs.
Cost: About four times as expensive as pressure-treated decking
Looks: Good color options with a convincing wood-grain look
Maintenance: Washing is all it needs
Longevity: 25 years or more
---

How PVC and Composite Differ
Wood flour is the key difference between wood-plastic composite (WPC), top left, and PVC decking, bottom left. Composite contains wood flour, whereas PVC does not. Wood flour can attract mold, leading some manufacturers to "co-extrude" a hard plastic cap on composite to at least one side of the plank. PVC always has a cap, and less expensive brands of composite have none at all.
---
Ipe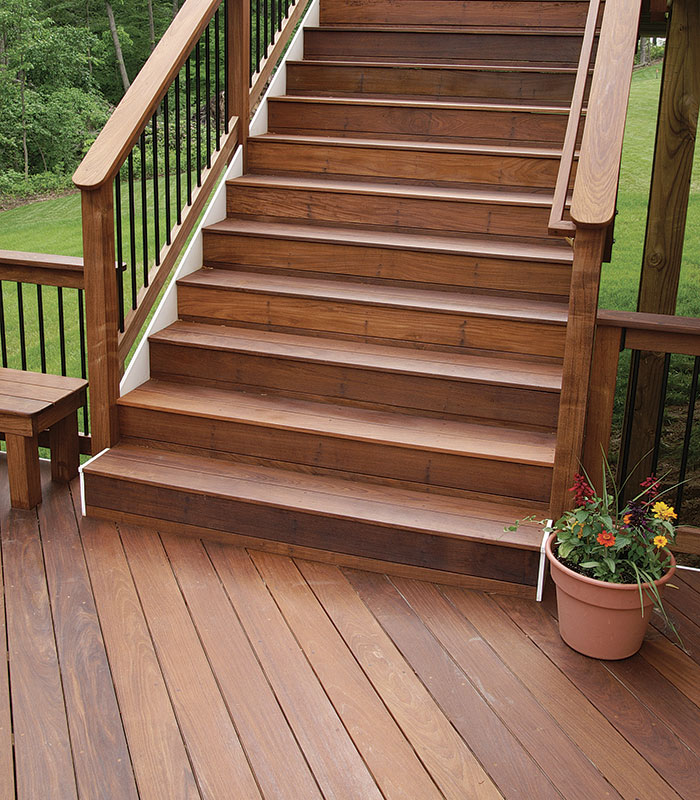 Pronounced "ee-pay," this is the most popular of the South American hardwoods. Ipe is naturally resistant to rot and is amazingly dense. To maintain its teak-like appearance, Ipe must be sealed every year. Installation requires predrilling for fasteners. Because it is imported, its price can fluctuate.
Cost: About five times as much as pressure-treated decking
Looks: Teak-like and tight grained
Maintenance: Weathers beautifully after one UV-blocker treatment
Longevity: 40 years
Redwood
Once the sine qua non of decking, redwood is now available only on the West Coast. It is even more lightweight than cedar, straight-grained, and easy to work.
Cost: If you can get it, about seven times as expensive as pressure-treated decking
Looks: Knot-free and smooth-grained
Maintenance: Takes stain or weathers to a mellow gray
Longevity: 20 years
---
Is My Exotic Hardwood Responsibly Harvested?
Deforestation and forest destruction is a leading cause of carbon pollution, causing 20% of total greenhouse gas emissions. None of us wants to think the exotic hardwood used on our deck contributes to the warming of the planet. The Forest Stewardship Council (us.fsc.org) does its level best to monitor how exotics are managed and certifies producers who harvest responsibly. Even so, some deck experts are doubtful of anything harvested offshore and prefer the known provenance of North American woods.
To assess its impact on fragile planet earth, ask these basic questions of your material of choice:
What is it made of? Synthetic decking manufacturers can claim no trees were felled to make their products and even use recycled ingredients. However, synthetics require the heavy input of fossil fuels.
How much energy was used to make it? Wood is the quintessential solar product requiring no fossil fuel for production until it is harvested and shipped. Which leads to the question…
How far has it traveled? South American hardwoods eat up a lot of petroleum when shipped thousands of miles to your backyard.
How long will it last? A long-lasting PVC or composite might outlive two or three cedar decks, offsetting the additional energy needed to make them. Aluminum requires a lot of energy to smelt and manufacture but could last until your grandchildren grow tired of it.
---
Previous:
Considering Choices for Synthetic Decking
Next:
Thoughts On Hardwood Decking