Podcast 360: Skate Ramps, Drilling Holes, and Fastening Drywall
Matt, Rob, and Patrick hear from listeners about insulating walls without sheathing and on-demand water heaters before taking listener questions about building a long-lasting skate ramp, heating a shop, and fastening drywall.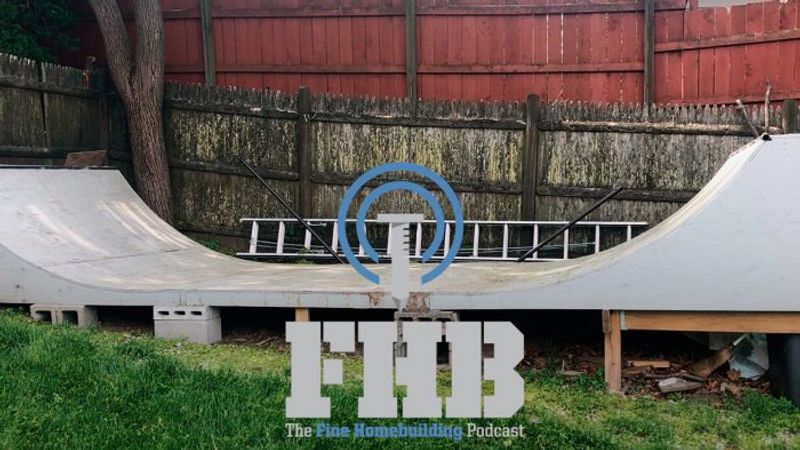 ---
Follow the Fine Homebuilding Podcast on your favorite app. Subscribe now and don't miss an episode:
Help us make better episodes and enter for a chance to win an FHB Podcast T-shirt:
www.finehomebuilding.com/podcastsurvey
Brian shows how he insulated his walls. Ian points out Patrick's misleading tangent. Gavin shares a well-written blog about the construction business. Carson describes his experience having a shop cut plywood for cabinets. Paul asks about building a long-lasting skateboard ramp. Wade wants to separate his shop from the living space above. Rob and Patrick argue about drills. Nomorecoffee asks about loose drywall screws.
---
Editor Updates:
---
Listener Feedback 1:
Brian writes: Thank you so much for answering my question in Episode 338! Here's a few follow-up pics to show what I ended up doing.
---
Listener Feedback 2:
Ian writes: Hi Patrick and thanks for the amazing content you are pushing out with style, humour, and accuracy every week. In FHB 352 you were responding to somebody's thoughts about using a tankless dhw heater for a radiant floor. I'm afraid you went off on a misleading tangent talking about the temperatures and how up north, where he lives, the incoming water will be cold etc., and you ended up at a big watt rating needed for the heater to do this little floor. The incoming water won't be very cold unless he's starting from a total frozen start. The difference between supply and return on the radiant floor will seldom be more than 20F and often less. The steady state watts needed could be easily calculated, but its likely well under 10 kW for his floor. Sure, make it bigger if you want to come up faster from a cold start but that's not what radiant is good at.
A key bit of missing advice – if you really want to do this you need to put a glycol-water mix in there (like 50-50) so it can't freeze and bust the pipes. Now you have to find out if the dhw heater can handle the glycol…. And many are not warranted for the duty cycles of space heating either… Fun to talk about, but I agree with some of the advice to just not heat the place this way.
Related Link:
---
Listener Feedback 3:
Gavin writes: In recent episodes there have been many questions about why the cost of lumber has increased.  I came across this really interesting in its own right construction blog/newsletter "Construction Physics".  In it, he has an entry concerning the topic of lumber prices and building materials cost.
I found it interesting that things seemingly unrelated to lumber like the Texas deep freeze earlier in the year had a major impact on composite wood products (polymer/glue production stopped). Also that raw wood supply is not the issue. Anyway, thought you'd enjoy the blog in general as it seems to be really well thought out. Been listening since episode one, and enjoy every episode.
Related Link:
---
Listener Feedback 4:
Carson from Oregon writes: Hello FHB crew, A few months ago I asked about CNC cut plywood for cabinetry.  I have gone through that process and can now offer some comments.  Overall, I would highly recommend it if you are good at SketchUp or other CAD programs.
Related Link:
---
Question 1: How can I build a durable mini skate ramp on a tight budget?
Paul writes: Hi FHB podcast, I work in energy efficiency and always love the talks about air sealing and insulation, but I thought I'd pose a question for you all that might be a little a bit out of your typical range.
Three years ago we bought a house and as a washed-up and aging skateboarder, my dream was to build a mini ramp in the backyard (a mini ramp is essentially a half-pipe, but much smaller and without any vert walls). I tried to be budget conscious (read: I am very cheap) when building this ramp, which is entirely exposed to the harsh New England weather conditions. I surfaced the ramp with two layers of 3/8th plywood, and painted it with basement floor paint. I figured that would be good enough, and when the inevitable water and impact damage sets in, I can cut out and replace as needed. Well surprise surprise, three years later and the deterioration is beyond what I'm able to keep up with.
There are products out there that are purpose-made for ramps like mine (gator skin and skatelite), but at $130+ a sheet, and my already mentioned cheapness, I'm not about to spend upwards of $800 to surface the ramp. Instead, I'm thinking of purchasing sheets of Masonite (great texture for skating on and usually used outdoors in dry climates) for around $12/sheet and treating it with something to make it more waterproof. Would you have any recommendations for this plan, or am I setting down another path of folly?
Attached are some photos of the ramp in its current condition.
Related Link:
---
Question 2: How can I keep noise and smells out of the Airbnb above my garage shop while still letting heat flow through the whole building?

Wade from Sioux Falls writes: Hello FHBers! Writing in for some more help on my 30×50, 2-story shop build. Couple of questions.
1. Looking to do radiant heat under the slab. Is there a good up-to-date detail that you recommend?
2. As you can see per the attached drawings, the 2nd floor will be finished with the hopes of using it as an Airbnb. Question is, how do I accurately separate the 2 spaces from noises/smells while at the same time allowing some of the heat from the lower space to permeate upstairs. Is this even possible? Or should I just go with my original plan to use mini-splits upstairs? I plan on using a hybrid wall insulation system with 1.5″ of spray foam and batt insulation to fill the rest. Walls are 2×6. I'm sure I'll have many more questions, but feel you are up to the task. Appreciate all you folks do. #KCA
Related Link:
---
Question 3: My drill bit the dust—what should I replace it with?
Chris writes: My DeWalt drill hit the dust and I wanted to replace it with something better. I didn't like the size (too big and heavy), it was old and it never was very powerful. AND I want one with a light. Suggestions? I'm liking this one: DEWALT-DCF885C1-20V-Impact-Driver.
Rob says, "That's cool for driving and removing screws and bolts. If you want to also drill holes, you'll probably want a separate drill that is not an impact driver. If you only want one tool, get a drill—though impact drivers are awesome from driving screws, so just get both."
Related Link:
---
Question 4: Why are my drywall screws shifting?
"nomorecoffee" (from the FHB forums) writes: Putting up 1/2 lite-weight drywall in my finished attic. I use osi f38 drywall adhesive and screws. I do my best to set the screws evenly and just below the surface with a slight dimple. Doing this nights and weekends and I've got a lot to do so it's taking weeks. When I go back to panels I've done a while ago, it seems like the screws sit a little higher and I can drive them back in by maybe a quarter turn pretty easily. Can't tell if the screws backed out on their own or if the adhesive shrunk down and pulled the drywall tighter leaving the screws where they were. Mostly see this on the ceilings but that's what's been up longer. Anyone see this before?
Related Link:
---
End Note:
From All good architecture leaks, a 5-point guide: Youtube video.
---
Check out our new 2021 FHB Houses:
Visit the Taunton Store  •  Magazine Index  •  Online Archive   •  Our First Issues   •  All Access
---
Help us make better episodes and enter for a chance to win an FHB Podcast T-shirt: www.finehomebuilding.com/podcastsurvey
---
If you have any questions you would like us to dig into for a future show, shoot an email our way:

[email protected]

.
If we use your question we'll send you a FHB Podcast sticker!
---
FHB Podcast T-shirts!
Represent your favorite podcast! Available in several styles and colors. Made from 100% cotton. Find the Podcast t-shirt and more cool products in the Fine Homebuilding Store.
---
Fine Homebuilding podcast listeners can now get 20% off anything in the Taunton store, including Insulate & Weatherize.
Use the discount code FHBPODCAST to take advantage of this special offer.
---
We hope you will take advantage of a great offer for our podcast listeners: A special 20% off the discounted rate to subscribe to the Fine Homebuilding print magazine. That link goes to finehomebuilding.com/podoffer.
The show is driven by our listeners, so please subscribe and rate us on iTunes or Google Play, and if you have any questions you would like us to dig into for a future show, shoot an email our way: [email protected]. Also, be sure to follow Fine Homebuilding on Instagram, and "like" us on Facebook. Note that you can watch the show above, or on YouTube at the Fine Homebuilding YouTube Channel.
The Fine Homebuilding Podcast embodies Fine Homebuilding magazine's commitment to the preservation of craftsmanship and the advancement of home performance in residential construction. The show is an informal but vigorous conversation about the techniques and principles that allow listeners to master their design and building challenges.
Other related links