Building Codes for Insulation and HVAC in Attics
Creating a durable and efficient conditioned attic space for mechanicals requires more than just air-sealing and adding insulation.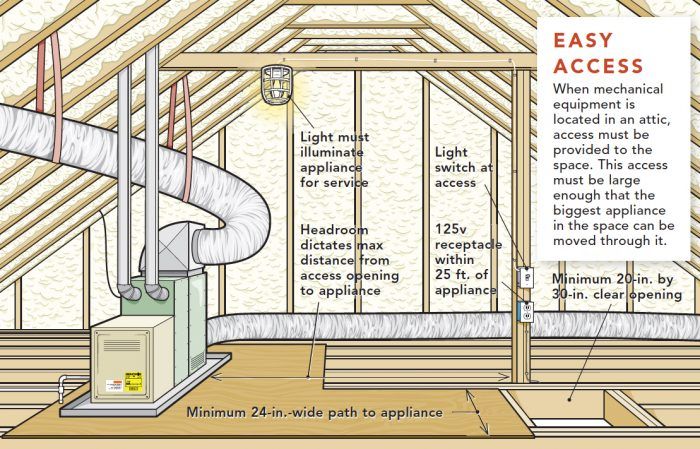 Synopsis: As provisions for conditioned (unvented) attics continue to evolve in the code books, putting HVAC equipment into this space to gain back valuable square footage has become a popular option. Code-expert Glenn Matthewson discusses the International Residential Code provisions related to unvented attics, from the insulation requirements to manage moisture in the conditioned space to the provisions for accessing, lighting, and powering mechanical equipment.
---
When I was framing homes in the late '90s, temperature issues on second floors led some builders to add a second furnace in the attic to handle the top floor independently. I remember modifying truss chords with engineered repairs to support the extra equipment after new buyers complained of uneven heating. This practice carried on into my years as an inspector.
From an energy-conservation perspective in the early I-codes, the ducts in these attics, which were always vented, just needed to be insulated and, presumably, installed above the ceiling insulation. However, as energy codes grew more stringent, with tighter air-leakage requirements and the increased use of ACCA Manuals J, S, and D for energy loads, equipment selection, and duct design, many builders stopped putting HVAC equipment in vented attics, choosing instead to sacrifice marketable square footage on the second floor to create a furnace closet within the thermal envelope.
Around the same time HVAC equipment was coming down from the attic, the provisions for a "conditioned attic" (now "unvented attic"), introduced in the 2006 International Residential Code (IRC), were being cyclically updated and expanded with each new edition. This was a new and interesting topic for innovative builders about a decade ago (see Martin Holladay's An Unvented, Superinsulated Roof in FHB #224), but since then, many entry-level tract-home builders have embraced the unvented-attic approach. And with that embrace, HVAC equipment has again found a home in the attic.
Even if you aren't using this approach to get more living space, you still get quite a bit of square footage within the thermal envelope that can be given a useful purpose. Here are all the provisions in the latest IRC related to that location.
Manage condensation
Nothing in construction is an island, so while the insulation requirements for unvented attics may seem like an energy-code discussion, they're also about moisture management— specifically condensation— which is addressed at the end of Chapter 8 ("Roof-Ceiling Construction"). The R-values and insulation arrangements described in this section are designed solely for controlling condensation in unvented cathedral ceilings and attics. Chances are that you're going to need more insulation to meet the required thermal performance of these assemblies, which is addressed separately by climate zone in Chapter 11 ("Energy Efficiency").
Provide an opening
Most single-family homes are built using wood framing, which falls into the category of what the code calls "combustible construction." Buildings with combustible ceiling or roof construction enclosing attics that are at least 30 in. tall over at least 30 sq. ft. need an access opening, whether or not there are mechanical systems up there. Section R807.1 provides those details and requires that attic accesses have rough openings not less than 30 in. by 22 in. (specifically 22 in. wide by 30 in. tall if located in a wall). If the attic access is located in a ceiling, there must be at least 30 in. of headroom above it.
If you put mechanical equipment in the attic, access is required regardless of the size of the space. For these opening requirements, Section R807.1 points to Section M1305.1.2 in Chapter 13—" General Mechanical Service Requirements." It's important to mention that the provisions of Chapter 13 apply to, among other things, fuel-gas-burning equipment, which is specifically covered in Chapter 24 (I mention this only because some folks insist otherwise). Chapter 13, however, speaks to the final clear opening as opposed to the rough opening, and requires a minimum of 30 in. by 20 in. In addition, it also requires that the opening be large enough to remove the largest appliance, which may be larger than the minimum clear opening. That requirement could change soon, as a proposal for the 2024 IRC suggests a complete pull-down stair be required—stay tuned.
Once you have your head in the attic, if the appliance is right there, then get to work. If it's not, you need to provide a passageway to it. The passageway clearance need only be 22 in. wide and 30 in. tall, so put on your kneepads for what could be up to a 20-ft.-maximum crawl. If the passageway has at least 6 ft. of vertical clearance (across the whole 22-in. width), you can walk it up to a maximum 50 ft. The passageway must be built with solid flooring in accordance with Chapter 5, and it has to be at least 24 in. wide—more than the width of the required clearance.
Safety during service
We all know the code is about safety, but it's not just for the full-time occupants. Recognition of service and emergency personnel is embedded in the code in many ways, such as the requirement to provide a permanently installed light at or near the appliance. The switch for this light needs to be at the attic access so no one has to crawl down that tight path in the dark. Though a keyless fixture with an exposed lamp is the cheapest and most common way to provide light, an exposed lamp must either be protected or located so that no one will accidentally come in contact with it, while still illuminating the appliance. Most of these provisions are also found in Section E3903.4 in the electrical chapters of the IRC.
While tradespeople nowadays are likely to use cordless tools during service calls, the IRC won't make that assumption. It requires at least one 125v, 15-amp or 20-amp rated electrical receptacle "on the same level" and within 25 ft. of heating, air conditioning, and refrigeration equipment (Section E3901.12). The receptacle is there to aid in servicing the equipment, and if it happens to be on the same circuit as the appliance, it can't be on the load side of the appliance's disconnect. In other words, the receptacle needs to keep supplying power even if the appliance power is disconnected so that it can still be of use. In most cases, this receptacle is provided at the attic access opening adjacent to the required light switch, but if a longer passageway with 6-ft. vertical clearance is provided, it often has to be located farther from the opening to be within 25 ft. of the appliance.
Know live and dead loads
So now we've got HVAC equipment, a technician, and maybe an apprentice on the truss bottom chord or ceiling joists. Can the framing support them? The furnace or other appliance is part of the dead load—the weight of permanent construction materials—and Section R301.4 makes it clear that the actual weight of "fixed service equipment" must be supported. For truss designs, this load must be included in the design assumptions for the trusses supporting the bottom-chord dead load. For ceiling joists sized prescriptively from the IRC span tables, there is no way to provide for this dead load specifically. For live loads—the weight of the people and their tools—the IRC recognizes this attic passageway is not going to be occupied like the other parts of the house and offers a reduced minimum live load. In Table R301.5, the minimum design loads are provided and there are three choices for attics: Attics without storage, attics with limited storage, and habitable attics with fixed stairs. For the design presented in this article, "attics with limited storage" would be the appropriate choice and require a minimum 20 psf (lb. per sq. ft.) live load be supported by the trusses or ceiling joists supporting the passageway and platform. When using the IRC tables in Chapter 8 to size ceiling joists, be sure to reference sizing for attics with limited storage.
I mentioned earlier that a proposal to require a pull-down stair at the attic access serving appliances was proposed for the 2024 IRC. It's important to note that if this type of access is provided, it would not push the ceiling joist or truss bottom-chord design into the 30-psf live-load requirement for habitable attics. A habitable attic doesn't have to be finished, but it does require a fully compliant stairway, just like one running up to a second floor. Such a stair would be overkill for accessing a passageway to a furnace or a stash of holiday decorations.
Glenn Mathewson is a consultant and educator with buildingcodecollege.com. Special thanks to the ICC, NFPA, and UL for providing free online viewing of their important safety standards.
Drawing: Kate Francis
Published in Fine Homebuilding issue #301 titled "Back to the Attic"
---
RELATED LINKS: