Tools & Materials
Smart, Tough Worklights
Three industrial worklights by Unilite offer varying levels of water, dust, and impact protection.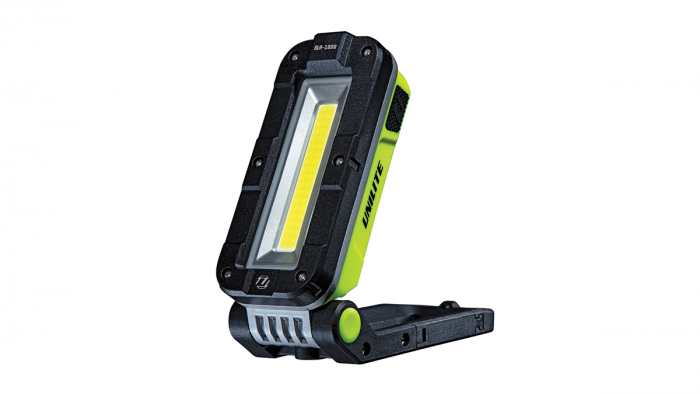 Unilite is a European manufacturer of all types of industrial worklights. The three I tested below are powered by lithium-ion batteries, are impact resistant, and offer varying levels of water and dust protection. These lights are beautifully made and no detail has been value-engineered. If you're looking for durable, dependable, high-functioning worklights, Unilite is a sure bet.
SLR-1000
The SLR-1000 is about the size of an old flip phone, and folds just like one. The body has a strip of LEDs for broad-area lighting and a second single-beam LED spot light on the end. The other side of the hinge is a hook and magnets with multiple detents that doubles as a stand. The strong magnets allow you to stick it to steel and iron and the hook allows you to clip it onto wires, small pipes, and more.
IL-175R
The IL-175R has a fold-out "baton" with led strips on both sides and a single LED on the end. It has a pen-style clip for attachment or storage as well as multiple magnets for near-­limitless orientations. For probing into tight areas or working in small spaces, this light is awesome. Its slim size and magnets mean you can tuck it securely near the work and then adjust the baton to focus one of the three light options right where you need it.
CRI-2300
The CRI-2300 is about the size of a small dinner plate and has three brightness settings. Unilite calls it a "detailing light" for its ability to vary the color temperature, which you can adjust from 2700K to 6500K, in order to demonstrate what the lighting will be like when the space is lived in so you can accurately choose finishes. The CRI-2300 can be tripod-mounted and has no trouble fully lighting commonly sized rooms. Depending on the light intensity, it runs between two to eight hours.
– Ben Bogie, project manager for BPC Green Builders of Wilton, Conn.
From Fine Homebuilding #301