Podcast 374: Adding Overhangs, Repairing a Water Table, and Builderly Greetings from Down Under
Brian, Kiley, and Patrick hear from listeners about rainbow shingles and log homes before taking listener questions about adding overhangs, repairing wood trim, and roof insulation ratings. They also hear from home builders in Australia.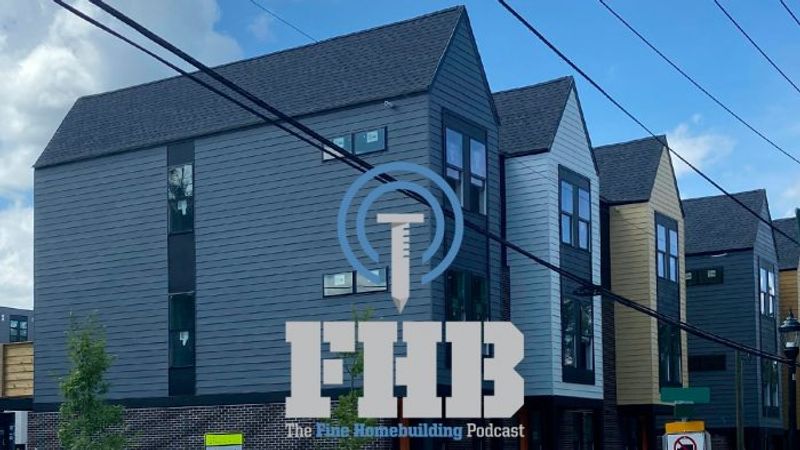 ---
Follow the Fine Homebuilding Podcast on your favorite app. Subscribe now and don't miss an episode:
Help us make better episodes and enter for a chance to win an FHB Podcast T-shirt:
www.finehomebuilding.com/podcastsurvey
Chris shows us a tree growing through someone's house. John wants log home representation on the podcast. Justin wonders if he should add overhangs. LH asks for help repairing rotted trim. Casey asks if an R-20 roof is OK. Jason and Mark send kind wishes from Australia.
---
Editor Updates:
---
Listener Feedback 1:
Chris writes: Hey guys, Thought you all might get a kick out of this. Questions that come to mind:
—How does one detail a roof around a growing tree?
—How does one pour a slab around a growing tree?
—How much water does one need to provide a growing tree?
What tile person deigned to do this work around a …growing tree! Thanks for all of the good stuff you guys do.
— Tile guy, Chris.
---
Listener Feedback 2:
John MD writes: Patrick- I think your crew has thrown down the log cabin gauntlet. Please interview Mark Bowe from Barnwood Builders. The longevity of some of his log structures at least surpasses stucco construction. He might have good suggestions on the weather sealing challenges. Seems favorable from a carbon footprint standpoint. Most of your co-contributors would also seem to favor better uses for straight old growth timber than firewood (don't take it too personally). Although I grew up in Oklahoma, I did have the opportunity to chink a log cabin (logs from Arkansas) with some goopy mush made from newspaper if I remember correctly. Also, please keep trying to get experts from the southwest (Utah, New Mexico, Arizona, etc.) for their thoughts on good building techniques in their respective climates. Thanks, John MD
Related Links:
---
Question 1: Should I replace my roof with one that has deeper overhangs?
Justin writes: Hi FHB Gang, With the topic of overhangs coming up in both of the last podcasts, it got me thinking about whether it ever makes sense to replace a roof like the one on my new home, that is in good shape but lacks sufficient overhangs, with a new roof with larger overhangs. As I am interested in replacing the worn-out windows and getting solar panels, now would be the time to decide whether to redesign and replace the roof. Would love to hear your thoughts on the subject and thanks for all the wonderful podcasts. Lastly, check out these brand-new townhomes — what an overhang disaster (no gutters either).
Related Links:
---
Question 2: What is the best way to flash a wooden water table and the siding boards above it?
LH on GBA writes: On the back of my house there is no roof overhang and during rains (pacific northwest), water sits on the edge of the cedar belly band (AKA water table) and has rotted it and the siding board that touches it. I need to tear this out and redo it but what is the proper product and technique to flash it? And how do I meet the flashing to the corner boards? Do I need to bend an end dam? Would it be better to replace the cedar board with a treated board? The Tyvek and sheathing behind this are still good. Thanks for any help.
---
Question 3: Would the space between open-cell foam under my roof and the T&G pine ceiling eventually cause the roof sheathing to rot?

Casey writes: I live in central Alabama CZ3A new construction. I plan to open-cell foam the entire house roof for an unvented attic. Our master bedroom has a cathedral ceiling with 2×8 ceiling joints/roof rafters. Shingle roof is installed over the OSB decking. Foam installer is going to fill all the 2×6 roof rafters (so 5.5″ of foam, ~R20) and I assume only fill the 2×8 bedroom ceiling rafters with 5.5″ as well according to the contract. I plan to install T&G pine as the ceiling covering.
(I understand that the R20 is not the best but building during a pandemic has wreaked my budget.) My question is: would the ~2″ of space between the foam and the T&G ceiling condensate and cause eventual rot of roof sheathing? Would an air barrier prevent this? Would properly sealed tyvek work (cheaper and easier to install than drywall)?
I am sure I could trade off filling the 2×8 cavity completely by potentially swapping to fiberglass batts in the garage walls if run out of foam because of this change order. (Contracted price based on 4 sets of foam).
Thank you.
Related Link:
---
Question 4:  What's going on with the Australian building industry?
Jason and Mark writes: Hi there, We've been following you guys over the past year at the FHB podcast, and love what you guys are doing in the States! Our names are Jason and Mark from Beyond Build Constructions, a Sydney-based custom home building company in Australia.
Established in 2016, our work involves primarily residential construction with a specialization in high-end extensions, renovations, duplex, and new builds. We are reaching out to you as we would love to have an opportunity to discuss the building industry as Australian builders and business owners , as it corresponds to our knowledge base and skill set. Being in the industry for the past 11 years, we believe we would be able to produce some engaging and high-value content for your listeners and give an accurate overall perspective of the building industry here in Australia.
If this is something that would interest you, please feel free to reach out! We look forward to hearing from you soon, Best regards, Jason and Mark
Related Link:
---
Check out our new 2021 FHB Houses:
Visit the Taunton Store  •  Magazine Index  •  Online Archive   •  Our First Issues   •  All Access
---
Help us make better episodes and enter for a chance to win an FHB Podcast T-shirt: www.finehomebuilding.com/podcastsurvey
---
If you have any questions you would like us to dig into for a future show, shoot an email our way:

[email protected]

.
If we use your question we'll send you a FHB Podcast sticker!
---
FHB Podcast T-shirts!
Represent your favorite podcast! Available in several styles and colors. Made from 100% cotton. Find the Podcast t-shirt and more cool products in the Fine Homebuilding Store.
---
Fine Homebuilding podcast listeners can now get 20% off anything in the Taunton store, including Insulate & Weatherize.
Use the discount code FHBPODCAST to take advantage of this special offer.
---
We hope you will take advantage of a great offer for our podcast listeners: A special 20% off the discounted rate to subscribe to the Fine Homebuilding print magazine. That link goes to finehomebuilding.com/podoffer.
The show is driven by our listeners, so please subscribe and rate us on iTunes or Google Play, and if you have any questions you would like us to dig into for a future show, shoot an email our way: [email protected]. Also, be sure to follow Fine Homebuilding on Instagram, and "like" us on Facebook. Note that you can watch the show above, or on YouTube at the Fine Homebuilding YouTube Channel.
The Fine Homebuilding Podcast embodies Fine Homebuilding magazine's commitment to the preservation of craftsmanship and the advancement of home performance in residential construction. The show is an informal but vigorous conversation about the techniques and principles that allow listeners to master their design and building challenges.
Other related links