How-To
An Alternative Way to Install Roof Overhangs
While eave overhangs are typically built as part of the main roof framing, installing them as separate pieces offers better air-sealing opportunities.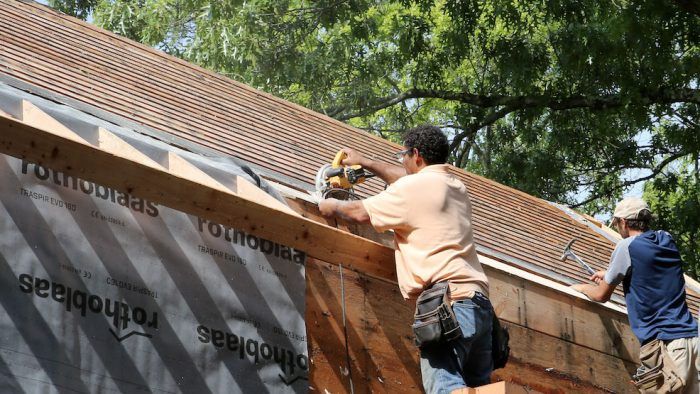 It can be tough to get a good tight seal around rafter tails and other tricky spots when installing a water-resistive barrier (WRB) and air barrier, but on the 2020 Fine Homebuilding House, the build team used some smart construction details to overcome those challenges. Architect Elizabeth DiSalvo and builder Albert Jensen-Moulton decided to stop the new roof framing right at the wall plane instead of letting the rafters hang over the edge. This allowed them to wrap the WRB up the walls and onto the roof in one continuous, easy-to-install sheet.
It's common practice to set trusses and rafters to hang past the wall to make the desired roof overhangs, but the ease of sealing the transitions from the roof to the vertical surface of the wall makes creating a tight building envelope much easier, which is especially important when you're aiming to achieve Passive House performance levels. The team constructed the eaves overhangs on the ground, similar to how it's typically done for deep gable overhangs, and then installed them after the WRB was applied.
After the overhang was secured to the house, double-sided air-sealing tape was applied to the WRB to seal it to the underside of the ZIP System roof sheathing, which goes on next and will tie everything together.
Next up on the roof assembly will be installing Intello Plus smart air and vapor control layers on the inside of the trusses, plus the builders will install a high-temperature roof underlayment in preparation for a standing seam metal roof. Stay tuned.