Does Foam Insulation Keep CMUs From Drying?
Insulating concrete-block walls can keep a basement or crawlspace dry, but does preventing inward drying harm the concrete?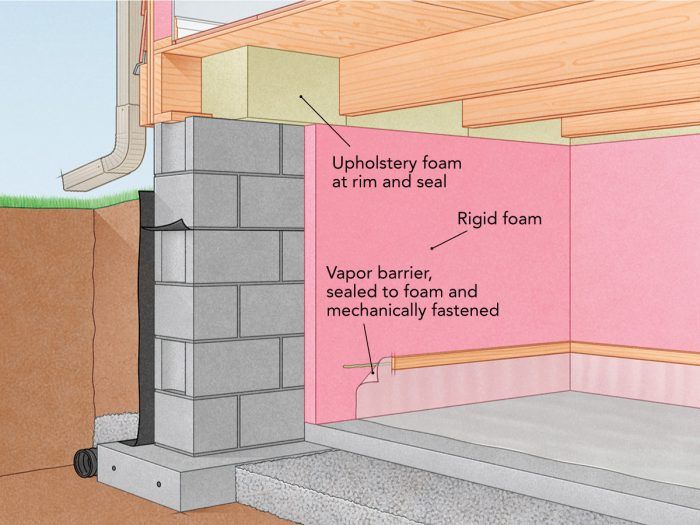 I really liked Justin Fink's article in FHB #299, "Crawlspaces That Work." I am looking for guidance on one key point for my own crawlspace. My home is a 1960s split-level ranch in climate zone 4 in New York. The crawlspace has a concrete floor, open-core CMU walls, asphalt-felt paper between the concrete block two courses down from the top as a vapor-stop, and an untreated mudsill (with no sill seal) nailed into the webs of the blocks. High summer humidity has led to minimal mold growth, but the sill seems to be in good shape.
My plan is to remove the existing batt insulation in the floor and spray Bora-Care on the wood. I'll add continuous rigid R-10 XPS insulation and an ignition barrier to the walls, insulate the rim joist with rigid foam and spray foam any gaps, put plastic over the concrete slab, and install a dehumidifier. My concern is that the XPS foam might halt inward drying at the concrete walls, mudsill, and rim joist, leading to rot. I've been looking at details in the New York State Energy Research and Development Authority (NYSERDA) building guide and they all show the assembly I've described with grouted-block or cast-concrete foundation walls with a sill sealer between the masonry and the wood components. Any advice?
—Maruti Evans via email
William B. Rose, a research architect and the author of Water in Buildings: An Architect's Guide to Moisture and Mold, replies: Follow the NYSERDA guide—it's pretty good. Don't worry about halting inward drying with either rigid or spray-applied insulation inside concrete-block walls. Just keep the foundation as dry as you can by extending downspouts outdoors to keep water from pooling next to the house. Preventing inward drying from the CMU walls helps the house and cannot harm the concrete.
As for the rim joist, there was a recent code-development tussle in which the Georgia Structural Pest Control Commission (GSPCC) challenged the application of spray polyurethane foam on rim joists on the basis that it prevented annual visual inspection. They argued for removable batts to be placed there. The Spray Polyurethane Foam Alliance (SPFA) argued that the proposed rim-joist treatment would perform poorly. The Building Performance Institute sided with SPFA.
I don't know the outcome, but I tend to side with GSPCC and consider pest inspection critical. I've argued for using preformed upholstery foam pillows together with sealant at the sill plate. It's not as airtight as spray foam, but carrying a compressed bundle of foam into a crawlspace turns an awful spray job into a delight, in a way. Open-cell spray foam and upholstery foam have the same basic water-blown chemistry where product approval and ignition protection are concerned.
Drawing: Peter Wojcieszek
From Fine Homebuilding #302