Brian Ciciora, Product Designer and Builder
Truewerk offers new workwear for the job-site to help keep Larry Haun's legacy alive and support the #KeepCraftAlive Scholarship Fund.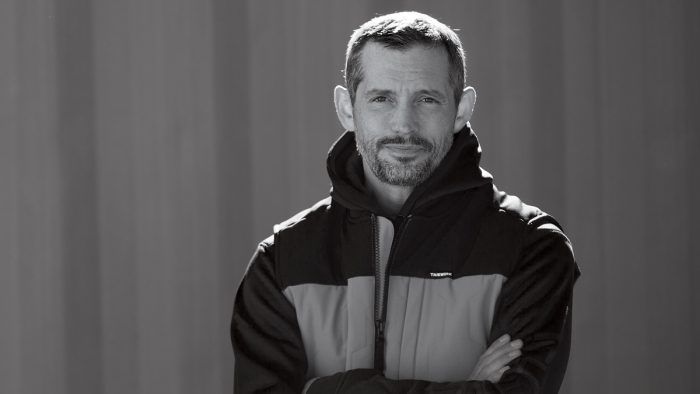 "I understood that a vest was core to his uniform. Then the question was, how do we bring the piece into celebrating Larry's legacy and humanity?"

–Brian Cicioria, Founder and CEO, Truewerk
Brian Ciciora has always felt a connection to those who make a living working with their hands. A job in a machine shop high in the mountains of Colorado brought him closer to those in the trades and helped him forge a deep appreciation for the value those in skilled and service professions bring to their communities. It's with that ethos that Brian founded the workwear brand Truewerk, creating high-­performance industrial workwear for those in the field while using the business to empower and celebrate those in the trades.
Brian remembers the moment that inspired the S4 Haun Vest, Truewerk's newest project in collaboration with Fine Homebuilding and #KeepCraftAlive. He was framing a cabin in the mountains late in the fall, and, as he took the claw of his hammer and sunk it into a header to lift it into position, he paused. 
"I lived this Larry Haun moment," he says, looking back now. Legendary carpenter Larry Haun would often move pieces of framing lumber around with the claw of his hammer and set them in place before sinking 16-penny nails into them with just two swings per spike. Larry's work both educated and inspired Brian from a young age, as it did so many builders over the course of his many years building, producing articles, writing books, creating videos, and teaching. Larry passed away in 2011, but his teachings continue to inspire and advance the training and development of builders across North America. 
"At that time, we had been working on developing an insulated vest," Brian says. "It was a technical vest, but it was very reminiscent of the vest Larry seemed to always be wearing in images and videos." Brian and the Truewerk team decided to name the vest after Larry and bring the piece together in a way that honors his legacy and all of the knowledge he has passed on to those who aspire to build. 
With the support of Larry's family, we're honored to launch the S4 Haun Vest in partnership with Truewerk. Twenty percent of every vest purchase will be dedicated to the #KeepCraftAlive Scholarship fund with SkillsUSA to help foster the development of the next generation of passionate and committed tradespeople. To learn more about this new partnership and to purchase the limited-edition vest, visit KeepCraftAlive.org or Truewerk.com.
Hear Rob Yagid's interview with Brian on the Keep Craft Alive Podcast.
—Rob Yagid, executive ­director, Keep Craft Alive
From Fine Homebuilding #304