Durable and Efficient Island Retreat
A remodel of a home on Block Island, R.I., offers a classic look with a modern twist.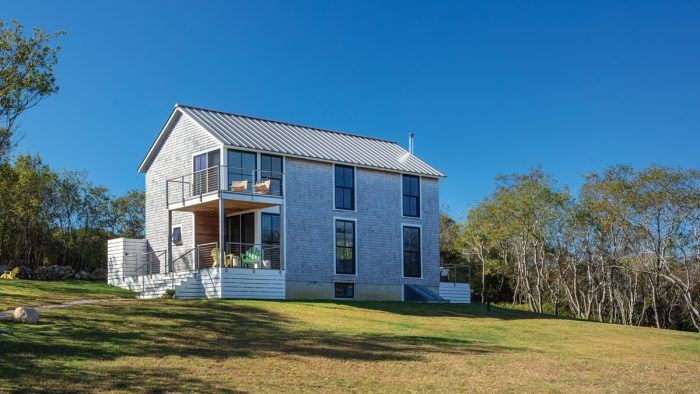 For their long-sought Block Island, R.I., retreat, the clients asked for a modest house that would be inexpensive to build and easy to maintain, and, given the rugged climate, wouldn't cost a fortune to keep up or heat. They admired the simplicity and directness of older farmhouses in the area but wanted their house to be modern and open. The result is an efficient 20-ft. by 42-ft. two-story block with two first-floor cutouts: 1600 sq. ft. total with three bedrooms. An indented glass wall to the south and west captures the sun and opens onto a large south-facing deck for outdoor living. With the exception of the bedroom suite on the opposite side of the house, where views were a must, glazing was limited to punched openings to keep the house thermally efficient. Large, topquality Andersen double-hung windows were worth a budgetary splurge for their insulating value. The vinyl trim, shingles, and cedar on the pergola never need painting, and the metal roof will last for 20 to 30 years. Inside, most surfaces are easy-to-maintain plaster with a simple, painted trim.
Architect Estes Twombly + Titrington Architects, ettarchitects.com
Builder Bannon Custom Builders, bannonbuilds.com
Location Block Island, R.I.
Photographer Warren Jagger
From Fine Homebuilding #304
---
RELATED LINKS