A Home That Blends Into Nature
A weathering steel finish characterizes a New Hampshire home that fits right into its natural surroundings.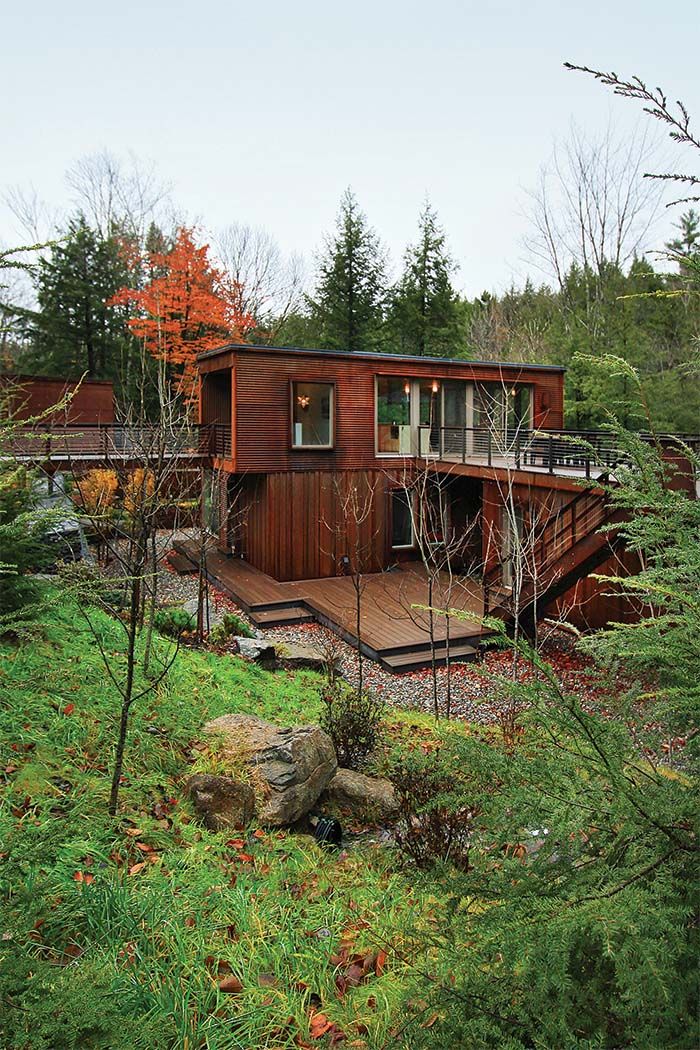 This house is about close views, inhabiting the sound of rushing water, and moving through the trees and the vertical spaces of New Hampshire's White Mountains. Over- and under-spaces provide comfortable places to be in hot or cold, sunny or rainy weather.
The owners value serenity. Glazing that faces the hemlock forest rather than distant vistas creates intimate interiors suited to the ethos of escaping urban environs.
The weathering steel exterior finish was selected for its durability and its ability to blend—organically over time—into the natural context. A living patina develops on the otherwise homogeneous material that also highlights the varied surface textures of stairs, railings, bridges, and siding applications.
The bridges and stair elements were designed by Alchemy, then laser-cut and prefabricated in Minneapolis by Alchemy's fabrication partner and shipped to the site. Because weathering steel is self-sealing, no painting or finishing is required initially or in the future. The parents' standalone one-bedroom weeHouse is a modular unit also prefabricated off-site. It arrived on-site about 90% complete. The landscape was done with Ed Burke of Rocky Dale Gardens in Bristol, Vt., who worked to blur the lines between hardscapes and softscapes regardless of season.
Architect Alchemy, alchemyarch.com
Builder Leet Ware Construction
Location Rumney, N.H.
Photography Alchemy LLC
---
RELATED LINKS